Bicycling
Bicyclists Weigh in on Highway 39 Reopening in San Gabriel Mountains
2:29 PM PST on January 11, 2023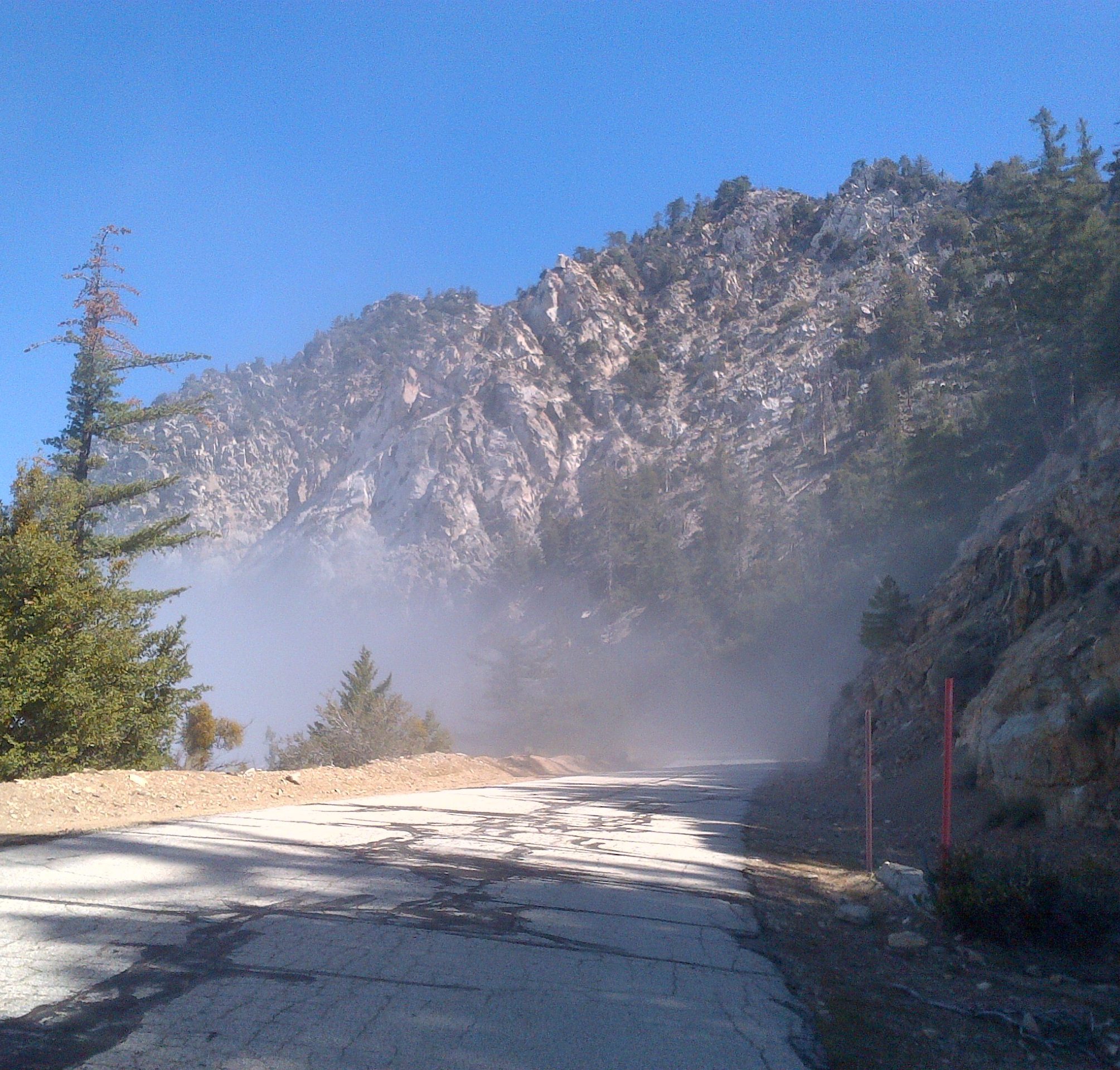 Public comment will close soon for the reopening plans for the northmost tip of Highway 39 in the San Gabriel Mountains, at its junction with Angeles Crest Highway 2. Until Monday January 16, the public can try to influence which of six options Caltrans will move forward with. These include: no build, emergency vehicles only, active transportation use, full reopening, building a separate viaduct, and a single travel lane.
SBLA spoke to several bike club members about their hopes for it (as well as a Caltrans representative and the Mayor of Azusa). They gave a variety of takes.
"I'd like it to be open to pedestrians and cyclists only. And keep it you know, for fire and emergency vehicles. And that's it." – Jeff Sewell, Monterey Park

"Yep, yep, no, that won't happen, right? Because that's going to be additional cost and work for Caltrans, and just for recreational use, there's so many other options already for that area and nearby, so that's probably not realistic." – Peter Rinde, La Cañada Flintridge

"I'd rather not see it open at all. What happened to P-22 really hit me. It's like, oh my god, you know, it's their land." – Leticia Montanez, El Sereno

"When a fire starts down below, there's nowhere for anybody to exit. These people are stuck up there. So yeah, they do need to have a secondary exit strategy." – Art Hernandez, Downey
The part of Highway 39 at stake is a 4.4 mile stretch between Snow Springs and Islip Saddle that's been closed since 1978, "when it experienced massive mud and rock slides caused by heavy rains and floods," says Caltrans Spokesperson Alisa Almanzan. 
"This reopening plan has been talked about for many years [...] Basically, as of right now, nothing is developed yet. It's based on all of the input that we get from the public. And basically, we have the funding so we're able to proceed." Almanzan tells SBLA the agency estimates a cost range between $175-325 million for the project, to bring the roadway into compliance with the Streets and Highways Code. 
In the decades since closing, this forbidden zone has gained a reputation among local cyclists as the car-free part of the 90+ mile "Circle of Doom" – a loop through the foothill cities of the SGV and the San Gabriel Mountains themselves. 
It's a "bucket list" ride for many in the area, according to Peter Rinde, Gravel Captain with the Pasadena Athletic Association (PAA). He jokes, "Some enterprising person turned this route into an event. My buddies and I've done this plenty of times, but I've never paid to do it."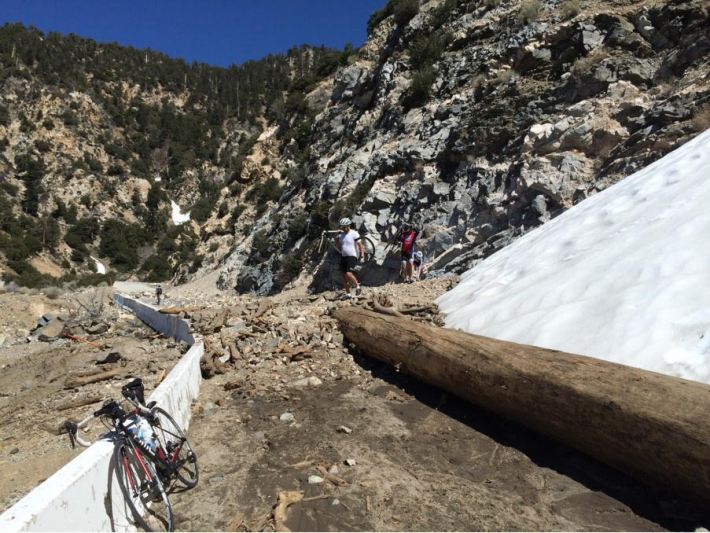 While Rinde says the closed section is picturesque, in its current state, it's not for beginners. "It's not really maintained, right? That aside, you know, there're just not very many people there, so if you get into trouble, you may be kind of stuck, and the signal's spotty, if at all, on [a] cell phone." Rinde laments. 
"One ride, I remember another rider had slashed his tire on a rock and there was no way to fix it. Thank goodness, my friend had a spare tire to give him. Otherwise, that gentleman would have had to walk back to civilization until somebody else had a tire or could give him a lift."
Almanzan warns: "The existing roadway on this segment is most degraded at the original drainage ditches, which have reached their holding capacities, and continue to cause excessive flooding and erosion. Current conditions can continue to degrade to such a level that they may pose a safety hazard to maintenance crews, and any other users of the facility."
Presently, the only cars allowed to cross the gate closing off this part of Hwy 39 are emergency vehicles. A shoulder was built for them in 2003 after Caltrans deemed it would not pose an environmental threat. 
Another PAA member (and former president) Leticia Montanez says she's never had trouble getting inside. "It's closed off, it says no cyclists and everything. We look around, sometimes there's police officers there, they kind of ignore us. And sometimes they're kind of a pain. I've heard rumors of people getting tickets, but I have never seen it."
By the time she's at the gate though, Montanez says Hwy 39 has already been deserted for a while. "Once you get up that high, it's nice and quiet [...] you know, you'll see some vehicles once in a while, but it's not as bad [...] most of them go up to Newcomb's Pass or up to Crystal Lake."
In the closed section, cyclists are practically alone… except for the company of a few endangered Bighorn Sheep. Downey resident Art Hernandez says that habitat is a special place. "It's all fine and nice heading all the way up to Crystal Lake, but when you get past that, that stretch to Highway 2 is gorgeous. The overlooks are amazing. The cliffs up on top are gorgeous. I think one time I was up there I videotaped a herd of Big Horn sheep, and they were just darting across the mountain doing 15-20 miles an hour. It was incredible."
Those Bighorn could be an obstacle to reconstruction, as the San Gabriel Valley Tribune's Steve Scauzillo pointed out. Under California law, Caltrans will want to avoid causing any injuries to the animals while working on the highway.
For the sheep's sake, Montanez would rather not see the road reopened, to avoid car racing and roadkill incidents. "What happened to P-22 really hit me. It's their land. We should coexist, you know; the bighorn sheep have their little land and you know, the cyclists are not going to hit a sheep or the hikers haven't hit a sheep."
Hernandez, who rides with Red Zone Racing and Los Charales, doesn't foresee Caltrans setting aside the path just for biking and hiking. "Yeah, I don't think they would do it for us. That's a lot of work. I've been up there. The maintenance involved in keeping that place going... It's pretty incredible." 
Several of the reopening options from Caltrans require rock sheds, retaining walls, and wildlife crossings. "If it were up to me, I would say just open it just for me only," says Hernandez, "but that's not gonna pay the bills, unfortunately. It's going to have to have other purposes." 
Other purposes, like emergency egress, says Azusa Mayor Robert Gonzales. "It's dangerous, quite frankly, when we see the number of fires that have happened in that area over the past couple of years. If folks are in there, they could potentially be trapped. [...] Because like I said, there's only one way in and one way out."
Gonzales says his city has a monetary stake too in what Caltrans ultimately does. "For me, if we're going to consider opening it up, there's going to be financial opportunities for Azusa to work with the state to improve those areas with resources."
Peter Rinde of PAA sees a high likelihood of cars rolling through once again, but hopes that somehow speeds can be controlled. "If motorized vehicle traffic flow could be better monitored or managed [...] Maybe that's the way to go. That's a compromise for the greater good."
The deadline to submit public comment to Caltrans on what should be done with Highway 39 is next Monday, January 16, 2023.

Public comments may also be submitted by email to Karl.price@dot.ca.gov or by mail to:
Karl Price, Senior Environmental Planner
Division of Environmental Planning
California Department of Transportation, District 7
100 South Main Street, MS 16A
Los Angeles, CA 90012
Streetsblog's San Gabriel Valley coverage is supported by Foothill Transit, offering car-free travel throughout the San Gabriel Valley with connections to the Gold Line Stations across the Foothills and Commuter Express lines traveling into the heart of downtown L.A. To plan your trip, visit Foothill Transit. "Foothill Transit. Going Good Places."
Sign-up for our SGV Connect Newsletter, coming to your inbox on Fridays!
Chris is the San Gabriel Valley Reporter for Streetsblog LA and co-host for SGV Connect. He's been a La Puente native since 1991, and a radio journalist since 2014. He hosts the podcast SGV Weekly.
Stay in touch
Sign up for our free newsletter