Metro
Metro Looks to Add Two Bike-Ped Bridges at Glendale Doran Rail Grade Separation
9:35 AM PDT on October 17, 2019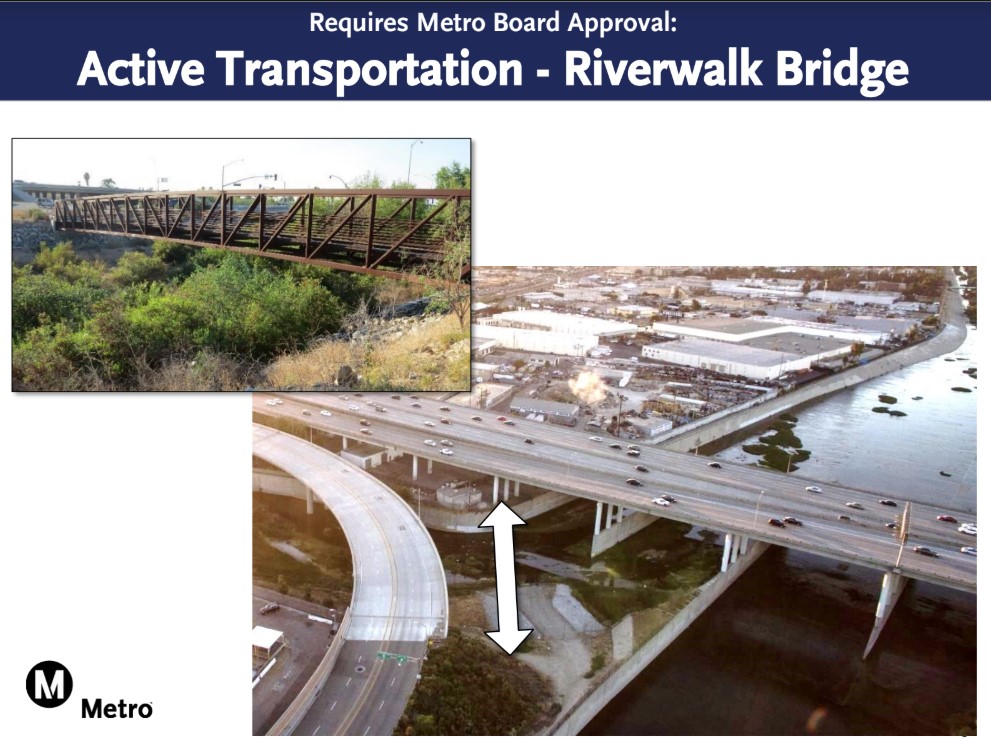 Yesterday, the Metro board Planning and Programming Committee approved shifting the bike/walk component of its Doran Street and Broadway/Brazil Grade Separation Project. The new configuration would build two new bike/ped bridges connecting to Glendale's existing L.A. River Glendale Narrows bike/walk path.
The project is located at the western edge of the city of Glendale, across the L.A. River from Griffith Park. The location is very near the intersection of the 5 and 134 Freeways. Portions of the project will be in Glendale and portions in the city of Los Angeles North Atwater industrial area.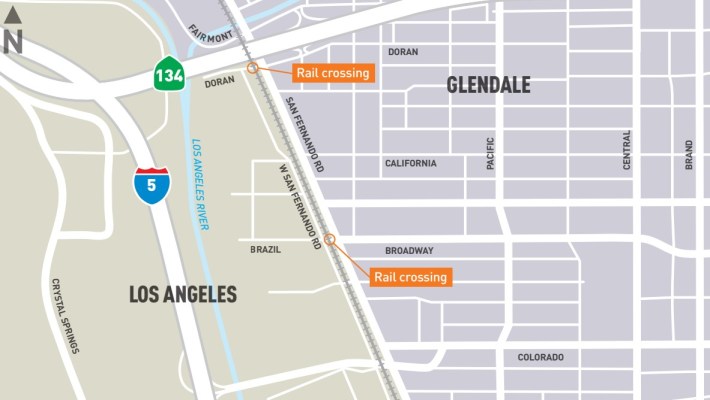 Metro's $100+million Doran Project is primarily designed to benefit rail transportation. It will eliminate two current at-grade rail crossings, thus allowing for faster, safer, quieter, and more frequent Metrolink and Amtrak trains. Eliminating crossings is also designed to prepare the corridor for future high-speed rail operations.
The project includes two components:
Northerly Point of Access - replaces current Doran Street at-grade crossing, just south of the 134

Salem/Sperry Overpass - replaces current Brazil Street/Broadway at-grade crossing
The Salem/Sperry Overpass is fairly straightforward; it will add a big curving freeway-ramp-like structure. (More on this at the end of the post.)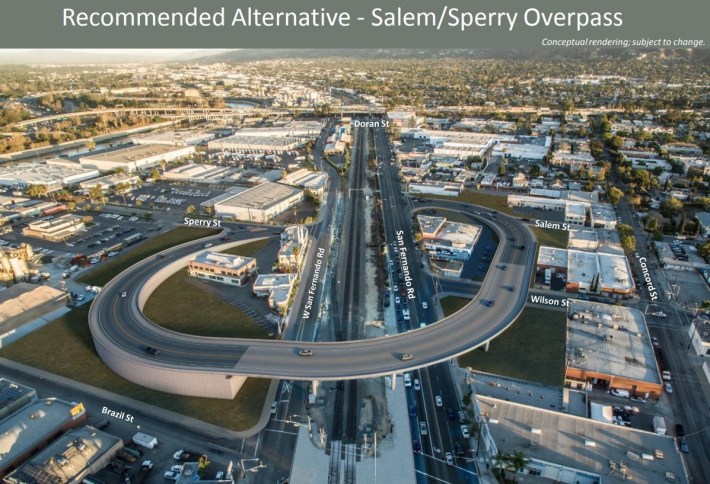 The northerly Doran portion of the project is less straightforward.
Drivers would access the area via a new extension of West San Fernando Road that would connect to Fairmont Avenue.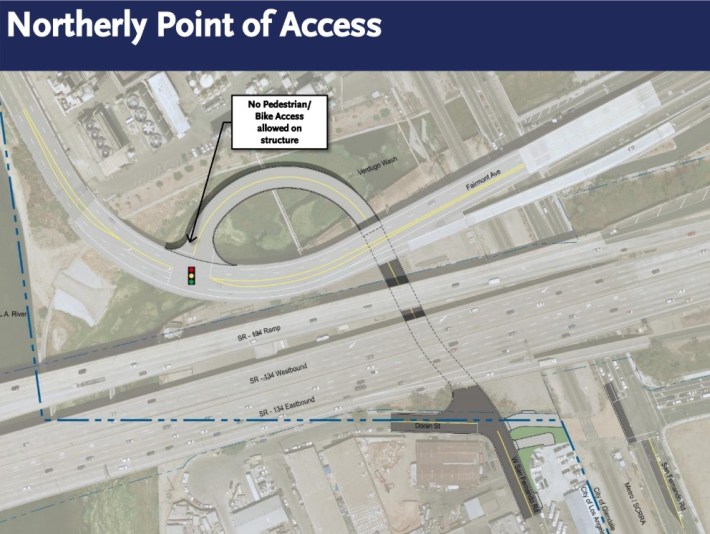 The Doran grade separation is complicated by its proximity the Los Angeles River and the Verdugo Wash. The city of Los Angeles' river plans call for bike- and walk-friendly revitalization of the area immediately downstream from the Verdugo confluence.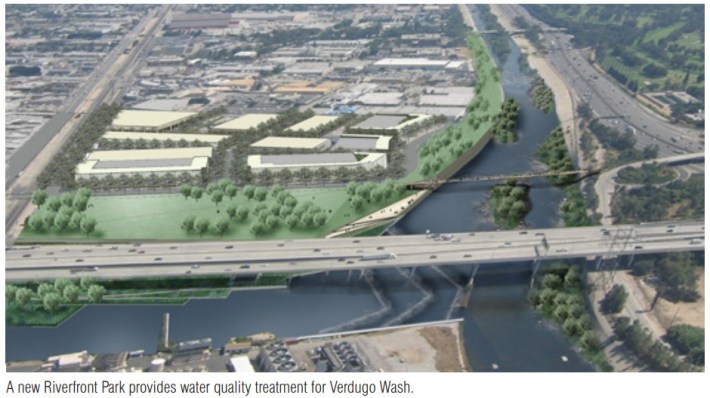 The city of Glendale has already added a bike/walk path along its nearly one-mile-long riverbank immediately upstream. That Glendale Narrows Riverwalk bike/walk path currently dead-ends at the Verdugo confluence. Glendale is also working on a planned/funded future bridge to connect its Riverwalk to Griffith Park.
Metro had planned to include the Doran area bicycle/pedestrian access via Glendale's Fairmont Avenue extension, essentially a sort of mini-freeway bridge designed to speed drivers to nearby studios. Per today's Metro staff report, the Fairmont Bridge "does not allow for non-motorized traffic." Metro is now proposing to instead add two new bike/ped bridges.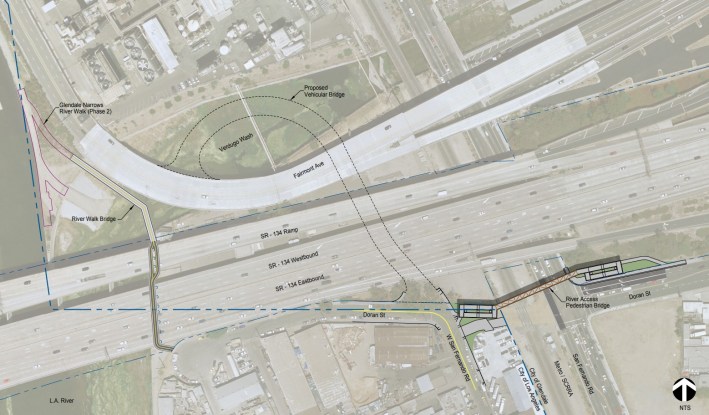 One bridge would span the Verdugo Wash (shown at top of post); the other would go over San Fernando Road.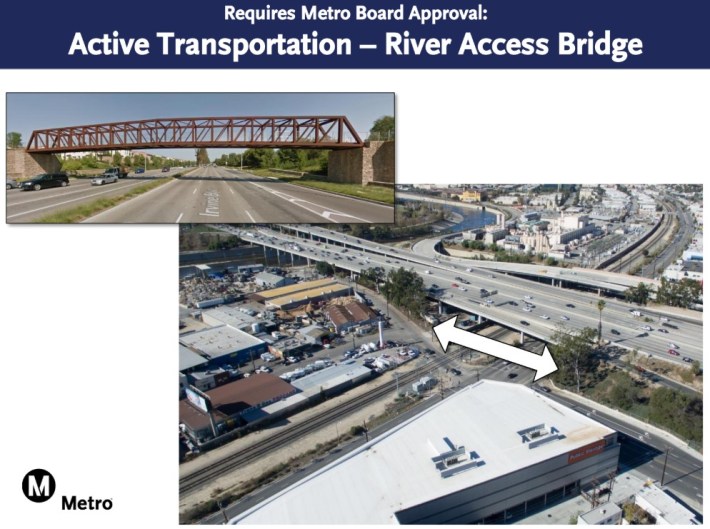 Metro had already secured $16 million in California Active Transportation Program (ATP) funding for the bike/ped component of the Doran Street grade crossing. Metro now estimates that the new two-bridge design will cost roughly $25 million, so the agency will need to seek additional funding.
Metro's Doran bike/walk plan addresses two needed crossings, but it does not address how cyclists would get across the (newly expanded to be more freeway-like) West San Fernando Road.
Cyclists coming from the east (from most Glendale neighborhoods) would use the new bridge to cross San Fernando Road, then ride down a spiral ramp to touch down in the no-man's land between the fenced-off railroad tracks and West San Fernando Road. They would then need to cross West San Fernando, presumably at a signalized crosswalk. Given this somewhat dangerous crossing, the new bike access fails to function as a continuous all-ages bike path. Instead, the bike/ped bridge should span both the main San Fernando Road and the smaller West San Fernando Road, ramping cyclists down closer to the river - rather than leaving a ~700 foot gap where cyclists would ride on Doran Street (shown on Metro maps as "Future Path Connection.")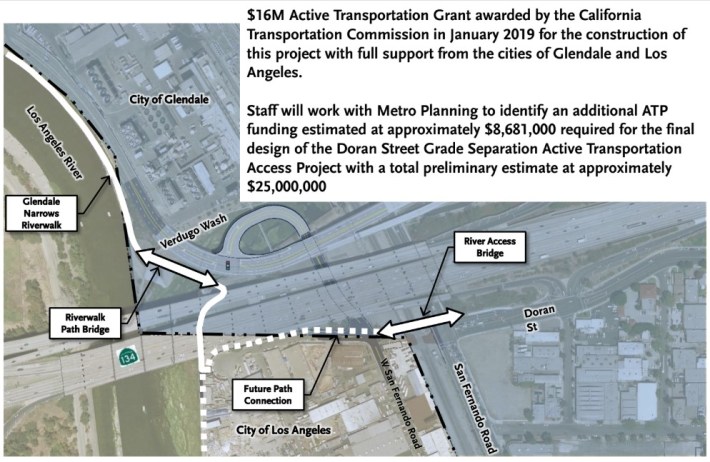 Metro would never leave a 700-foot gap in a car or rail facility. Why is this acceptable for bicycles?
Creating a more functional bridge there would likely involve taking a sliver out of the frontage of the city of Glendale's under-freeway storage yard. (That largely-vacant yard appears to be losing some space to accommodate cars on the project's W. San Fernando Road extension - why not accommodate bikes there too?) Potentially the current bridge design's faults could be remedied as part of the later river revitalization, but it would be costly to re-do a bridge that ends in the wrong place. At a minimum, the bridge could be built with some sort of knock-out panel designed to support later extension westward extension.
Overall, these grade separation projects (plus others including Rosecrans/Marquardt) are needed. Metro, Metrolink, and California need to upgrade and modernize rail.
What is difficult is that these overbuilt car-centric grade separation solutions create lousy surface spaces that are hostile to bicycling and walking. Circuitous ramps add trip distance that drivers barely notice, but make walking and bicycling trips effectively infeasible. The fast-moving traffic on these new freeway-type roads is dangerous, smoggy, and noisy. Metro depicts spaces around the large ramps with green lawns and trees, but in reality these on-ramp places will be soot-covered and crappy, unhealthy for even the homeless folks that are likely to resort to using them.
The Verdugo confluence area is already degraded by the 134 Freeway. To a large extent, the city of Glendale foreclosed on potential bike- and walk-friendly waterway revitalization when it added the Fairmont Extension freeway bridge a decade ago. Adding the Doran grade separation further loads that already roadway-blighted area with more roadway, more traffic, more noise.
The Doran crossing is a difficult design problem to solve. Putting rail below grade there would not be feasible due to the Verdugo Wash. Putting rail above grade there is not feasible due to the 134 Freeway. Accommodating somewhat-vague future river revitalization there is taking a back seat to present improvements prioritizing transportation capacity for cars and trains.
Metro's current Doran Street grade separation solution is adequate, but it prioritizes driving and rail, while providing half-measures toward making the area conducive to walking and bicycling. If Metro is going to go to great lengths for drivers in this area, the agency should do the same for cyclists and pedestrians.
Under a motion by director Jacqueline Dupont-Walker yesterday, Metro will spend an additional $3 million to finalize the bike/ped components of this grade separation project. Once that is complete, Metro will seek the additional funding needed.
Stay in touch
Sign up for our free newsletter