A Line (Blue Line)
Metro Board Directors Tie "Rosa Parks/Willowbrook" Station Overhaul to Community Development at Groundbreaking
7:44 PM PDT on August 24, 2018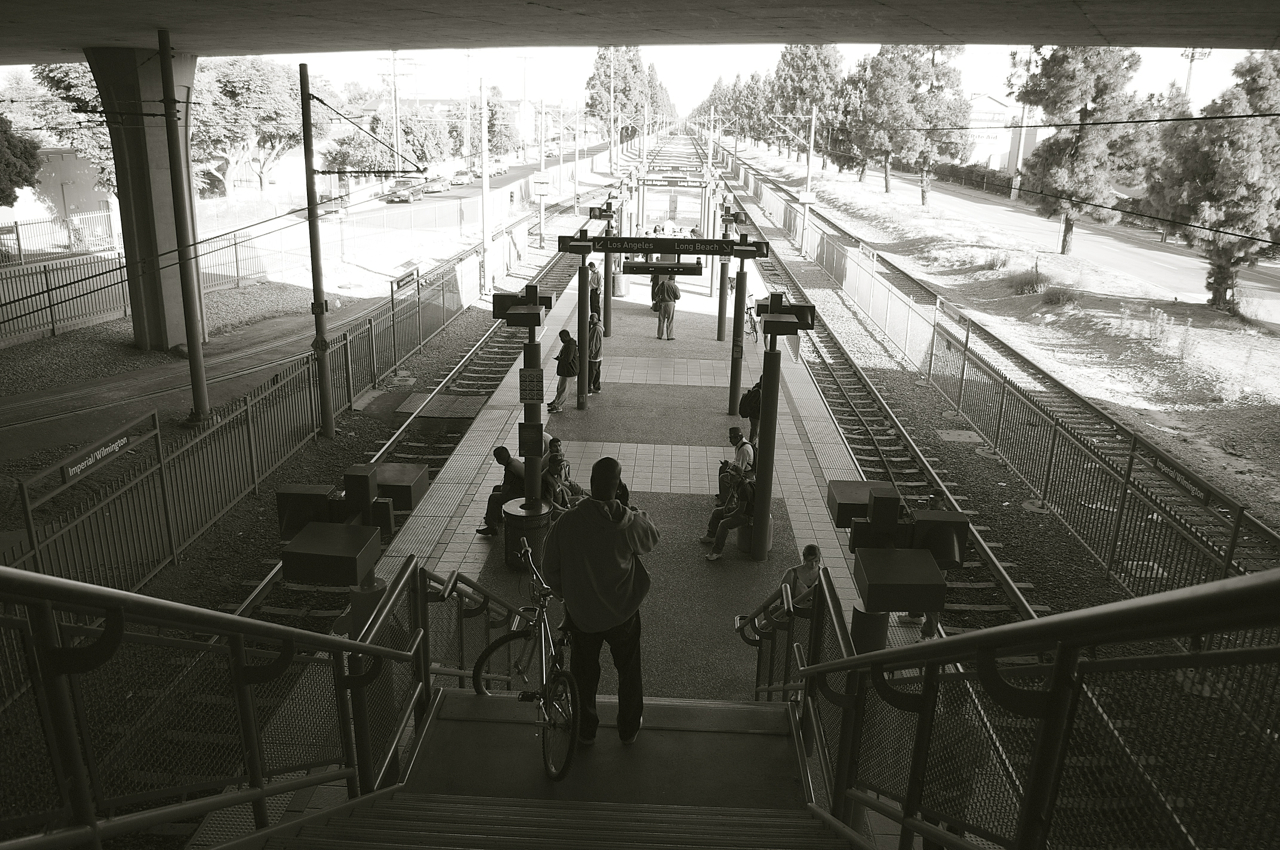 Metro kicked off the Willowbrook/Rosa Parks Station Improvement Project yesterday, as all good groundbreakings do, with a photo-friendly demolition of structures that, to observers, symbolize the stagnation the project aims to remedy.
Of course, the underwhelming level of development around the station - in service since the Blue Line opened in 1990 - is more a product of just how difficult it has been to convince retailers and private investors to take a chance on the community they abandoned so long ago. This despite it being one of the system's busiest.
Remedying that kind of institutionalized disinvestment via public projects alone is a tall order.
By tying transit improvements to other investments in the area, building partnerships aimed at uplifting the community, and tapping into the power and significance of Rosa Parks, however, Metro Board Director Jacquelyn Dupont-Walker, Director and County Supervisor Mark Ridley-Thomas, and Metro CEO Phil Washington all suggested in their remarks, extraordinary things might be possible. [Watch their full set of remarks, here.]
Ridley-Thomas lauded the $109 million overhaul of the Rosa Parks station as offering "something for everyone."
Specifically, the construction will include: a new civic plaza (to be used for community events); a bike hub; the expansion of the Blue Line platform and extension of the canopy; consolidated and improved bus bays; upgraded elevators, escalators, and stairs connecting the Blue and Green Lines; new customer service and security centers; site-specific artwork by artists Jamex, Einar de la Torre, and George Evans exploring the legacy of Rosa Parks and the Civil Rights movement; a reconfiguration of the park and ride lot; new landscaping, lighting, and shelters; public restrooms; and new and improved pedestrian pathways connecting passengers to Willowbrook and Wilmington Avenues (see below).
The makeover is part of the larger $1.2 billion in upgrades to the 22-mile corridor that have been underway for the past four years, and which include a new fleet of train cars, four new switches, improvements at Washington/Flower, and other major system upgrades.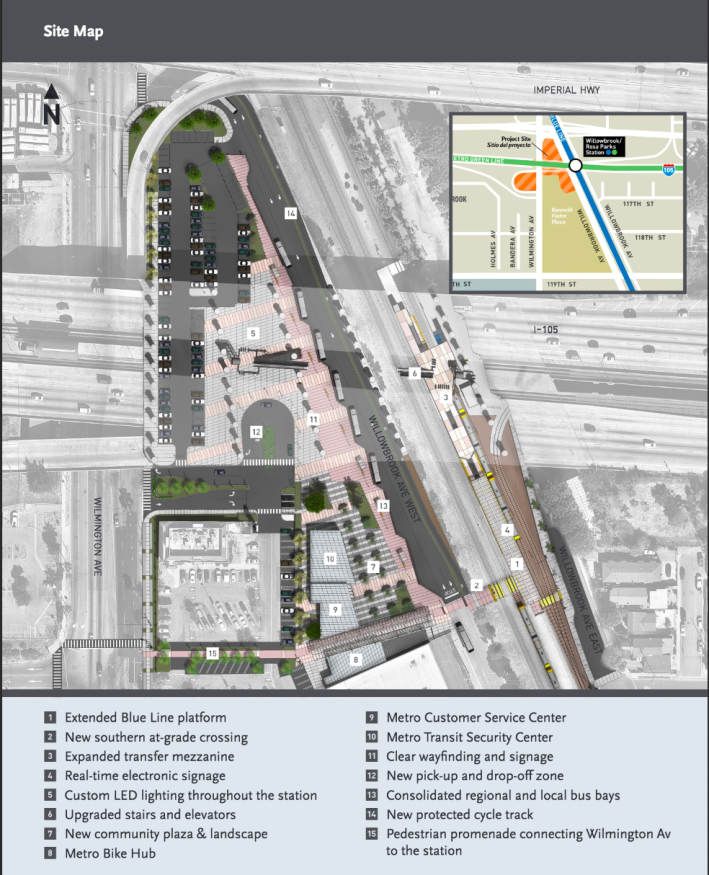 But the station was just one of many examples of investments made in the immediate area, Ridley-Thomas continued.
The rebuilding of the nearby Martin Luther King, Jr. hospital, the completion of 105 units of affordable senior housing and the Willowbrook Library just across the street from the station, and improvements to the streets and park spaces [Watts Serenity Park opened just a few years ago, a skate park is planned for a site just north of the station, and the Watts Rising Collective recently won a $35 million Transformative Climate Communities grant], he said, all figure into efforts to carry out the mission of building a truly transit-oriented community in a way that benefited residents.
"This has been done with intentionality. It's purposeful," he told the crowd. "When we began to think about this, we began to think about it in terms of the way the various pieces would line up. And they are lining up in a very impressive way, don't you agree?"

For her part, Dupont-Walker spoke of meeting the station's namesake - Rosa Parks - as a child. Parks had gone to Florida to ask Tallahasseans to be in solidarity with the bus boycott in Montgomery. Parks' spirit, she said, would be pleased to know Willowbrook was honoring her legacy by improving transportation options and the transportation experience for this community with this project. And, as Parks' name had done with regard to a number of community-centered initiatives over the years, she said, it would again signal to the community that the station was a welcoming place "where people can come and grow and develop."
As such, she said, "I may reverse [the station name] and say 'Rosa Parks/Willowbrook.' But all we want to do is to be sure, Mr. Washington, that when that announcement [of the station] is made, it doesn't stop with 'Willowbrook.'"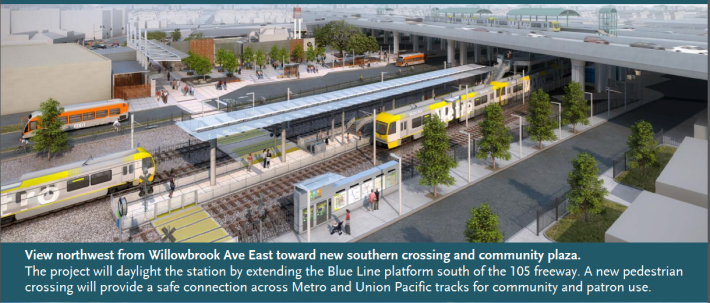 The "Rosa Parks/Willowbrook" station was indeed a critical hub, and would be all the more so as the Crenshaw Line, Regional Connector, and the extension of the Purple Line opened, agreed Washington.
But the overhaul was also providing unique opportunities for new actors to be involved in and benefit from transit dollars. G&F Concrete Cutting, Inc. - on hand to do the demolition for the photo op - was the first beneficiary of the Contractor Development and Bonding Program (CDBP) launched in March of this year.
Normally, smaller and medium-sized firms are shut out of the process - unable to complete with larger firms who can take on bigger projects. In "unbundling" the projects, Metro created more opportunities for Metro-certified Small Business Enterprise, Disadvantaged Business Enterprise, and Disabled Veteran Business Enterprise firms to have a shot at a contract. The CDBP works to level the playing field by aiding them both to shore up their capacity and secure sufficient bonding so they are able to bid for Metro construction contracts.
[Creating pathways for more new actors to benefit from the billions in Measure M transit dollars is also the impetus behind Metro's move to work with the County to build a transit tech high school and career center on the corner of Vermont and Manchester in South Central. More on that next week.]
For now, Washington said, it was crucial that we keep those dollars flowing to communities and to our transit system by continuing to support S.B. 1 - the gas tax that is up for repeal on the November ballot. Approximately $14 million of the costs of the station overhaul are being paid for with S.B. 1 funds.

If there was one thing that remained unclear, it was how the cost of the station had jumped from approximately $66.7 million to $109 million - the figure being reported out as the cost of the project both at the groundbreaking and in press notices.
Last year, Metro sought a small contract modification to limit disruption of service during station construction, but no mention of any significant changes to the 2015 estimate of the cost of the project was made at that time.
Metro since has announced that the station would be closed for the entire eight months beginning early next January and that, concurrent with the station's overhaul, it will undertake major system upgrades, shutting down sections of the line for four months at a time. It may therefore be that Metro is figuring in the cost of some of the system upgrades around the station as part of that $109 million figure, but no document on the project appears to spell that out clearly.
Speaking of the closures, Metro has released next year's work schedule. Closing sections of the system turned out to be preferable to trying to do the work on off-peak periods - something that would have dragged the work out over several painful years. But the disruptions will likely prove, well, disruptive, even with the shuttle service that will be provided to fill the gaps.
According to Metro,
From January to May 2019: The southern segment from Willowbrook/Rosa Parks Station to the Downtown Long Beach Station will be shut down and replaced by Metro bus shuttles. The Blue Line will continue running between 7th St./Metro Center and 103rd St./Watts Towers Station.
From May to September 2019: The northern segment from the Willowbrook/Rosa Parks to 7th St/Metro Center will be replaced by bus shuttles. The Blue Line will continue running between Compton Station and Downtown Long Beach Station.
Also of note, Expo Line service will be replaced by shuttles between 7th Street/Metro Center Station and Pico Station for 45 days during the northern closure. Trains will continue to run between LATTC/Ortho Institute Station and Downtown Santa Monica.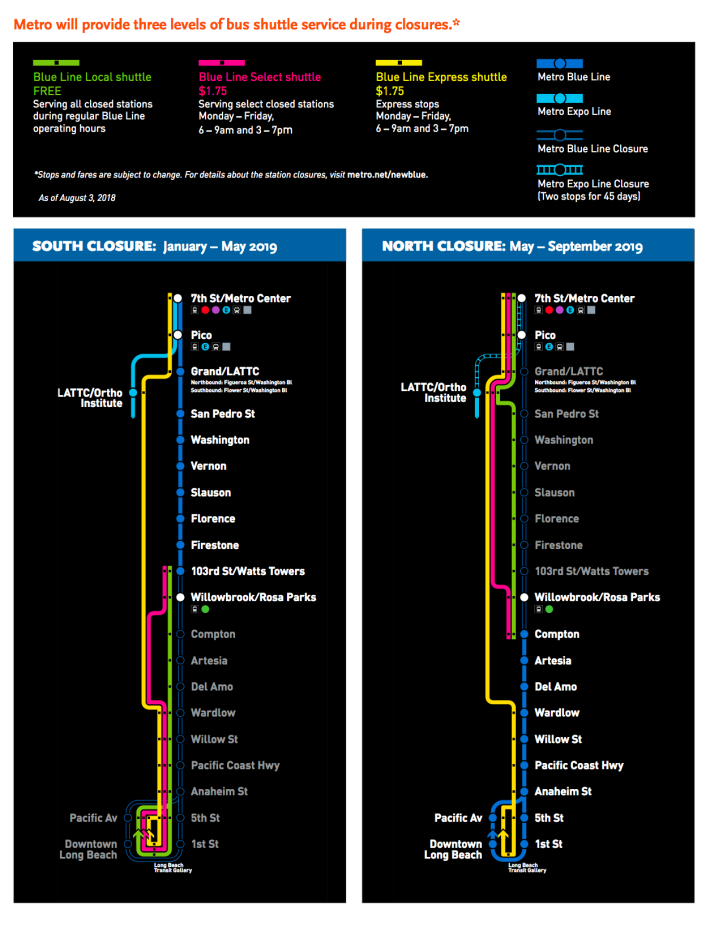 As reported on The Source and seen above:
Blue Line Local Bus Shuttle Service will be free, with buses serving all closed stations. The shuttles will run the same hours/days as the Blue Line.
Blue Line Select Bus Shuttle Service will have a $1.75 fare and serve busier stations between 6 and 9 a.m. and 3 and 7 p.m., Monday to Friday. The shuttles will serve Pacific, 1st Street/Downtown Long Beach, 5th Street, Anaheim, Pacific Coast Highway, Willow, Wardlow, Willowbrook/Rosa Parks and 103rd/Watts Towers during the closure of the southern segment. Shuttles will service 7th/Metro, Pico, Grand/LATTC, Willowbrook/Rosa Parks and Compton during the northern closure.
Blue Line Express Shuttle Service will have a $1.75 fare with limited stops along the entire corridor during rush hours, Monday through Friday. Stations served will be Pacific Ave, Downtown Long Beach/1st Street, 5th St, Anaheim St, Pacific Coast Highway, Willow St, Wardlow, LATTC/Ortho Institute, Grand/LATTC, Pico, and 7th St/Metro Center.
For more on the Rosa Parks/Willowbrook station improvements, please visit Metro's dedicated page. For more on the Blue Line shuttle service, please go here.
Sahra is Communities Editor for Streetsblog L.A., covering the intersection of mobility with race, class, history, representation, policing, housing, health, culture, community, and access to the public space in Boyle Heights and South Central Los Angeles.
Stay in touch
Sign up for our free newsletter