Open Streets
Vernon + Huntington Park Open Streets – Open Thread
1:31 PM PDT on August 20, 2018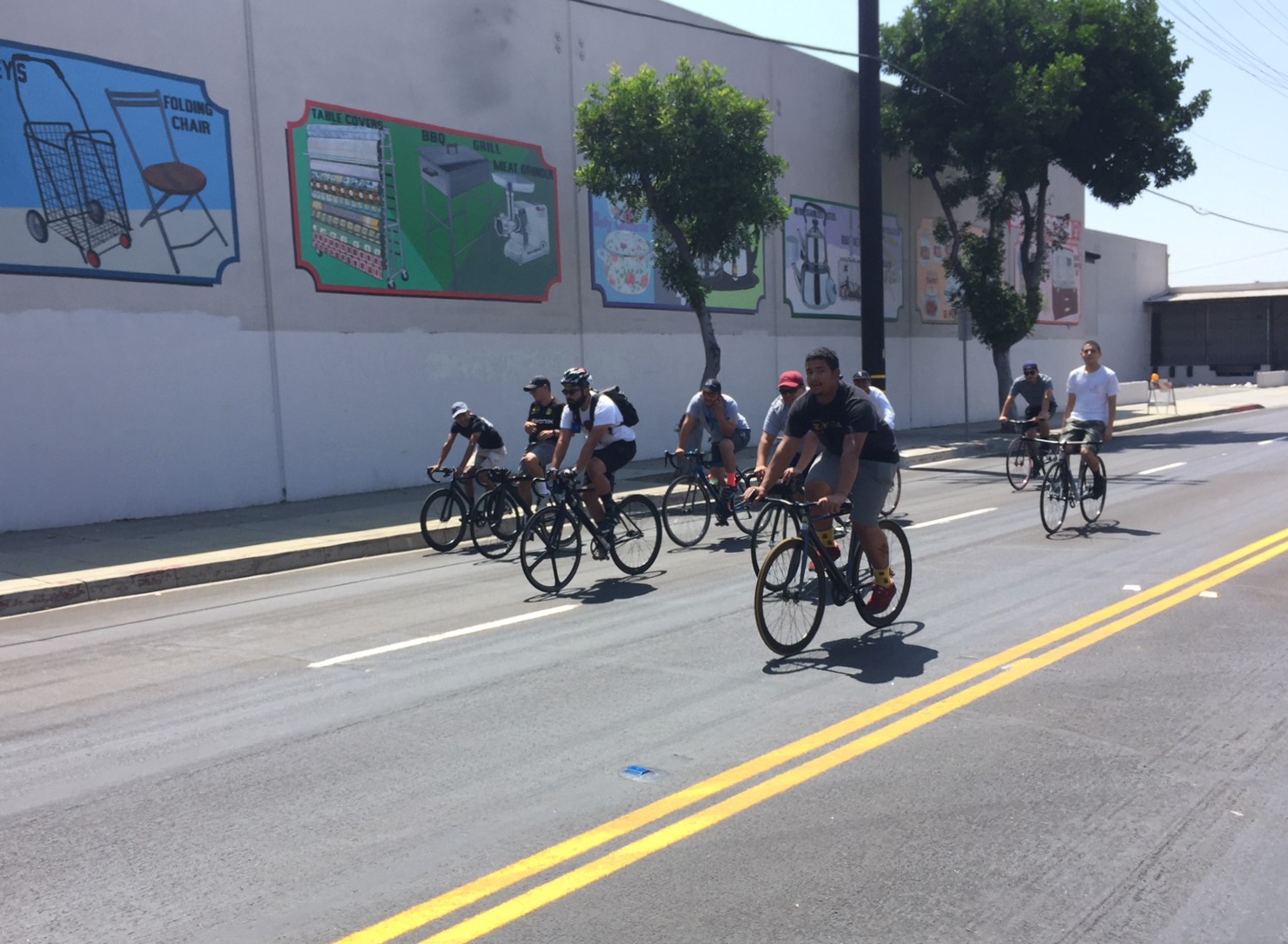 Note: Metropolitan Shuttle, a leader in bus shuttle rentals, regularly sponsors coverage on Streetsblog San Francisco and Streetsblog Los Angeles. Unless noted in the story, Metropolitan Shuttle is not consulted for the content or editorial direction of the sponsored content.
Yesterday, the southeast L.A. County cities of Huntington Park and Vernon hosted their first joint open streets festival. Vernon + Huntington Park Open Streets closed about five miles of streets to car traffic, opening them to bicycling, scootering, skating, walking, and various booths, music, food trucks, and activities.
It wasn't empty. There were definitely families and individuals enjoying themselves, but attendance was not great. I've been to more than 50 open streets events, and yesterday's was the emptiest I've seen. It appeared to be the most sparsely attended ciclovía in L.A. County history. All the actual CicLAvia-produced CicLAvia events have attracted tens of thousands of people, including an earlier Huntington Park CicLAvia that connected with several neighboring southeast cities and communities. Smaller cities have produced their own open streets events attracting thousands of people. I remember attendance feeling somewhat sparse at events in El Monte/South El Monte and Downey, but yesterday looked emptier than those. I don't have a scientific count for Vernon & HP's event yesterday, but we arrived just after noon, and I would guess the total was fewer than two thousand. There were probably another thousand people staffing booths and street closures along the route.
There were a few signs early on that attendance was not going to be big. In the weeks leading up to the event, I had seen very little of the internet buzz that these events typically generate. When my daughter and I got off the Metro Blue Line, we biked to a nearby route spur on the northern half of Randolph Street. It was barricaded off from car traffic, but there were no signs nor visible cyclists. It was the first time I've arrived at a ciclovía route and have been unsure of whether I was in the right place.
A few factors come together to account for the meager attendance. It was a relatively hot August day. Outreach wasn't effective.
One other factor is the lack of street life in the unique "exclusively industrial" city of Vernon. Vernon has about 2,000 businesses supporting about 50,000 jobs, but fewer than 150 residents and no parks. These Vernon streets are already very very quiet on a typical weekend: nearly no pedestrians, and hardly any cars. Open streets events depend on local residents; Vernon has very very few of them. Though the city has a history of supporting businesses, it does not have experience supporting large-scale public events.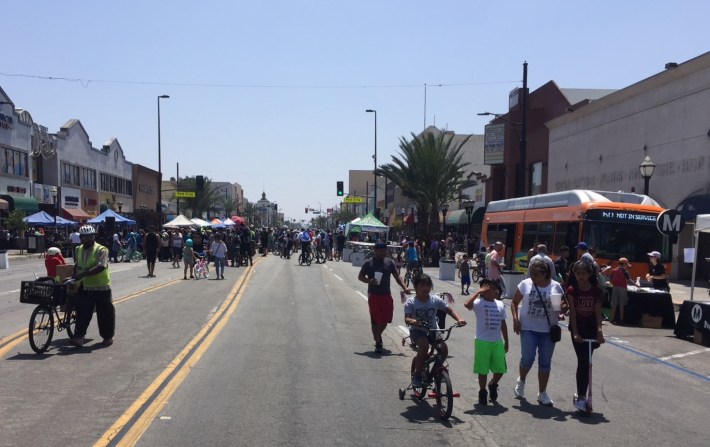 The most populated portion of the route was on Pacific Boulevard in Huntington Park. Pacific is a popular Main Street commerical area, though yesterday many of the stores were closed. (I don't know if this is typical for a Sunday, or if the event street closures prompted this.) A few restaurants were open and appeared fairly busy; this was the only commercial street on the route.
The most popular hub was on Pacific, near Gage Avenue, where a live music stage attracted a crowd of around two or three hundred people. Normally Pacific Avenue feels like a busy place, with plenty of people walking on its sidewalks. Both times when Pacific's big wide street has been opened for ciclovía events, it felt like the crowds spread out and didn't quite fill up the space.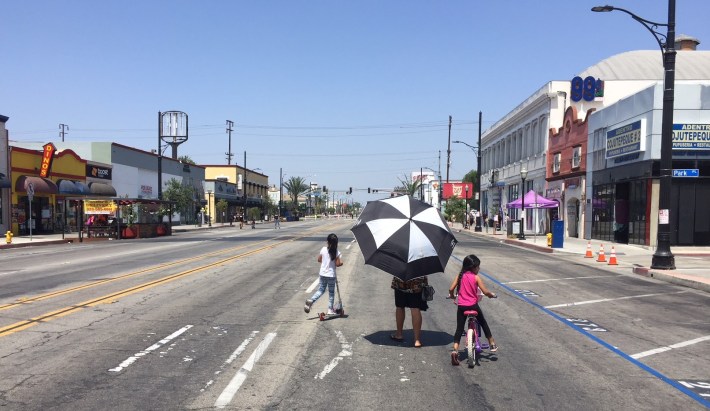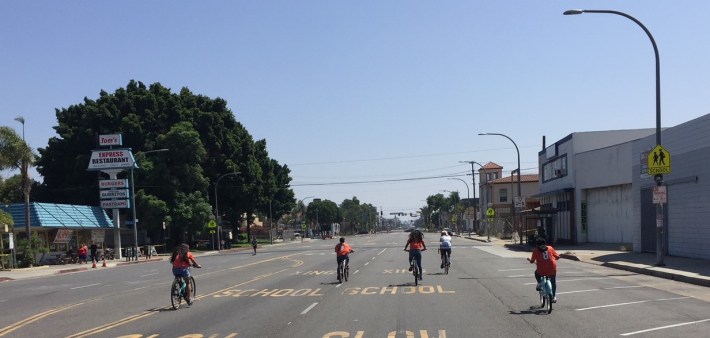 Participants thinned out as we headed north on Pacific into the city of Vernon. The route continued on the industrial streets of Leonis and District Boulevards. Though there were a few art and play areas at hubs there, the industrial corridor felt empty (as it typically does on weekends.)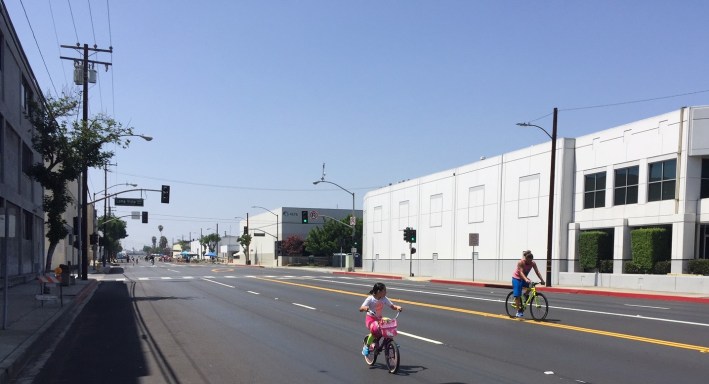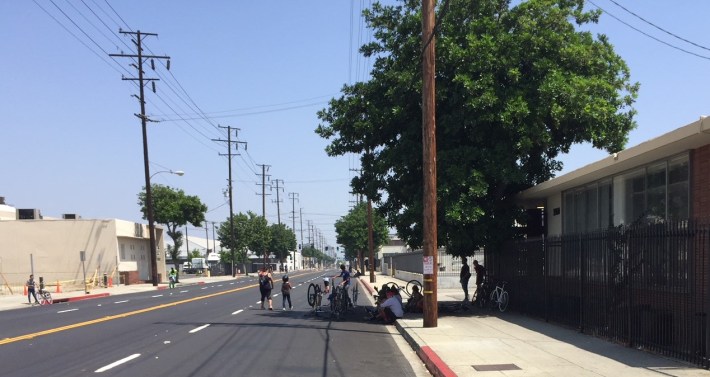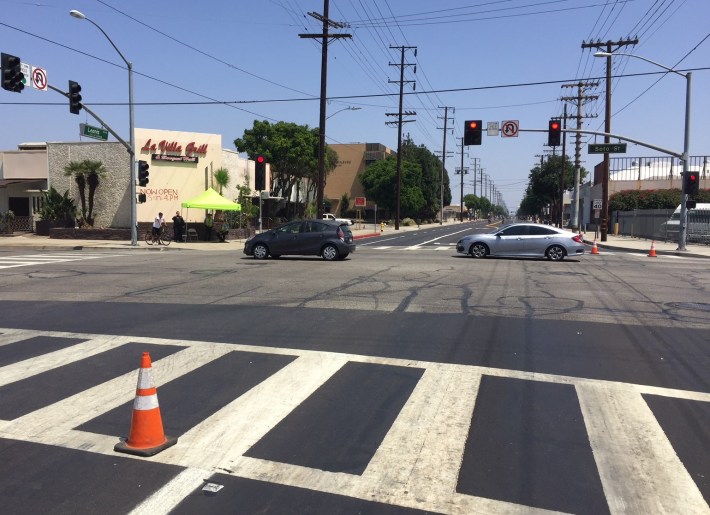 Though the event was fun for hundreds of people, I worry that low attendance could make cities less open to bicycling events and bicycing infrastructure in the future. After events like this I worry that someone might say "we tried that bike-thing and it just doesn't work here."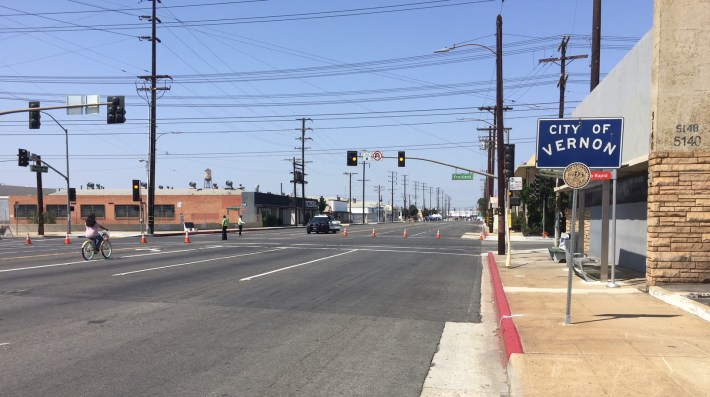 Readers - how was your experience at Vernon + Huntington Park Open Streets?
Stay in touch
Sign up for our free newsletter