BRT
Metro Planning Vermont Avenue Bus Rapid Transit
4:08 PM PDT on May 9, 2018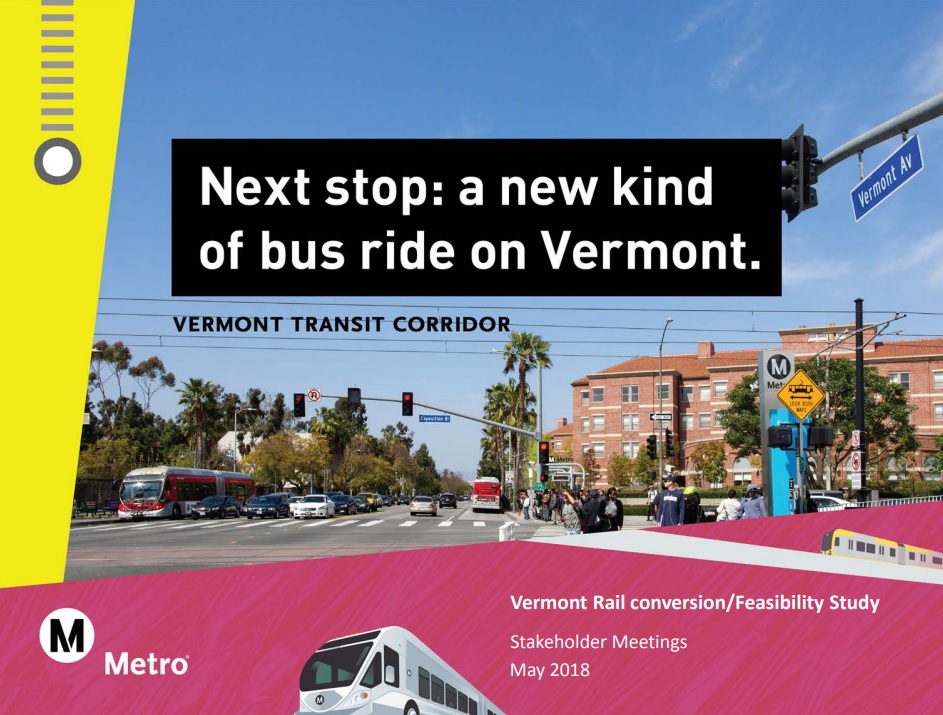 Yesterday, Metro held two meetings to present the latest on the agency's planned Vermont Transit Corridor project. Overall, the plan includes implementing Bus Rapid Transit (BRT) from South L.A. to Hollywood in the next decade, and planning for the longer term upgrade to rail - currently anticipated after 2067.
Readers interested in the Vermont Avenue project can still attend one last meeting in this round. That meeting will take place tomorrow - Thursday May 10 - from 6-8 p.m. at the EXPO Center in the Roy A. Anderson Recreation Center at 3980 Bill Robertson Lane in Exposition Park. Meeting details are at Metro's The Source.
The Vermont Avenue BRT project has $425 million allocated in Metro's Measure M sales tax expenditure plan, which schedules the project for a 2028 opening. The project is also on Metro's 28 by 28 list of projects to be completed ahead of the 2028 Olympics.
The Vermont Transit Corridor study area extends 12.4 miles along Vermont Avenue from 120th Street in South Los Angeles to Hollywood Boulevard in Los Feliz.
The corridor has three fairly distinct stretches:
120th Street to Gage Avenue - South of Gage Avenue, the Vermont Avenue right-of-way is very large - up to 200 feet wide. This stretch has three travel lanes in each direction, bike lanes, curb parking, a tree-lined median island, and, in many places, boulevard frontage roads with one travel lane and additional parking. Part of the reason for the great width is that historic streetcars ran there.
Gage Avenue to Wilshire Boulevard - North of Gage Avenue, Vermont is narrower - mostly around 80 feet wide. The stretch generally has two travel lanes in each direction, and curb parking.
Wilshire Boulevard to Hollywood Boulevard - Similar to Wilshire-to-Gage, this area also has mostly around 80 feet of right-of-way. It also is already served by the Metro Red Line subway running below ground.
According to Metro's presentation, Vermont Avenue bus lines see 45,000 boardings daily; this is Metro's second busiest bus corridor, just behind Wilshire Boulevard. There are also plenty of cars using Vermont Avenue, which slows down bus speeds.
Metro staff related that fully center-running BRT was ruled out as Metro wants its buses to be interoperable on all Metro lines. To operate center-running BRT north of Gage, the agency would need new buses with doors on the left side. Metro doesn't current have these types of buses, though they do operate elsewhere in Southern California: in San Bernardino, Omnitrans' successful Green Line is center-running BRT.
Eliminating the possibility of true center-running BRT means that, at least north of Gage, Vermont Avenue BRT will operate more like bus service and less like rail. If Metro's rush hour bus-only lanes on Wilshire Boulevard are any indication, buses in the curb lane will have to contend with turning cars, and (in part due to lax law enforcement) plenty of scofflaw motorists: some parked illegally, some proceeding straight illegally. While curb-lane BRT has some benefits to riders, it is unfortunate that, even on its highest ridership streets - Wilshire and Vermont - Metro appears unwilling to recommend the most effective transit options.
Some of Metro's inability to implement effective BRT can be blamed on cost. Center-running BRT costs more than curb lane BRT; building bus stations and purchasing special buses costs more than implementing bus-only lanes. In the scheme of things, though, even center-running BRT costs are not astronomical, especially compared to a mile of freeway or a mile of subway. In 2011, Omnitrans Green Line cost $192 million for 5.4 miles of center-running BRT.
But the real battle is over space. Metro and, in this case, the city of L.A. are unwilling to take much space away from drivers to prioritize bus riders. This includes reallocating space currently dedicated to driving and parking. Metro is proposing dedicated bus lanes, and removing some parking, but is bending over backwards to minimize these.
If riders can't get fast effective bus service on Vermont and Wilshire - the nation's heaviest bus ridership corridors running through southern California's most population-dense neighborhoods - then the possibilities for a truly effective BRT network appear minuscule.
At last night's meeting, Metro representatives announced the "most promising" BRT concept for the different parts of Vermont Avenue:
120th to Gage - 4.2 miles - South of Gage, the leading concept would be "side/center running BRT" where buses would have an exclusive lane along the median, and pull into stations that are smaller islands alongside the large medians there (see image above.) Metro anticipates this design would necessitate removing 23 percent of Vermont Avenue curb parking south of Gage.
Gage to Hollywood - 8.2 miles - North of Gage would be side-running BRT - likely similar to Wilshire Boulevard bus-only lanes, though with some "stations" that would be more-or-less like large bulb-outs. Metro anticipates this design would remove 23 percent of Vermont Avenue curb parking north of Gage.
Yesterday afternoon's meeting took place in South L.A., at the CD8 Constituent Services Center, located across from the contested Manchester-Vermont site that the county was recently awarded control over. Meeting attendance was about 20, with Metro's project staff outnumbering the public, which consisted of several nearby homeowners, and representatives of Community Coalition and Streetsblog.
Participants asked several questions regarding how the Manchester-Vermont site, plans for which include a "transit plaza", might interact with Vermont BRT. Metro staff responded that it was too early tell. Several public speakers pressed for the BRT project to benefit the health of the surrounding community - benefits including features like safe places for walking and bicycling. Overall though, the interest expressed most was for better transit connections to desired destinations, including colleges, jobs, restaurants, grocery stores, and Exposition Park sites like the new soccer stadium and the under-construction Lucas Museum.
In addition to BRT, Metro's Vermont Corridor study is looking at longer term implementation of additional rail on the Vermont corridor. Per Metro, the current timeline for Vermont Avenue rail would be after 2067.
Metro staff presented several preliminary rail concepts - from streetcar to light rail to heavy rail. The idea is to plan the rail now, to implement BRT with conversion to rail in mind, and to seek rail funding in the future. New rail is planned to be implemented south of Wilshire Boulevard, as the corridor north of Wilshire already has the Red Line subway. There are possibilities for connecting new Vermont Avenue heavy rail to either the Red or Purple Line at Wilshire/Vermont.
For more on the Vermont Avenue preliminary plans for rail, see Metro's presentation, and coverage at Urbanize and Curbed.
The anticipated timeline for Metro's Vermont Transit Corridor work would be to continue to refine BRT and rail concepts before another round of public meetings in October. The initial study is anticipated to be complete in December. Environmental review of the BRT project could start in mid-2019.
Stay in touch
Sign up for our free newsletter