bicycle lanes
L.A. City Council and Media Are Getting the Bicyclist Lawsuit Stories Wrong
5:24 PM PST on February 6, 2018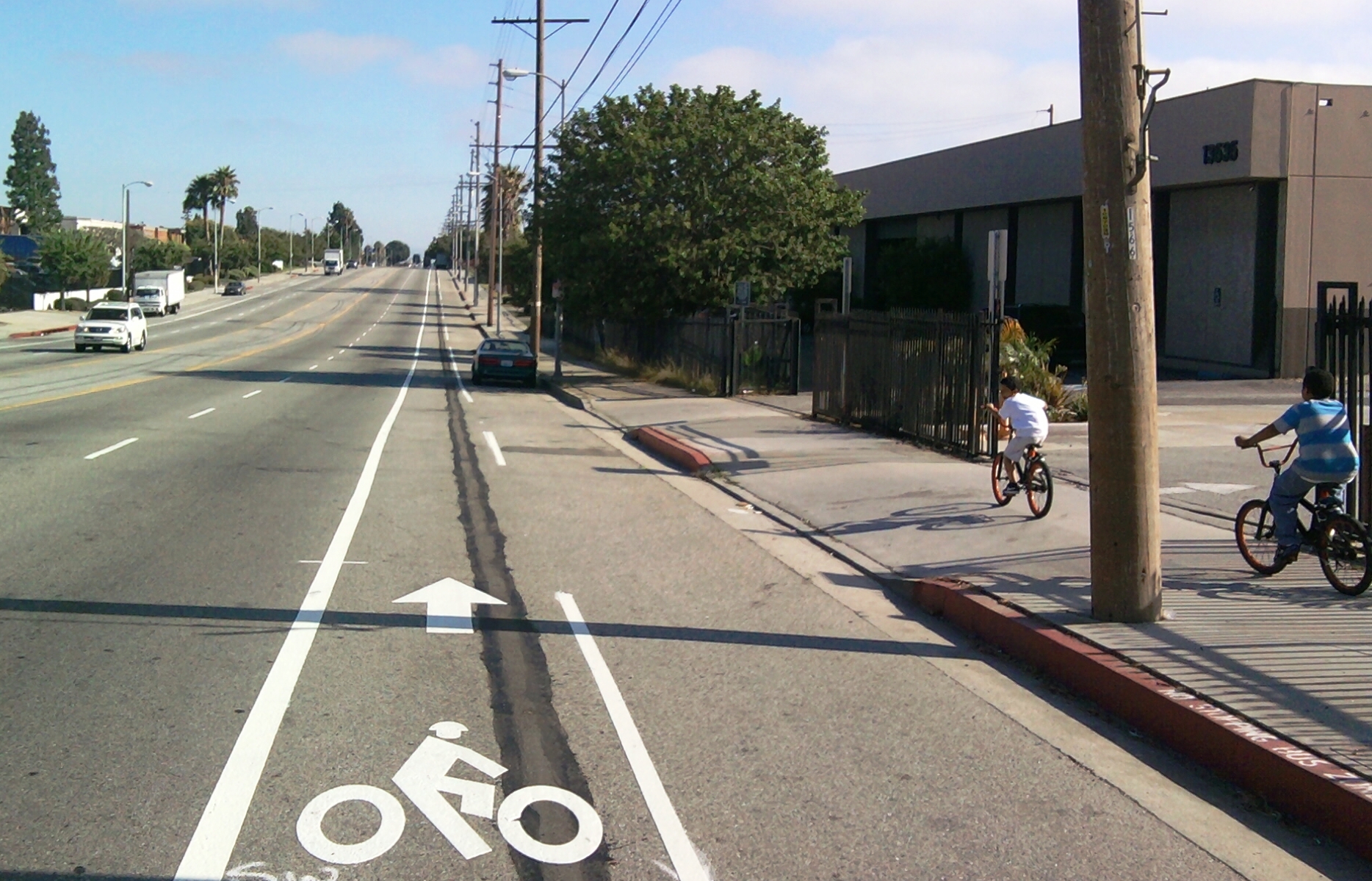 In 2017, the city of Los Angeles paid out millions of dollars to settle lawsuits from bicyclists injured and killed on city streets. The cost of cyclist lawsuits is definitely up, but remains below half of what L.A. City pays out for lawsuits caused by death and injury from car crashes.
Tomorrow at 1 p.m. the L.A. City Council Public Works Committee will hear two motions that aim to address the problem. Streetsblog covered the proposed motions, though in a slightly earlier form, in an October 2017 article; today's article refines points explored there.
Other media are reporting on the bicyclist lawsuits recently, too, with a February 3 L.A. Times story titled L.A. faces skyrocketing costs for lawsuits over bike crashes and a November 2017 KCET video titled Bumps in the Road.
The L.A. Times focuses on calendar year 2017. During that calendar year the city settled five cases where solo cyclists crashed due to poor road conditions:
In addition the city settled two cases where cyclists were killed or injured in crashes caused by cars:
All in all, there were seven lawsuits, with city payouts totaling $19.6 million. The media focus has been on the solo bike crashes due to poor pavement; those five cases total $18.9 million.
Of the seven crashes, only one took place on a street with a bike lane: Yao crashed in a bike lane on Reseda Boulevard.
Gabat's crash took place on a bike route. A bike route is a street with no bike lane, where cars and bikes share space. Gabat's bike route only had "bike route" signs, not even sharrows. Most L.A. cyclists understand that L.A.'s bike route streets are typically no better places to bike than non-route streets.
Five of the seven crashes happened on streets with no bike facility of any kind. Which, given the lack of a functional bike facility network in nearly all of L.A., is where most L.A. cyclists ride most of the time.
Unfortunately, as is sometimes the case when non-cyclists look at bicycling, the media and the city council are getting the story wrong. Here are some of the myths that are getting in the way of actually fixing the problems that are causing bike crashes and lawsuits.
Myth #1: Cyclist crash lawsuit incidents took place in "bike lanes" - WRONG 
City Councilmember Mitch Englander's bike lawsuit motion (17-1142) begins "In the past few months there have been several high profile lawsuit settlements involving accidents that occurred in City of Los Angeles Bike Lanes – that have either killed or rendered cyclists paralyzed or with severe brain damage." Englander is wrong. Of the "several... accidents" (plural) he refers to, only one accident (singular) occurred in a bike lane.
KCET reports, at minute 4:50 in their video, that cyclist Edgardo Gabat died "riding on a designated bike lane" on Colorado Boulevard in Eagle Rock. KCET is wrong. Gabat crashed on a stretch of Colorado Boulevard east of North Figueroa Street where there is no bike lane. A glance at the site in Google maps is enough to confirm that there are still no bike lanes there.
Repeating, of seven bike crash lawsuits settled in 2017 - only one - Yao - took place in a bike lane.
Myth #2: L.A. is striping dangerous bike lanes on broken streets - WRONG
The L.A. Times article asserts three times that Los Angeles is striping bike lanes on broken streets: (italics added)
"Victims and attorneys complain that city employees have ignored obvious hazards as they go about their work, strolling past dangerous potholes as they go to fix another part of the road, or striping bike lanes on plainly broken streets."
"[Councilmember] Englander said that striping a broken street with bike lanes gives cyclists "a false sense of security" and increases city liability."
"The crash that led to the biggest payout of the past year — a $7.5-million settlement with the 62-year-old cyclist [Yao] who became a quadriplegic — happened in a bike lane that was installed on a broken roadway, then left in shoddy shape "
The L.A. Times article highlights three specific incidents - Yao, Pascal, and Godefoy - and does acknowledge that only one - Yao - took place in a bike lane.
But, where Yao crashed, did the city really "[install a bike lane] on a broken roadway"? No. The L.A. Times is wrong.
In September 2014, William Yao was bicycling in a bike lane on Reseda Boulevard near Brasilia Drive. The site is north of the 118 Freeway in one of L.A.'s newest neighborhoods, Porter Ranch, which was developed in the 1990s. The bike lanes in Porter Ranch were added there when the streets were brand new. North of the 118 Freeway, the Reseda Boulevard bike lanes were installed in 1992 (according to LADOT) on what was then a brand new part of Reseda Boulevard.
Yao's crash did not happen, at the Times states, "in a bike lane that was installed on a broken roadway." The bike lane was installed on a new roadway, which 22 years later, had deteriorated and become dangerous. This may sound like a petty distinction, but crafting an appropriate solution begins by actually understanding the problem.
Driver lawsuits still more than double the cost of cyclist ones 
If fiscally-responsible city councilmembers are concerned about recent "skyrocketing" bike lawsuit costs, those must really be what is breaking the city budget, right? This is not the case. Looking at calendar year 2017, the city settled:
Five solo cyclist crash lawsuits - total: $18.9 million
Two car vs. cyclist lawsuits - total: $690,000
Four car vs. pedestrian lawsuits - total: $26.03 million
Thirteen other car crash lawsuits - total: $14.2 million
Thirteen solo pedestrian trip-and-fall lawsuits - total: $1.7 million
For 2017, overall, drivers cost the city $40.9 million in lawsuit settlements, while cyclists cost $18.9 million and pedestrians cost $1.7 million. Even with bike costs "skyrocketing" they remain less than half of the apparently less newsworthy lawsuit costs caused by drivers driving.
As city officials look to solve budgetary issues stemming from lawsuits, they would do well to look toward Vision Zero solutions which make streets safer for everyone. For additional recommendations, see earlier bike lawsuit coverage.
(The City Attorney's office did not provide SBLA any lawsuit data, despite several requests. The figures cited in this article are gleaned from council file data. We are confident that our figures are accurate, but it is possible that they may not represent the entire picture. View SBLA's data at this Google spreadsheet.)
Stay in touch
Sign up for our free newsletter