A Line (Blue Line)
Strategy Center Files Lawsuit Seeking Arrest, Citation, and Deployment Data from Metro, Law Enforcement Agencies
2:58 PM PST on December 18, 2017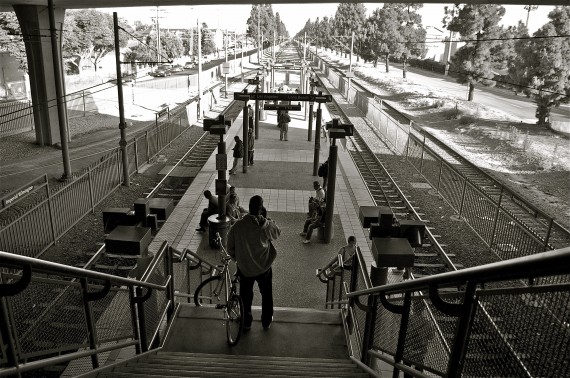 Between May and September of this year, the lawsuit Public Counsel filed on behalf of the Labor/Community Strategy Center (LCSC) this past December 13 states, both Metro and the Los Angeles Sheriff's Department (LASD) failed to adequately respond (or respond at all) to multiple requests for public records regarding policing and fare enforcement practices, breakdowns of data on those arrested, cited, and engaged by law enforcement, and the agreements and communications between Metro and law enforcement agencies regarding law enforcement's role in policing transit. [The lawsuit can be found here: PDF]
The lawsuit is part of a continued effort to monitor the extent to which Metro is addressing injustices alleged in the federal civil rights complaint the LCSC filed at the end of 2016.
Using Metro's own data, the LCSC had found that while African Americans only comprised 19 percent of rail riders, between 2009 and 2016, they regularly received nearly 50 percent of the citations for fare evasion and other infractions and were nearly 60 percent of those arrested. The fact that such a significant proportion of those citations and arrests happened along the Blue Line – the line cutting through historically distressed South L.A. neighborhoods where black unemployment and underemployment has long been in the high double digits and where young black men (especially those coming from one of the several public housing developments along the line) have struggled the most to find and retain steady jobs - the LCSC argued, suggested law enforcement was capitalizing on the vulnerabilities of the black community.
The U.S. Department of Transportation's (USDOT) first response to the complaint was to suggest Metro engage with the LCSC to reach a voluntary resolution to the concerns cited. Metro CEO Phil Washington did so, meeting with LCSC representatives in January of 2017.
At that meeting, Metro shared it was shifting fare compliance functions from sworn law enforcement to civilian Transit Security Officers (TSOs), decriminalizing youth citations by transferring jurisdiction to Transit Court and reducing penalties, implementing implicit bias training for all fare compliance staff, and using undercover "mystery shoppers" to observe how fare compliance was conducted.
It was a step in the right direction, the LCSC wrote in its summary of what transpired, but the failure of Metro to acknowledge the extent to which fare enforcement had been used as a de facto stop-and-frisk vehicle by the LASD suggested a lack of comprehension of the extent of the problem or its effect on black mobility and access to opportunity.
The USDOT ultimately fell somewhere in the middle, reporting this past October that its investigation into the complaint was inconclusive while being unwilling to let Metro off the hook.
Consequently, USDOT announced a one-year agreement with Metro, whereby it would provide technical assistance (TA) with regard to fare collection and fare compliance practices. TA would also be provided to aid Metro in conducting outreach and engagement on policing and fare compliance in an effort to help the agency "proactively avoid practices that could have a discriminatory impact on [transit] users."
According to Metro, the details regarding the form that assistance will take in practice are still being hammered out.
In the meanwhile, the current lawsuit is meant to aid the LCSC in evaluating the implementation of the recently approved multi-agency contract with the Sheriffs, the Los Angeles Police Department (LAPD), and Long Beach Police Department (LBPD) and to continue monitoring fare enforcement and policing patterns.
The departments have not made that easy.
As described in the suit, the LASD often contradicted its own policies (e.g. claiming it did not track things like incidences of use of force) or misrepresented the requests in order to argue the data could not be released. Collectively, all three agencies failed to provide data within a set time period as required by the California Public Records Act, provided only partial data sets or pointed the LCSC to unrelated data, claimed some requests put too great a burden on the agency, and/or failed to acknowledge particular requests altogether.
Neither has Metro.
Metro's response to requests for documents regarding current or past expectations of law enforcement or about how Metro handled the many complaints made about officers when LASD was the sole contractor suggests there are no such documents to be had.
It's a troubling claim, and one the lawsuit alleges is likely to be untrue.
The most recent negotiations around the multi-agency policing contract, however, were noteworthy for just how little official discussion there was regarding what law enforcement's actual mandate would be or how it would be expected to patrol.
Nuanced discussions of what "safety" and "security" would look like in practice or whose "safety" and "security" would be prioritized never fully materialized.
Instead, Metro boardmembers spoke of how greater visibility and saturation on transit would yield improved response times and greater security. Boardmember Ara Najarian went one step further and asked what had to be done to make law enforcement officers feel safer.
Citing the video of an off-duty officer in Anaheim wrestling with a youth, flashing his gun and then firing it to scare the kid and his friends, Najarian said,
It's important to look at the side of the officers and the deputies – from all of your agencies. I want to make sure…that none of [the officers] feel vulnerable, alone, isolated…We've seen in the news…how a single police officer can be hounded by a group of young kids and feel very threatened in his actions. So, I'm hoping that we don't create that sort of situation and that all of our [law enforcement] agencies feel supported and [have] the ability to reach out in case incidents arise.
Considering the years LASD and Metro spent clashing over what role law enforcement should play on the trains (Metro wanted the Sheriffs to focus on fare enforcement; LASD preferred to do crime suppression), the inability of Metro to provide more documentation on the subject is troubling.
The death of a young man at a train station earlier this year - crushed by a train after he was frisked by LBPD officers over fare evasion and an altercation ensued - lends questions about how law enforcement is being deployed even greater urgency. The TSOs were meant to put a buffer between law enforcement and lower-income riders of color, yet, as detailed by the LBPD, Cesar Rodriguez still ended up being detained and searched over $1.75 fare.
When asked about the lawsuit, Metro said it does not comment on pending litigation.
Read the lawsuit here.
Sahra is Communities Editor for Streetsblog L.A., covering the intersection of mobility with race, class, history, representation, policing, housing, health, culture, community, and access to the public space in Boyle Heights and South Central Los Angeles.
Read More:
Stay in touch
Sign up for our free newsletter