Bicycling
Five Reasons Why People Who Bike Should Vote Yes On Measure M
5:10 PM PDT on November 3, 2016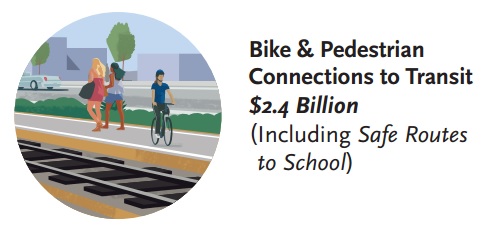 Streetsblog L.A. endorsed Measure M, Metro's proposed sales tax to fund transportation infrastructure and programs throughout L.A. County. Voters will decide the fate of Measure M next Tuesday. If you get around on bike, here are five reasons you will want to vote yes on Measure M.
1. A Local Funding Stream For Bicycling: Two Percent For Active Transportation
Prior to Measure M, Metro has never had a dedicated local funding source for bicycle infrastructure. Cities, including L.A., have used Measure R funding. Federal and state funding goes to local municipalities via Metro's Call for Projects and via the California Active Transportation Program. Often those monies, especially the federal ones, have excessive administrative burdens. Bike projects that cost thousands or millions are subject to the same kinds of burdensome processes as highway projects that cost billions. For big cities, the administrative burden drives up costs and delays schedules. For smaller jurisdictions, it often means projects just do not get started.
Measure M sets aside two percent for "Metro Active Transportation Program (Bicycle, Pedestrian, Complete Streets)." Two percent may not sound like a lot, but bike facilities are orders of magnitude cheaper than highways and subways, so a little money goes a long way, especially when it is local money with a minimum administrative burden.
Measure M is expected to generate an estimated $860 million annually. Two percent of that is $17 million every year for biking and walking; bicycling would get about half, nearly $9M each year. That is $9M annually in 2017 dollars. With inflation, the first forty years of Measure M are projected to raise $120 billion, so the two percent set-aside totals $2.4 billion, with about $1.2 for bicycling.
But that's not all! There's actually quite a bit more bike money in Measure M. Investing in Place estimates that the overall percentage of Measure M that will go to bicycling and walking totals six to eight percent, likely upwards of $4 billion.
2. First/Last Mile Bicycle Connections To Transit
Metro has approved a sensible first/last mile to transit policy that ensures investment in making it easier for Metro rail riders to get to stations. First/last mile is not all bicycling and walking; it includes various other modes, such as car-share, ride-hail, and even park-and-ride. Nonetheless, walking and bicycling together combine for the lion's share of transit rider arrivals, and would be supported by first/last mile investments.
Metro's recent first/last mile policy requires that three percent of the rail-building budget goes to first/last mile facilities. In some cases this comes as part of a local match from the city where the station is located. In any case, bike facilities - likely bike parking, bike lanes, bike paths, bike-share - will be a big part of Metro's first/last mile connections to the roughly 100 miles of rail Metro would build if Measure M passes.
3. Complete Streets Projects That Foster Bicycling, Plus River Bike Paths
There are numerous "complete streets" projects in various sub-regions. These projects are actually in Measure M's Highway funding. There are not a lot of details, but funding would go to the city of L.A.'s Great Streets and Safe Routes to School facilities. There are San Gabriel Valley complete streets, Westside cities subregional bike corridors, South Bay neighborhood mobility projects focused on short trips, and Palmdale and Lancaster funding for implementing active transportation plans. It is difficult to put an exact dollar value on the bicycling share of these, as bicycling is a component of multimodal facilities.
Measure M also includes specific funding to complete the unfinished portions of the fifty-mile L.A. River Bike Path. There are two missing sections named in the measure: across the San Fernando Valley (twelve miles - "Canoga Park to Glendale") and through downtown L.A. (eight miles - "Elysian Valley to Maywood.") In addition, there is funding for the L.A. River tributary, the Pacoima Wash running through the city of San Fernando.
4. Metro Stepping Up Bike Projects and Programs
Measure M would foster Metro's upping its game in support of bicycling. Metro would have a steady source of funding for expanding and maintaining bike-share. It also support Metro programs such as open streets, education, media campaigns, etc.
5. Don't Take Our Word For It - Ask Other Bicyclists
Streetsblog L.A. is written by and read by a lot of cyclists, but don't take just our word on Measure M. The sales tax is endorsed by various bicycle-oriented nonprofit organizations including the L.A. County Bicycle Coalition, Bike San Gabriel Valley, Bike the Vote, and the Pasadena Complete Streets Coalition.
Stay in touch
Sign up for our free newsletter