ride-hail
New Bruce Schaller Report: Recommendations for Regulating Taxi & Ride-Hail
5:27 PM PDT on October 13, 2016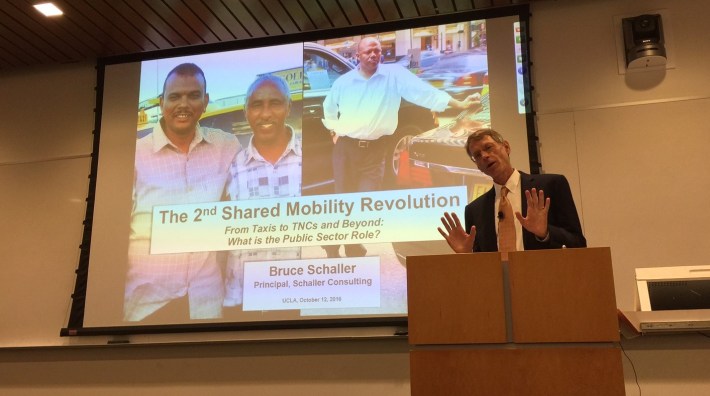 Transportation consultant Bruce Schaller released a new report with valuable advice for states and municipalities as they work to ensure that ride-hail companies best serve the common good. Ride-hail, or TNCs (Transportation Network Companies), includes primarily Uber and Lyft. Schaller was one of Janette Sadik-Khan's key deputy commissioners in the New York City Department of Transportation. His report, titled Unfinished Business: A Blueprint for Uber, Lyft and Taxi Regulation, was the subject of a talk Schaller gave yesterday at the UCLA Lewis Center for Regional Policy Studies.
Throughout the report, Schaller recaps successful examples where regulations and programs are solving problems. He also provides a primer on the tangled taxi-TNC relationship in California, where state legislators tried to level the playing field by passing A.B. 650. That bill attempted to bring taxi regulation into the hands of the California Public Utilities Commission (CPUC), which already regulates TNCs. A.B. 650 passed at the last minute, but was vetoed by Governor Brown.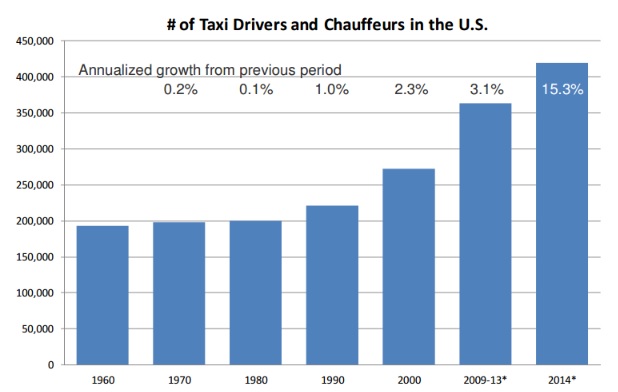 Schaller provides worthwhile context for the current changes in the taxi industry. Despite some perception to the contrary, prior to the advent of technology-enabled ride-hail about a half-dozen years ago, the taxi industry's growth has been relatively healthy. Per the report, the number of taxicabs in the United States increased by at least 20 percent between 2002 and 2016. With the advent of Uber and Lyft, Los Angeles taxi ridership fell 43 percent, and revenue was down 24 percent, between 2013 and 2016.
Schaller makes the case that there are significant differences between "dispatch" and "flag" systems. Flag service--in which riders get rides from taxis already onsite (such as at airports)--are less subject to market competition and more in need of regulation. Dispatch markets, in which hailing was historically done by phone, now commonly via app, are less prone to individual abuse, hence less in need of regulation.
Schaller makes recommendations in five key areas: 
A level playing field between taxis and TNC: Schaller recommends a two-tiered system differentiating between "dispatch" and "flag" operation. For "dispatch" service, governments should roll back some taxi regulation to enable fair competition between taxi and TNC. Customers choose which company to ride with. At the same time, for "flag" service, government should "retain more extensive regulations, including numerical controls and fare regulation... to prevent oversupply, fare gouging, and chaotic street conditions."
Fingerprinting drivers: Schaller recommends managing driver-related risks using both forward-looking and backward-looking methods. The report recommends fingerprint-based criminal record checks as the "established best practice for identifying drivers with criminal records." Requiring this would put taxis and TNC on equal footing. Fingerprint background checks, standard for taxis, are being studied by the CPUC, as well as Chicago and Massachusetts. Driver performance should be addressed on an ongoing basis via "safety management systems that monitor, train, and provide feedback to drivers."
Wheelchair-accessible service: Schaller points to the failure of past fleet-wide disability-access regulations, and recommends that wheelchair-accessible service should be funded through a fee on all rides. He recommends that robust wheelchair-accessible service be operated by specific operators that choose to do so. That's already been done successfully, an example being Arlington's Red Top Cab company's accessible taxi program. Drivers for Red Top who opt to serve wheelchair users receive specialized training and financial incentives.
Drivers as independent contractors or employees: There is a rosy, imagined picture of ride-hail drivers as independent part-timers making a few bucks on the side, driving only when they choose to work. According to Schaller, though, the bulk of the service is provided by drivers who work full time or close to it: "41 percent of Uber rides in the company's twenty largest U.S. markets are provided by drivers who work at least 35 hours a week. In addition, 38 percent of the service is provided by drivers working roughly half-time (16 to 34 hours a week)." Schaller recommends "providing civil rights protections, and ensuring that worker benefits are either provided by law or left to meaningful channels of negotiation between drivers and companies."
State vs. local regulation: Here Schaller again draws a distinction between "dispatch" and "flag" regulation. For "dispatch" service, TNC and taxis could be regulated at a higher level, such as county or state. For "flag" service, the concerns are more local, such as serving a specific airport site; hence the regulation should continue to be a more local level, such as city or county.
Though not included in the report, at his talk Schaller made a few additional comments, especially in regard to data sharing. Schaller recommended that transportation agencies get consistent data from all taxi and TNC companies. Agencies could use travel time/cost data to better model travel demand, and ultimately to price the use of road space.
Stay in touch
Sign up for our free newsletter