E Line (Expo Line)
Metro Did the Right Thing By Not Over-Parking Expo Line Phase 2
1:38 PM PDT on May 18, 2016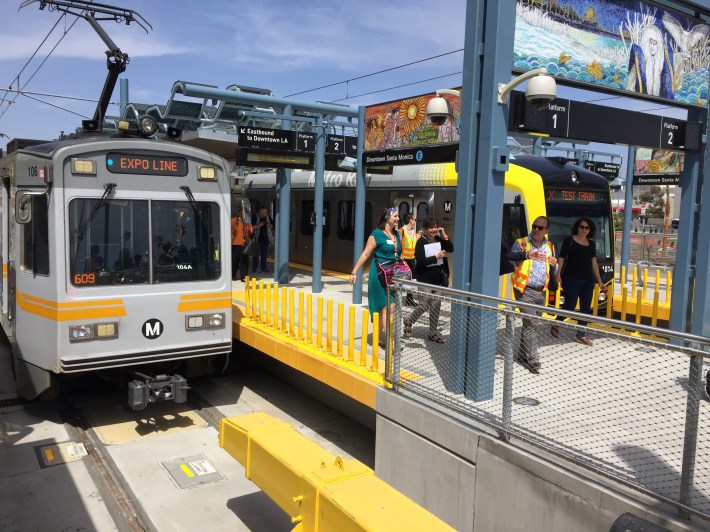 Metro's Expo Line Phase 2 opens this Friday. Though there is a lot of excitement and praise for the line, the Expo extension from Culver City to Downtown Santa Monica has also received some criticism. Note that Expo Phase 1 weathered its own criticism, and exceeded expectations.
Some critics are suggesting the line could be "doomed" due to a lack of parking. When Angeleno drivers say "parking" they tend to mean "free parking."
Here's an example from Laura Nelson's Los Angeles Times article The Expo Line is finally coming to the Westside, but limited parking raises concerns:
"So how do I get to the station?" Liesel Friedreich, 64, of Pacific Palisades, asked when she learned the downtown Santa Monica station wouldn't include dedicated parking for transit riders. "Isn't the point to get more people with more money to ride the train?"
(Nelson's article is overall a very good read and fairly balanced. She goes on to quote a Metro official stating that "hulking garages and expansive lots can be unsightly, expensive, and ultimately not a tool for encouraging people to stop driving.")
My first reaction to the Friedreich quote is that it is just not news. Yes, some people are saying this, but the first question for the reporter is: how valid, applicable, or newsworthy is it? Yes, people who never rode transit and who will probably never ride transit regularly will spout off lots of self-serving rationalizations for why they are not riding. If it is not the parking, it could be the time, the frequency, the location, the walk, the homeless people, the noise, or the yadda yadda. As a transit rider (cyclist and pedestrian), I hear these excuses all the time, and I don't think think they are news. They are a dog bites man story.
But let's take a look at the assertion that Metro should build parking so "people with more money" will ride the train.
Nelson and Metro call these monied folks "choice riders." Theoretically this means that there are two big groups of transit riders: poor "captive riders" who have no other transportation choice, and rich "choice riders" who typically drive. Transit expert Jarrett Walker (at minute 26 in this video) calls this false dichotomy the single most destructive fantasy about transit. In real life, people form a broad spectrum, so "When we incrementally improve transit service a little bit - we improve frequency, we get a payoff. We get a ridership improvement." Walker advises agencies to forget about the mythical "choice rider" and instead focus on the "middle 90 percent."
Building parking to lure choice riders out of the Palisades is an expensive proposition. Parking spaces run $10,000 to $25,000+ each. Expo Line phase 2 does include quite a few paid Metro parking lots (from The Source):
17

th

St./Santa Monica College: 67 spaces, of which 13 are monthly permits.

Expo/Bundy: 217 spaces, of which 131 are monthly permits.

Expo/Sepulveda: 260 spaces, of which 77 are monthly permits.
There are 544 new parking spaces. At a conservative estimate, that is at least a half-million five million dollars and probably closer to a ten million dollars' worth of parking. Drivers who ride Expo regularly will purchase monthly parking permits, and Metro can and should adjust the price to ensure availability.
It is also important to ask: whom does investment in parking serve? According to experts doing Metro's recent APTA review, investing in park-and-ride serves neither the environment nor low-income riders. From SBLA's coverage:
APTA panel member Michael Connelley, of the Chicago Transit Authority, responded that easy parking encourages driving that first/last mile, and that it would be better to re-direct parking resources to instead fund convenient, frequent bus service. He also recommended that stations would be better served in the long run if parking were replaced by mini-village transit-oriented development. APTA panel member Brian D. Taylor, of UCLA, further responded that park-and-ride subsidizes higher income riders, decreases transit's air quality benefits, and that charging [for parking] would help the agency's bottom line, with revenues available even to build more parking if the demand indicates.
Look closer at the Downtown Santa Monica Station, which the L.A. Times references. There are 7,000 public car parking spaces nearby. They're not free, and they're not built by Metro, but they're well-managed and available to Friedreich. There are also great Big Blue Bus connections and nearby Breeze bike-share hubs, the Expo bike path, and Santa Monica's Esplanade walk/bike connection to the pier. In fact, Big Blue Bus in the process of implementing the biggest service realignment in the agency's history, specifically to provide better connections for Expo riders. If these options aren't enough, there are also taxis and ride-hailing companies, including Lyft and Uber, available and they operate 24 hours a day.
Metro has a limited budget and, in the words of CEO Phil Washington, needs to create a balanced transportation system. Investing heavily in parking would be at the expense of other things, such as bus service, bike-share, or walk or bike facilities. I think Metro has done a good job of balancing its investments in access to the Expo Line. By investing in parking, bus service, bike and walk facilities, Metro is giving Angelenos plenty of great choices.
The Expo Line is not doomed, but will be a great mobility addition for Southern California. Will more work be needed to optimize access to the line? Probably. Will the new line get Pacific Palisades drivers out of their cars? Probably only occasionally. I expect that it will serve tens of thousands of riders, improve Angelenos lives, health, and the environment.
Stay in touch
Sign up for our free newsletter