community gardens
"More than Just Food" Looks at Role of Community Services Unlimited in Advancing Food Justice
10:23 AM PDT on March 25, 2016
"Food is a way in which you can get folks to think critically about their environment," Lawrence De Freitas, a staff member with South Los Angeles-based Community Services Unlimited, Inc. (CSU), tells researcher and author Garrett Broad in an interview for Broad's new book, More than Just Food: Food Justice and Community Change. [Broad will be hosting a talk at CSU Saturday, details here.]
"A community that understands how the environment impacts them," De Freitas continues, "has the ability to think critically to take action."
It's a statement that, on the surface, might not sound particularly controversial.
Broadly speaking, food, healthy food access, environmental conditions, urban gardening, and education around healthy choices have been hot topics for several years now.
But the kind of critical thinking and action CSU actively encourages and pursues as a food justice organization, Broad's work suggests, constitutes a significant break from the typical "magic carrot" approach to programming around food.
The "magic carrot" approach bases programming on the assumption that if kids experience where food comes from and eat the things they grow themselves, it will have an overwhelmingly positive and irreversible domino effect. Namely, the kids will become healthier and they will wish to continue making healthy choices going forward. Consequently, they will engage their families about the need for healthier fare, which will result in their families and, by extension, their communities, all growing healthier together.
It's a lot to ask of a humble carrot.
And a first grader.
And it's complete "bullshit," according to Broad.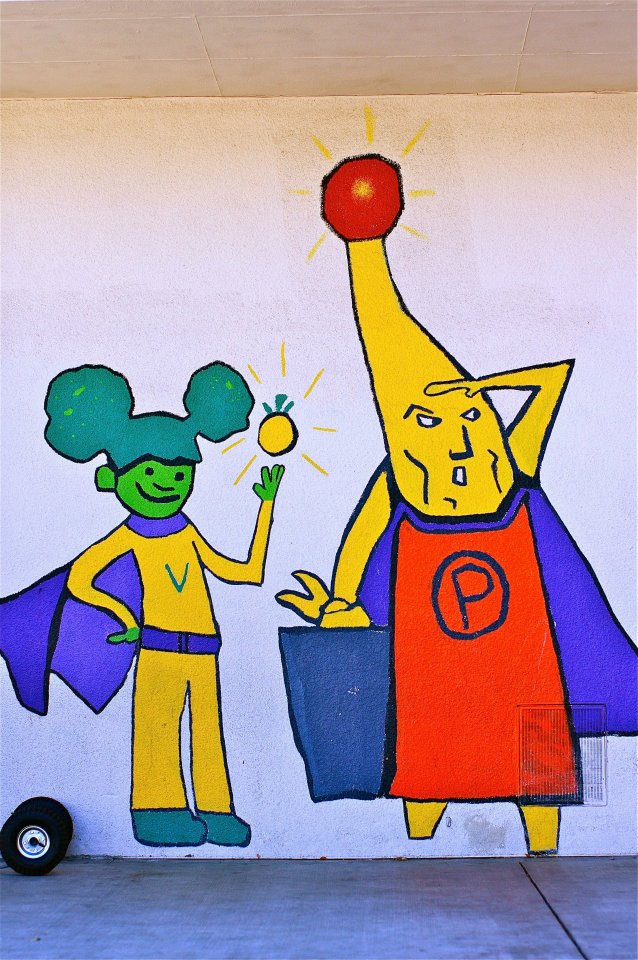 Food itself can't be disconnected from the larger system that delivers it, he argues. Nor can questions about individual behavior be disconnected from the decades of disenfranchisement, disinvestment, and neglect of lower-income communities of color that has impacted their ability to access it.
A child might be able to grow a carrot at school, but if her family regularly struggles to pay rent, or violence in her community means spending time in a garden is not always advisable, or a history of trauma and/or lack of access to health services impacts her ability or desire to make healthy choices, or the decisions made by those around her are colored by emotional, economic, and/or physical insecurity, or gentrification makes her feel less welcome at a community garden or green space, or she sees no connection between herself and the agricultural practices she is being taught, then growing a carrot at school might mean little more than growing a carrot at school. [See previous articles exploring these issues here, here.]
Going beyond the carrot to understand the origins of these and other environmental constraints shaping a child's food behaviors and options, Broad suggests, opens up space for questions about the historical policies and practices that created such deep disempowerment. Doing so also creates room for stories of resistance and resilience in the face of discriminatory policies and practices as well as the potential for seeing "low-income communities and communities of color as partners in change rather than problems to be solved." Actions to resolve problems related to food choices and access, in this context, Broad says, would fall under "a broader agenda for food justice."
To illustrate what that approach looks like in practice, Broad invites the reader to see what urban food activism looks like from the perspective some of the grassroots, people-of-color-led organizations leading the charge for health, equity, justice, and sustainability.
Much of the book's focus is on Broad's experience observing and volunteering with CSU -- an organization descended from the Black Panthers' breakfast program and dedicated to "serving the people, body and soul."
Their use of food and the community's stories around food as the gateway through which to "address the inequalities and systemic barriers that make sustainable communities and self-reliant life-styles unattainable" gave Broad the opportunity to explore the networks CSU built to aid and collaborate with them in this work, the narratives used to articulate their vision of change, how they stayed fiscally solvent (and true to themselves) in a funding environment that prefers non-complicated "magic carrot" approaches, and their efforts to leverage local actions into bigger cultural change.
The story of how CSU grew, learned lessons, evolved, and came to influence others working on similar issues in disadvantaged communities is important both for hope it offers folks working on similar issues in their neighborhoods and for the potential it has to make the larger food movement more responsive to justice perspectives.
The case is also instructive for those who care about equity and justice but are not sure where to begin inserting themselves in those conversations or learning about others' perspectives. Too often, I hear from well-meaning advocates for livability, mobility, or health that trying to learn about equity is "complicated," "time-consuming," and "intimidating." Which it absolutely is, and more. But that is no excuse not to do it.
Broad began his journey as one of the founding members of a community garden in East Hollywood. Despite the garden being situated in a culturally and economically diverse community, he says, those that were showing up at meetings were not reflective of the population. He had to work really hard to make sure the garden was more inclusive, reaching out to neighbors of different ethnicities and circumstances and finding ways to make sure everyone felt welcome.
"Equity," he observed, "is something you have to actively pursue."
When he began attending CSU-sponsored events, he says, he found himself further challenged to rethink his assumptions about youth and what drove food-related behavior.
Lower-income youth of color (and those of us looking at them from the outside) have been conditioned by health professionals to believe they have no story, no knowledge, he says. Yet those youth often have personal connections to food and agriculture embedded in their relationship with the older generations in their families. And those connections have power -- CSU taps into them to link youth to the earth/nature, to each other, to the history of the systems constraining their options, and to youth like themselves across the country.
But to be able to observe the process by which personal experiences so different from his own were transformed into action, Broad realized he would have to spend a lot of time listening and building trust with the organization and the community first. Sometimes, he found, that meant making mistakes. But the most important thing he could do when some gaffe was made, he says, was to face up to it, attempt to right any wrong, and try to do better the next time around.
Engagement and trust-building are messy and uneven processes. And they can seem never-ending. But there is no way around them if your goal involves a more equitable outcome.
Which brings us back to food and why it is a unique entry point into justice and equity.
While there might not be such a thing as a magical carrot, food does have some metaphorically magical properties. "Because of its centrality and universality" to the human experience, Broad tells me, "it offers an opportunity to open up conversations about issues that matter in ways that are sometimes harder than with other social justice concerns...especially [for] folks that haven't lived that experience."
"And," he adds, "we can sit around and have dinner together and have this conversation."
Join Garrett Broad and CSU in a dialogue about More than Food this Saturday (10 a.m. - 1 p.m.) at CSU's "Earth Day Every Day in South LA" celebration at the Paul Robeson Building, 6569 S Vermont Ave, Los Angeles, CA, 90044. Details here. See a trailer for the book (with images from CSU) below. The book itself can be found here.
Sahra is Communities Editor for Streetsblog L.A., covering the intersection of mobility with race, class, history, representation, policing, housing, health, culture, community, and access to the public space in Boyle Heights and South Central Los Angeles.
Stay in touch
Sign up for our free newsletter