affordable housing
More Housing — Especially the Affordable Kind — Is Exactly What the Westside Needs
3:44 PM PST on February 8, 2016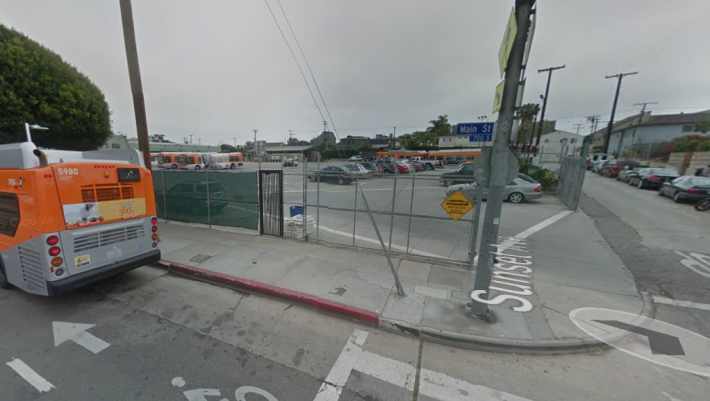 L.A. City Councilmember Mike Bonin has begun championing the redevelopment of an obsolete Metro bus yard in his district into something that the westside of L.A. County is desperately short of: affordable housing.
The 3.5 acres of prime Venice land -- located at Sunset and Main -- is a mere stone's throw away from the Boardwalk in one of the most expensive real estate markets in the country, which is exactly why Bonin, who also sits on the Metro board of directors, says this is the spot for affordable housing.
But, of course, not everyone agrees. In a recent op-ed in The Los Angeles Times, Conor Friedersdorf argues that the project is a "wildly inefficient," mostly symbolic approach to addressing the growing housing affordability crisis.
It won't really make a dent in the housing shortage that is driving down vacancy rates and, consequently, driving up rents, Friedersdorf argues.
"Does it make sense to build affordable housing in Venice?" he asks in his piece "Why not sell to a developer and use the money to build many more units a half-mile inland?"
It's a reasonable question, but there are few very compelling reasons why Bonin's plan is exactly what the westside needs.
Undoing decades of exclusionary planning
One point that Friedersdorf makes is undeniably true. This proposal will not solve the housing crisis facing the region. Decades of under building housing have caught up with Los Angeles County, especially on the cost, driving rents and home prices to some of the highest levels in the country.
"If eight-story apartment buildings were allowed on Venice Boulevard west of the 405; if they rose up on Venice's stretch of Lincoln Boulevard too, displacing the auto repair shops and carwashes; if homeowners could legally rent their alley garages to lower-income tenants; and if developers weren't forced to set aside so much land for parking, rents would come down. And enough non-rich people would live here to sustain a diversity of businesses to serve them," Friedersdorf writes.
But, it's clear that the process of densifying neighborhoods where density is most needed will be a long and painful process. In the meantime, affordable housing is essential for undoing the planning trends that have turned Los Angeles into one of the most economically segregated cities in the country.
The concrete versus the theoretical
Friedersdorf asks wouldn't it be better to sell of this land and build affordable housing elsewhere where it's cheaper. In a recent story about Bonin's plan, The Argonaut reported that Metro estimates the value of the property to be between $30 and $50 million.
While it theoretically sounds like a good idea -- simply taking the cash from selling the bus yards and finding a cheaper location -- the reality is that it's not that simple.
"Projects are getting harder and harder to do because of the cost of land. On the Westside in particular, it's very difficult to make affordable housing pencil out. … Take away the land acquisition cost and now you're only talking about development cost, which is a very different equation," Bonin told The Argonaut.
Recognizing this fact, Metro recently updated its joint development policy to assure that it used the land it owned to help get some affordable housing located in transit-rich areas. As Metro CEO Phil Washington noted that if lower-income households continue to be displaced farther and farther from the transit network, he would have to build the transit network out to them.
"Workers who earn less than $25,000 and live within half a mile of a transit station are three times more likely to take transit," Washington told The L.A. Times last October. The Venice bus yards site is actually in the service area of two transit agencies: Metro and Santa Monica's Big Blue Bus.
At this point, the planning for the Venice site is in the very preliminary stages. But, Bonin has outlined a vision that is very much in line with Metro's joint development policy. L.A. County Supervisor Sheila Kuehl, who also sits on the Metro Board of Director and whose district the property is in, has cosponsored the plan.
It's also worth noting that the parcel isn't currently zoned for residential; it's zoned for commercial use. Bonin has said that as a result, if the parcel were sold off, it would likely result in a commercial development. Housing, especially affordable to those people who may be commuting to work into Venice, could actually take cars off the street. A commercial development, however, could lead to more cars as more people commute to work.
Concentrated poverty is the problem
It's unlikely that land costs a mere half-mile from the former bus yards are cheap enough to make a swap worth it, like Friedersdorf claims.
However, it is exactly in the places where land costs are so high that affordable housing is needed. Concentrating affordable housing exclusively where where land costs are cheaper -- usually because they are less desirable places to live -- can prevent lower-income families from accessing high-quality jobs and better schools for their children.
Venice, as well as its surrounding neighborhoods, have seen major growth in quality jobs over the decades and while adding some affordable housing on a site in the middle of an economically booming neighborhood won't help every household in need in Los Angeles, it can make a world of difference for those who do get to live there.
Affordable housing is necessary, but not sufficient
Even so, Friedersdorf hits the point home that the proposal isn't going to solve the region's housing crunch alone.
With vacancy rates in the region hovering below three percent, people who are looking for places to live are placed at a tremendous disadvantage compared to those who are already comfortably housed.
In a place like Venice, where relatively few new homes get built each year, it means wealthier renters are going to beat out middle- and lower-income renters for coveted apartments simply because they can pay more. Adding a couple dozen more units to the market won't tip the scales. Still, adding some homes is better than adding none in the midst of a housing shortage.
"It's fair to ask what the most effective things are to make a community more affordable," said Mott Smith, principal of the development and planning firm Civic Enterprise.
Real change will mean rethinking our land-use policies, reducing parking requirements, and densifying.
"But if part of your strategy is subsidized low-income units, then building on public land is probably the most efficient way to deliver them," he said.
The plan to redevelop the Venice bus yards with desperately-needed housing may be, in part, symbolic. But, it is a step in the right direction and, hopefully, an indication of things to come.
Stay in touch
Sign up for our free newsletter