Metro
Little Tokyo Businesses Delay Metro Subway Construction Closures to 2016
12:31 PM PST on December 3, 2015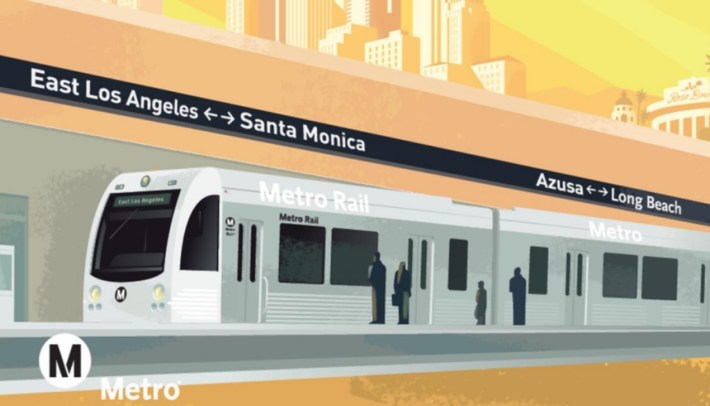 Details are still emerging, but this morning, Metro Board of Directors chair Mark Ridley-Thomas announced that Little Tokyo businesses served Metro with a Temporary Restraining Order against Regional Connector subway construction. The legal threat caused the Metro board to decide to delay track relocation construction that had been announced to begin tomorrow. If the terms are approved, the construction will not begin until January 2016.
The $1.5 billion Regional Connector is a 1.9-mile light rail subway. Connector construction began earlier this year, and is expected to be completed in 2020 or 2021. Its alignment follows Second Street (Alameda to Flower) and Flower Street (2nd to 7th.) The connector will tie together the Metro Blue, Gold, and Expo Lines, making for transfer-free rail trips from Long Beach to Azusa, and from Santa Monica to East L.A.
In November, Metro announced plans to move up the date of the planned relocation of existing Gold Line tracks currently located in the middle of First Street. The relocation had been targeted to begin between February and April of 2016. Metro construction heads had made the decision to move this construction ahead of schedule, tentatively scheduled to begin Friday, December 4 - tomorrow night.
The track relocation construction is expected to last three months, and results in several street and station closures:
The Gold Line Little Tokyo Station will be closed. A temporary shuttle will ferry riders between Union Station and Pico Aliso Station.
Alameda Street will be reduced to one lane between Temple Street and 2nd Street.
Westbound First Street will be closed between Alameda Street and Vignes Street. Eastbound First Street remains open there.
First Street between Central and Alameda will be intermittently closed.
Metro CEO Phil Washington attended a contentious meeting with the community earlier this week. From Rafu Shimpo coverage of that meeting:
Brian Kito, owner of Fugetsu-Do Confectionery, said that December accounted for 25 percent of his yearly sales. He asked Metro to consider delaying the closures to Jan. 2, after the New Year's holiday. He also expressed frustration that the community was only notified of the changes within the past month.

"It seems outrageous that we would have to inconvenience this entire community just for the fact that the Azusa extension is open, that it's going to be fully train-only, when you do have a bus bridge that will keep it running. I think that's a bit disrespectful to our community," Kito said.
At this morning's Metro board meeting, Washington explained the need for the early closure. He stated that Metro had encountered an unexpected water line repair that would add a month to construction, and that the agency intended to finish this Gold Line closure in advance of the March opening for the new Foothill Gold Line Extension.
Washington cited a number of concessions that Metro has made to mitigate construction impacts to Little Tokyo including a 4-stop shuttle and encouragement programs via Metro's business interruption fund.
The current conflict is, to an extent, a continuation of past Regional Connector frustrations expressed by the Little Tokyo's business community, which had pushed for an at-grade line instead of a subway.
Little Tokyo business owner Kito clarified that the intent of the lawsuit is to delay construction until after the holidays, stressing that a holiday construction closure "maximizes collateral damage." Kito expressed frustration at Metro's lack of advance notice; per Kito, Metro gave notice only two weeks ahead of the scheduled closure.
Metro's board met in closed session for nearly an hour to discuss the Little Tokyo Business Association vs MTA lawsuit. At the end of the session, board counsel announced that the track relocation construction would be delayed to January 2016, if Little Tokyo interests commit to dropping the lawsuit.
Regional Connector road closure permits are up for approval at tomorrow's meeting [PDF] of the city of Los Angeles' Board of Public Works.
Construction is just underway, and the Regional Connector is already experiencing more than its share of difficulties. It is complicated to tunnel below historic downtown streets, but this light rail subway is already over-budget and late. Today's decision likely repairs some of the strained relations with the Little Tokyo community, but it nonetheless also represents a delay. Another delay.
This new subway may well soon be a great mobility resource for the region, but how Metro navigates the current minefield is turning into an important test of Phil Washington's leadership. Washington inherited the project, but now it's his to deliver. He needs to balance regional mobility benefits with neighborhood construction impacts, while keeping a lid on escalating costs.
Stay in touch
Sign up for our free newsletter