Parking
18.6 Million Spaces and Still Rising: Study Puts L.A. Parking in Perspective
5:19 PM PST on December 1, 2015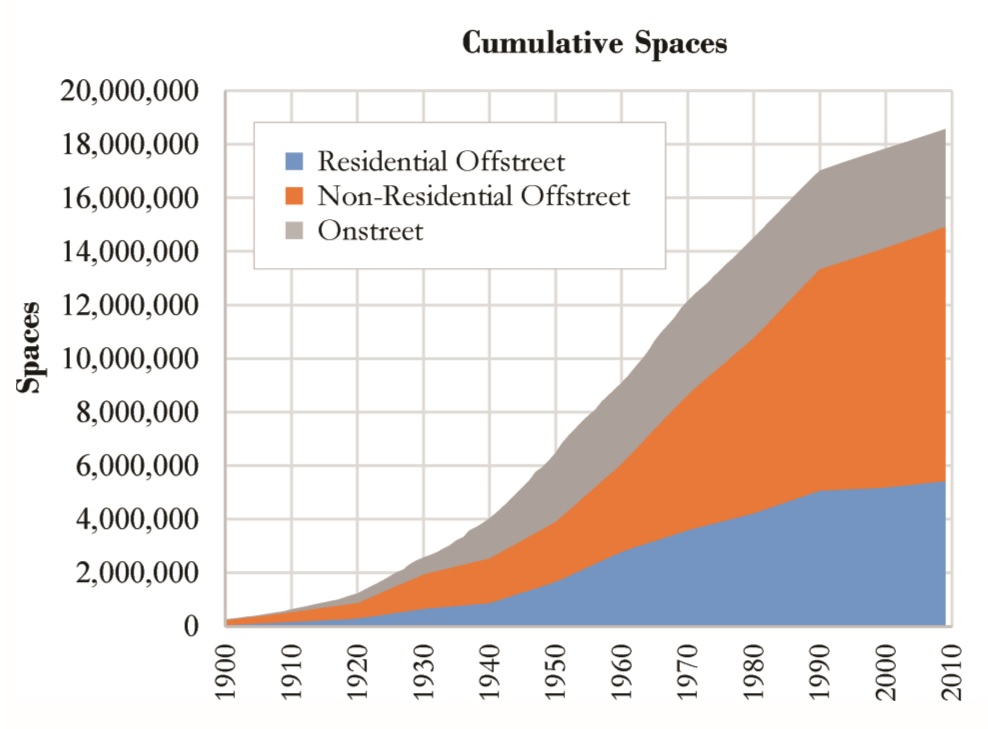 There is a fascinating new L.A. County parking study making the rounds. Metro's The Source summarizes it stating, "Look around and there's an awful lot of space devoted to parking and a lot of it is under-used a lot of the time." Curbed incorporates GIFs showing the inexorable growth of L.A. parking, and leads with the statistic that parking constitutes 14 percent of incorporated L.A. land.
The pay-walled article is Parking Infrastructure: A Constraint on or Opportunity for Urban Redevelopment? A Study of Los Angeles County Parking Supply and Growth. It is by Mikhail Chester, Andrew Fraser, Juan Matute, Carolyn Flower, and Ram Pendyala, published in the Journal of the American Planning Association.
Broadly the article surveys the growth of L.A. parking during the past hundred years, outlining how and why it has grown and what effects this has had. Then the article concludes with a set of recommendations.
The Extent of L.A. County Parking
For L.A. County as of 2010, the authors estimate that there are 18.6 million parking spaces. These break down into 3.6 million on-street, and 15 million off-street, with about a third of the off-street spaces being residential. L.A. parking covers an estimated 200 square miles, about 14% of the incorporated L.A. County land. This area is 1.4 times larger than the 140 square miles devoted to streets and freeways.
There are more than three times the number of parking spaces than there are vehicles. 18.6 million breaks down to 3.3 spaces for each of the 5.6 million vehicles in L.A. County.
From the article:
In the first half of the 20th century, L.A. County minimum parking requirements resulted in more parking being deployed than there were vehicles, but the growth in vehicles since 1960 has outpaced that of parking; by 1975, the number of vehicles in the county was about equal to the number of residential off-street spaces. This ratio has hovered around unity since, signifying that minimum off-street requirements have been a success at keeping vehicles off the road, but have likely contributed to more vehicles and ultimately more VMT [Vehicle Miles Traveled].
There is abundant parking where high-quality transit exists, which is likely to work against transit, walking, and biking. Since 1950, most growth in parking infrastructure has occurred outside of the urban core, largely associated with lower-density residential and commercial development. In 2010, the coverage factor (the ratio of parking area to land area) was 0.16, more than double that of 1950.

Our findings suggest that minimum off-street parking requirements have been a success at encouraging greater automobility and probably a failure at lowering traffic congestion, one of the original objectives of such requirements.
Recommendations for the Future
Since the 1930s, cities have mandated expensive and excessive suburban off-street parking. These requirements are a primary cause of parking proliferation, so the authors recommend municipalities "develop new approaches to parking mandates including adopting maximum parking restrictions, and seek to accommodate new growth through redevelopment at the core rather than new construction at the periphery."
The authors sound a cautionary note, though, citing limitations on how far reforming (eliminating or reducing) parking requirements will go - "current parking infrastructure may substantially reduce the positive impacts of even major municipal parking reforms." With 14 percent of L.A. County already relegated to parking, "existing parking infrastructure is likely to work against policy initiatives to curb the use of the car, reduce auto congestion, increase transit usage, and address equity issues, even if minimum parking requirements on development are reduced or reformed." 
Shoupistas are likely aware of the pseudo-science of off-street minimum parking requirements, a subject critiqued at great length in Don Shoup's book The High Cost of Free Parking. Nonetheless, the article authors critique parking requirements for hampering affordability:
[M]andatory parking requirements drive up the cost of housing, suggesting that planners consider the implications for affordable housing. For example, an advocacy group estimates that New York City's plan to change zoning regulations to allow fewer parking spaces for senior housing in transit zones will save $1 million for every 100-unit building, the cost of 25 parking spaces.
All L.A. County neighborhoods are not equal, so the authors recommend "well-discussed policy paradigms" to focus parking reform along transit lines.
For example, cities should reassess mandatory parking requirements in high-density areas with good public transit service to act as a deterrent to automobile use and an incentive to transit use. In L.A. County, jurisdictions along the existing and proposed rail lines should seriously consider changing their parking mandates to support the rail system. [With rail expansion] there are efforts to locate new housing and jobs near high-quality public transit. Cities in these areas should reduce the mandatory requirements for redevelopment projects along the lines or set maximum requirements.
The article further recommends that "planners must also focus on how [existing] parking infrastructure can be transitioned to alternative land uses." Parking "can be converted to housing, small business incubators, industrial and commercial use, and recreational facilities."
While it may be fairly straightforward to develop surface parking into buildings, the authors go beyond lots:
[R]esidential parking, specifically home garages, also have a high potential for conversion into living quarters and rental units as well as small home-based businesses. L.A. County residents have already taken advantage of their mandated garages and off-street parking to do so. In 2009, the Los Angeles Times reported that in Compton, a largely African American and Latino city of 93,000 in L.A. County, more than one-third of garages had been converted to living spaces, although officials continually threatened to crack down on the practice.

The owners of apartment buildings have also subdivided existing apartments into smaller units without the mandated parking. In June 2015, the Los Angeles Times reported that City of Los Angeles officials were proposing a citywide amnesty process for landlords that would legalize their existing "bootlegged" apartments after years of debate about the practice. The Times reported, however, that the barriers to legalizing these apartments were not safety or construction issues, but "the city codes that mandate a minimum number of parking spaces." The amnesty plan was not met with universal approval; the Times reported that some neighborhood associations were vehemently opposed, noting that many areas already faced "vociferous parking disputes."
Those vociferous debates are likely to continue as Los Angeles County cities attempt to re-examine and reform parking, to make parking serve today's Los Angeles.
Stay in touch
Sign up for our free newsletter