Bike Sharing
A Peek Into Metro Bike-Share's Proposed Fare Structure
3:47 PM PST on November 9, 2015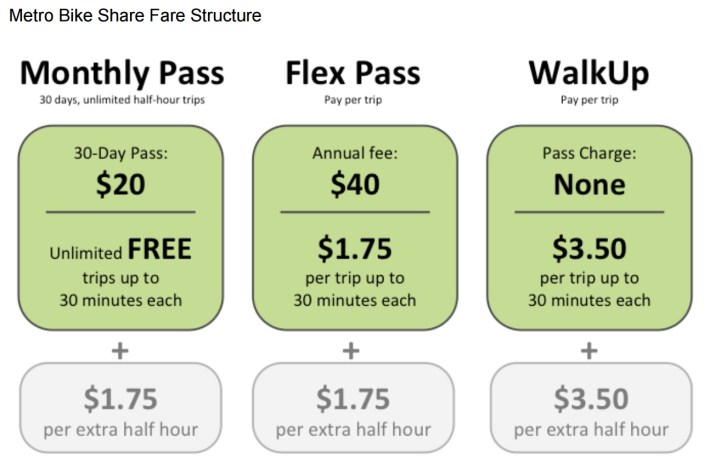 A Metro staff report available this week gives a peek into the proposed fare structure for the transit agency's bike-share system, coming to downtown Los Angeles in 2016. Metro has contracted with Bicycle Transit Systems (BTS) to open a 60+ station, 1000+ bicycle system extending from Union Station to USC. The new report [PDF] recommends that the Metro board approve bike-share fees and an interoperability plan, both detailed below.
The proposal will be heard at the Metro board's Planning and Programming Committee on November 18th, then at the full board meeting scheduled on December 3.
Initial Interoperability Plan
As alluded to at the Metro board's September discussion, the latest documents confirm that interoperability will initially just mean that multiple bike-share systems will use Metro's TAP card. When the system first opens in mid-2016, monthly pass or annual pass bike-share users will receive a "uniquely branded TAP card" to unlock bicycles at docking stations. Bike-share TAP cards will be issued by BTS, with the TAP card only linked to the user's bike-share account, separate from any TAP card's stored transit fare account.
By the end of 2016, "all TAP cards will function as bike-share passes to unlock a bicycle at a station." Users will enter their TAP card number when purchasing of a Bike share pass, though the bike-share and stored transit fare accounts still remain separate.
Additional interoperability features continue to be discussed, and will come back to Metro's board in Spring 2016.
Fare Structure
Metro's proposed bike-share fare structure (shown at top of post) includes three payment options: 
Monthly Pass: $20 for one month of unlimited 30-minute rides. Monthly passholders will have an auto-renew option. Compared to other options, this price is advantageous for people who use the system at least 10 times per month.
Flex Pass: $40 for one year of half-price rides. Metro calls this the "most affordable option for occasional users." Compared to paying WalkUp fees, the Flex Pass price is advantageous for people who use the system more than 23 rides each year, about twice a month.
WalkUp: $3.50 per 30 minutes. Metro anticipates that "a large percentage of walk-up users to be DTLA visitors or tourists who are not price-sensitive."
The report puts a positive spin on the "limited menu," calling it a way "to improve customer understanding and make signing up easy."
What is interesting is what Metro's bike-share fares do not include. There are no daily, weekly, or annual unlimited passes, though riders could automatically renew monthly passes for a year, so an annual unlimited pass is effectively $240. Having variable unlimited passes, like Metro offers its transit customers, would likely make the bike-share system easier and more convenient to use. For people who have already paid for unlimited rides, with no additional per-ride cost, there is an incentive to use the system frequently and spontaneously. Lots of unlimited pass holders should generally translate into more ridership, lots of bikes on the streets, probably safety in numbers.
The balancing act is that the system needs to address additional goals: equity and fiscal responsibility.
Many U.S. bike-share systems offer an unlimited monthly pass for $75 to $150. See Attachment C in Metro's report [PDF] for examples. As mentioned, a discounted annual pass promotes ridership, but in some ways at the expense of equity and fiscal responsibility. Low income cyclists (like bus riders) may not have the means to pay for a year's worth of rides all at once, even when discounted. Attachment D in the Metro report cites focus group studies that found monthly passes to be more attractive to low-income riders.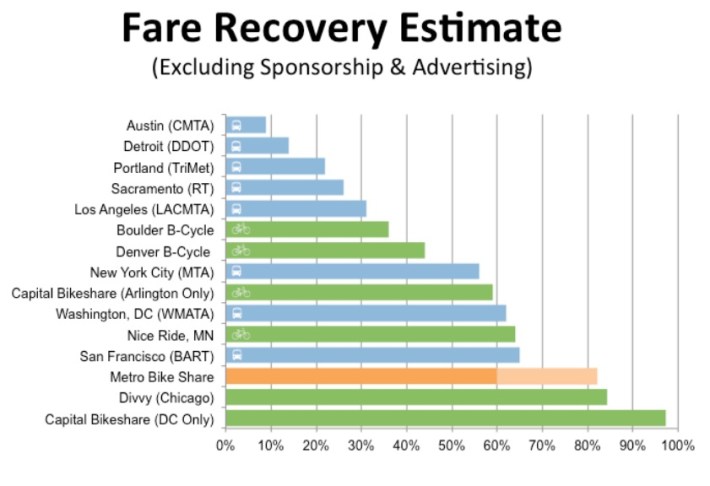 Bike-share systems are very inexpensive compared to other transportation infrastructure. Metro's initial $11 million investment in bike-share is tiny in comparison to the agency's investment in free parking, and it is a speck compared to what the agency spends on highway or rail construction. Given Metro's choice of limited ongoing operational financing, its bike-share system is expected to bring in 60 to 80 (or more) percent of its operations cost. Shown on the graph above, this is similar to other bike-share systems in the U.S., though it is more than double the fare-recovery percentage for Metro transit.
Ideally, I'd love to see pricing that promotes bicycling, walking and transit. In an ideal world, bike-share and transit would very, very inexpensive. Given the current fiscal constraints at Metro, though, and the need to a bike-share system to get underway promptly and in a way that is fiscally sustainable, I think that the proposed fare structure strikes a pretty good balance.
Prices and products can always be tweaked later, especially if Metro can identify ongoing funding sources. I heard Metro folks are thinking about a new sales tax ballot measure, no? And, if somehow it is not in Measure R2.1, then there could also be ongoing bike-share operations funding from Express Lanes revenue, perhaps state greenhouse gas emission reduction funds, or some other sources. Not to mention sponsorship.
Other Bike-Share News
This Thursday at 8:15 a.m., the city of Santa Monica is celebrating the launch of its Breeze bike-share system. The 500-bike system is sponsored by Hulu. The festivities will include a bike parade, 200 bikes, refreshments, and a press conference, starting at 8:15 a.m. in front of City Hall. The public are invited to ride Breeze for free that day, but only if one registers online in advance.
Breeze's fare structure includes a $149 annual pass (for 60 minutes/day), a $15-$25 monthly passes, and $6 walk-up 1-hour rental.
Stay in touch
Sign up for our free newsletter