ExpressPark
Previewing the Future of L.A. Parking: 10 Parking Reform Recommendations
4:21 PM PDT on October 27, 2015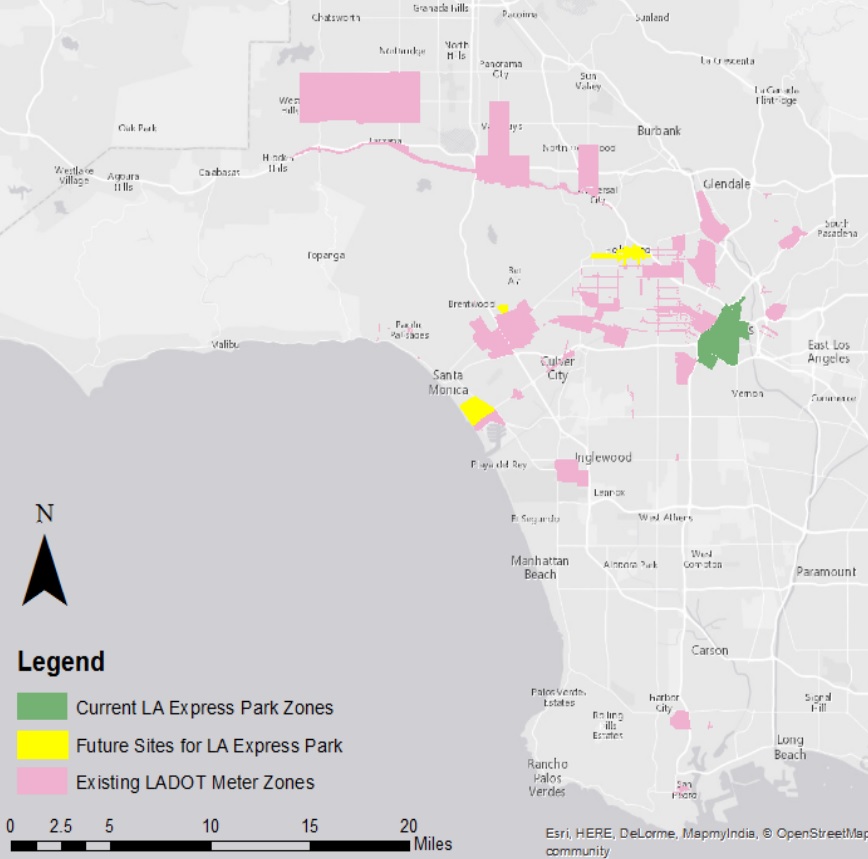 Tomorrow's 1 p.m. Los Angeles City Council Transportation Committee meeting will be the first public airing of the final report of Mayor Garcetti's Los Angeles Parking Reform Working Group. In February, the Working Group delivered "Proposals for Parking Reform in the City of Los Angeles": a 40-page report [PDF] outlining an extensive series of parking policies tailored to solve parking problems within the city of Los Angeles. The recommendations are far-ranging, including parking revenue, parking minimums, freight parking, parking ticket fines, street sweeping restrictions, and much more.
The Working Group grew out of agitation from the fairly-conservative Los Angeles Parking Freedom Initiative, but the mayor appointed a broader cross-section of parking reformers, including a handful of Shoupistas. As a result, the Working Group's recommendations, like parking expert Don Shoup's, center on common ground, good-government reforms which would go a long way to fostering greater livability.
At this time, the Working Group's report is just a set of recommendations. It will take political will, on the mayor and council's part to enact these into law, and to embed them into an already strained city budget.
Below are ten of the top recommendations from the Working Group's report.
1. Dedicate all parking revenue for mobility and parking purposes only 
The report calls for dedicating all city parking revenue - from meters, lots, and tickets - into "a secure, segregated Parking and Access Fund." The Fund would be only used for two purposes: managing parking and improving mobility. Parking could including building additional lots or structures, upgrading technologies, etc. Mobility improvements could include pedestrian facilities, such as sidewalks and streetscape.
Shoup has long asserted that dedicating parking revenue to visible street improvements is a key way to generate the political will for pricing parking appropriately.
2. Change zoning code to address problems created by minimum parking requirements
The report criticizes outdated parking minimums for hurting small business, making housing less affordable, and worsening traffic congestion. The specific zoning reforms are not spelled out yet. Generally, the report states that parking requirements "should be balanced with other transportation goals in order to enhance transit accessibility and parking availability" with additional specifics forthcoming.
3. End handicap placard abuse
Handicap placard abuse sabotages parking meter pricing strategies. Allowing some drivers to park indefinitely for free makes it difficult to ensure an adequate supply of street parking at any price. Illegitimate placard users squeeze out space for people with disabilities who actually need it.
Though California and Los Angeles have done occasional stings targeting placard abuse, other locales have had dramatic success in reforming placard laws. The city of Portland, Oregon, ended free parking for disabled drivers in 2014. Severely disabled drivers, including actual wheelchair users, have an exception that allows them to park for free.
The city of Los Angeles cannot, on its own, end rampant placard abuse. Placards are governed by state law. Nonetheless, L.A. electeds have allies in the state legislature, and the city pushes for a state legislation agenda to solve L.A. problems.
4. Expand use of performance-based pricing 
The report urges the expansion of performance-based pricing, where meter prices are raised in hard to park areas, lowered in underused area, and are also varied depending on the time of day and day of the week. Under the L.A. Express Park program, L.A. already uses variable parking meter pricing for most of downtown. Express Park is expanding. It will be implemented in Westwood this year and in Hollywood within a couple years.
The report favors using variable pricing to encourage turnover, instead of the current practice of setting time limits, which could be abolished.
5. Charge drivers for only the amount of time parked
The report recommends implementation of "a payment in/payment out system that allows motorists to pay just for the amount of time they have been parked. Upon arrival, drivers would pre-authorize payment using a credit card, prepaid card, or phone payment and upon leaving the parking space, would then be charged the appropriate fee for the time parked." As with performance-based pricing above, this would encourage turnover and likely discourage citations.
6. Charge tiered fines for parking tickets
The report recommends tiered parking ticket fines where "fines for non-safety related violations get progressively higher with each additional violation." The report suggests the initial parking ticket would cost $23, then escalate to $33, $48, and $68 when a driver receives multiple citations within a year.
7. Adopt a freight parking program
The city currently cites large numbers of commercial delivery vehicles, especially in downtown Los Angeles. The report recommends developing a program to "provide adequate parking for freight delivery vehicles" and reduce parking tickets.
8. Re-evaluate street cleaning parking restrictions
The report recommends modifying street cleaning restrictions to serve Angelenos, and not maximize revenue. One recommended change would be to push back street cleaning start time to 9 a.m. Another recommendation would be "establish an online notification system that would email and/or text residents in real time when a street has been cleaned or a route canceled" to allow people to park during hours that would otherwise be restricted.
9. Re-evaluate Preferential Parking Districts (PPDs)
The report calls on L.A. to "modernize preferential and overnight parking districts" in order to "more fairly distribute the parking benefits and impacts across all users." Among recommended PPD changes: minimize the fiscal impact of creating and maintaining PPDs, restructure the pricing of PPDs to reflect the actual administration costs, and evaluate the criteria and process used to establish new PPDs.
10. Use technology to improve parking
The report recommends "using information and communication technology to simplify a user's interaction with the parking system." Within this, the Working Group emphasizes the need for the city to post data (including curb restrictions, etc) using an open data format and to "foster the creation of third-party applications and other products that enhance a user's parking experience." In addition to the city's own data, the report encourages the use of a common format that would allow users to access both city and private parking information together.
There is a great deal more information in the full report [PDF]. Streetsblog will be at tomorrow's committee meeting and continue to follow L.A.'s expanding parking reform efforts.
Stay in touch
Sign up for our free newsletter