Bicycling
Investing in Place – Streetsblog Interviews Jessica Meaney
10:51 AM PST on March 4, 2015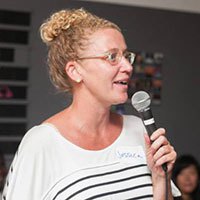 Jessica Meaney probably needs no introduction for many Streetsblog L.A. readers. She was awarded a 2013 Streetsie for her advocacy work. She's a former boardmember of SBLA's parent non-profit, an occasional SBLA author, and a steadfast voice for people who walk and bike in Southern California. She backs up her statements with a near-encyclopedic knowledge of convincing statistics that quantify exactly how many people walk, and just how little our municipalities invest in their facilities. Until recently she worked for the Safe Routes to School National Partnership, where she was one of the leaders behind the L.A. County Active Transportation Collaborative. She recently started an exciting new endeavor, called Investing in Place, which she explains below. 
Tell SBLA readers about your new endeavor Investing In Place - what is it?
It's a new new non-profit effort to support a constituency for equitable planning and support and relationships with agencies and efforts that invest in the built environment in Los Angeles County.

As Investing in Place maps out its 2015 work plan, the focus will largely be on transportation finance and policy work at the County level [through] Metro. Over the past several years working with Metro, again and again decisions have come back to, "Is it in the long range transportation plan?" Updating the LRTP (last one done in 2009) is an amazing opportunity to help shape the update of the region's transportation priorities and processes for funding programs and projects. With close to 70% of Los Angeles County's transportation funds being generated through our local county sales taxes working with Metro is critical for many outcomes people are hungry to see in our built environment.

And I also hope to support a Transportation Finance Strategic Plan at the city of Los Angeles. [The city] represents 40% of of the County, and without a comprehensive and easy-to-access transportation finance plan for L.A. City, it's been hard to understand priorities and opportunities. It's crazy to me that...we can say the sidewalks in the city of Los Angeles have, at minimum, a $1 billion price tag to address [issues] but no intentional policies, plans, staffing, or finance goals in place to do this. If the city of Los Angeles was able to articulate transportation funding needs and goals, this would enhance the regional decision making processes - especially regarding sales taxes.

And one great opportunity I welcome help [in] getting the word out on is Investing in Place is partnering with LA n Sync (a project of the Annenberg Foundation) and the Los Angeles County Bicycle Coalition (LACBC) to provide grant writing assistance to jurisdictions applying for the Active Transportation Program cycle 2 this spring. If people are interested in being considered for this opportunity, they need to apply by March 18th. We've posted the details and online application for this here.
How can interested folks get involved in Investing In Place?
Reach out to me at jessica@investinginplace.org or sign up for our email list, read our blog, or find us on social media (Twitter and Facebook). It's looking like the April Metro Board meetings will be important opportunities to review the agency's draft idea for what would be in the potential 2016 Ballot measure. As of now, there is no expenditure plan for this tax from Metro.

Investing in Place has an open partner meeting this week on March 5th (filled to capacity!), and then we're working on more meetings in May, June, and September to help provide information on how to engage in these opportunities.

One of the key ways Investing in Place is working to get at a regional reach is by our Advisor team. The advisory team is [comprised of] over 10 members from leaders from organizations all over Los Angeles County, and some doing State and National work. They provide Investing in Place [with] strategic advice on organizational growth, strategy, and collaboration. It's my version of the dream team. I'd encourage people to reach out to me or any members of our Advisor team. 
Sometimes active transportation gets pretty silo-ed. Bicyclists don't always look out for pedestrians. People on foot don't always see people on bikes as allies. But you inhabit both of these worlds well. How can we get people to find common ground on this?
I'm academically trained as an Urban Sociologist - I think that likely has an impact on the way I look at urban planning and transportation planning and policy.

I moved into the field of urban planning because, as a car-free Angeleno, I felt again and again the user experience of riding transit [or the experience of] walking or bicycling was not being fully addressed in transportation planning and investment choices.

And the common ground goes back to what I've heard LADOT GM Seleta Reynolds say: we're not bicyclists, we're not pedestrians - we're people.

I work in this space because I think communities that are walkable, bikeable, and transit-rich simply make better places to call home.
If you had a magic wand that granted you one wish to make whatever change you want to L.A. streets, what would it be?
Share strategically more data and information on how the region travels and lives now to inform and evaluate and prioritize investments for all trips.

Move away from the focus on just planning for work trips.

We've been kicking around this sentiment as a way to frame this as, "Let's plan for our communities, not just our commutes." But I think I'd also use the magic wand to bring in more diversity and openness to more perspectives and leadership on issues that impact our built environment. This is Los Angeles County - one of the biggest and most diverse regions. L.A. County is bigger than 44 states! Let's support all our communities, especially our most vulnerable populations. If we all are contributing with public funds - through sales taxes for billions of dollars of transportation investments - how can we enrich the process to be sure a wide variety of perspectives are matched by data collected, prioritization of public funds, and leadership positions?
This interview was conducted over email earlier this week.
Stay in touch
Sign up for our free newsletter