LADOT
No Pitchforks as LADOT GM Seleta Reynolds Addresses West SFV Forum
5:21 PM PST on January 23, 2015
I was a little worried that there might be pitchforks at last night's transportation town hall. The event was hosted by L.A. City Councilmember Bob Blumenfield and held at the Tarzana Recreation Center.
The main speaker was Seleta Reynolds, the new General Manager of the Los Angeles City Transportation Department (LADOT). I know that Seleta Reynolds has received a lot of praise from us here at SBLA, and from others who are excited about a walkable, bikeable, transit-oriented future... but how would she play in the suburban West San Fernando Valley?
I took the Metro Red Line subway, transferred to the Metro Orange Line Bus Rapid Transit, and bicycled the first and last mile. I locked my bike up against a playground fence, no bike parking in evidence.
While I was waiting for the event to begin, I overheard attendees talking about parking problems, and how a planned two-story school seemed too tall. When Councilmember Blumenfield touted the success of the Orange Line, the man next to me, under his breath, proclaimed it to be "a waste of money." I responded, whispering, that "I rode it to get here."
Councilmember Blumenfield was refreshingly multimodal in his opening remarks. He decried the West Valley's transportation challenges, from being stuck on the 101 Freeway to too many buildings surrounded by "a sea of parking" that makes it difficult to walk or bike. His vision for the future would include grade separation for the Metro Orange Line, making the West Valley a place where millenials can "live-work-play," and following a "more pedestrian-friendly way of planning."
Reynolds was applauded and started in on a somewhat stock presentation, mostly focused on LADOT's recently released strategic plan. She spoke of how previous well-intentioned strategies have drained the life out of our streets, and that now we're thinking creatively about each street and the purpose it needs to serve.
In summarizing her department's priorities, the GM cited two critical points: "provide choices" and "lead."
Providing choices is, of course, a multimodal approach. DOT needs to not just move cars, but also to make walking, transit, and bicycling viable and safe.
Her second point, "lead," is a bit more complicated. Reynolds explains that LADOT doesn't do freeways -- that's Caltrans. LADOT doesn't do buses and trains -- that's Metro. LADOT doesn't even build bridges or curbs, fix potholes, or re-surface streets -- that's the city's Public Works bureaus. LADOT does, as she puts it, "hold the bag on all these things," so DOT needs to be a leader in partnering with these agencies to work together to make mobility seamless for people moving through the city.
Reynolds deprecated L.A.'s notoriously confusing parking signs, mentioning that she had heard from an actual rocket scientist who couldn't figure them out. She also related that even she had already received two parking tickets since arriving in L.A. last August. She didn't pull any strings; she paid them both. It is in her strategic plan to re-vamp these signs.
I was a little worried that Reynolds' photos of Downtown L.A.'s Broadway Dress Rehearsal might not resonate with a suburban Tarzana audience. I was wrong. Among the audience questions were two different ones about how the Valley's Sherman Way could be made more walkable. One asked if Sherman Way could be closed and become a "walk street like in Santa Monica."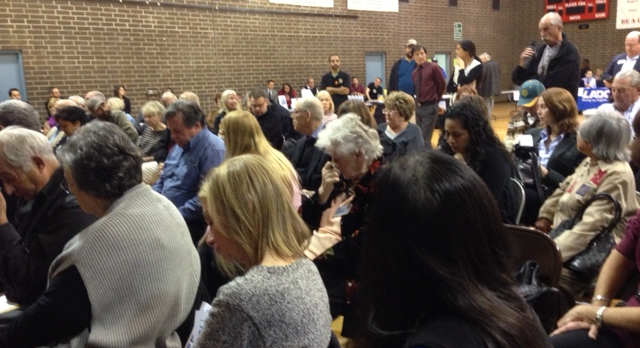 Also among the audience questions were concerns over improving Valley DASH service and providing places to sit at bus stops. Her response to the latter: "I want to make transit reliable, comfortable, and fun - to thank people for making that choice." 
It wasn't all a love-fest. While stating that she was "open to ideas," and especially "pilots," the General Manager seemed somewhat lukewarm to two proposals. One idea, apparently promoted by the organization Fixing Angelenos Stuck in Traffic (FAST), is to create some one-way couplets on nearby streets, such as Victory Boulevard and Vanowen Street.
Another questioner asked why LADOT wouldn't implement a "simple solution" of basically just timing all the lights everywhere to coincide with the speed limits, so drivers could nearly always arrive on a green phase.
Reynolds responded to occasional criticism emphasizing safety. She said that when L.A. makes a road overly wide, responding to peak capacity that occurs a couple of hours each day, then the "other 22 hours, it's faster than we'd like it to be." Reynolds' LADOT would keep traffic flowing but "bring speeds to a human level," resulting in fewer collisions that will really snarl traffic.

At the end of the evening, Councilmember Blumenfield invited attendees to participate in his annual bike tour event, which takes place tomorrow morning at 9 a.m.
Stay in touch
Sign up for our free newsletter