LAPD
Are You Supposed to Be Here?: Officer Harasses Black Cyclists During MLK Day Parade
4:51 PM PST on January 20, 2015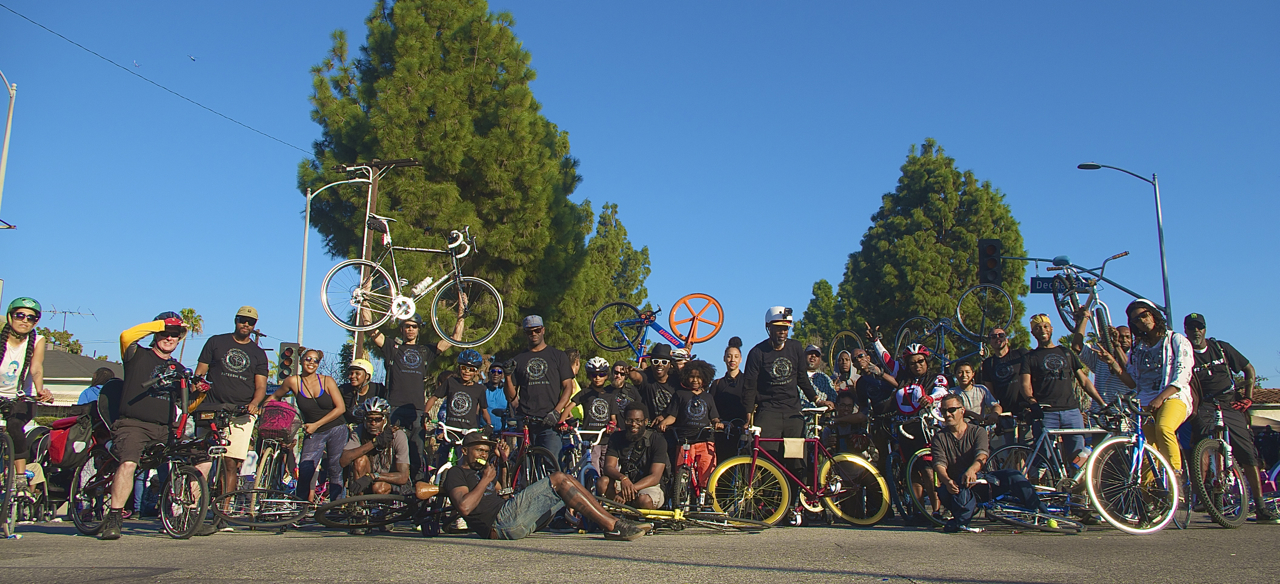 "Are you supposed to be in the parade?"
Arms outstretched to halt the glacially-paced forward movement of the group, the LAPD officer stepped in front of long-time South L.A. Real Ryda and one of the area's best-known cycling elders, William Holloway.
We all looked at each other.
Is this man serious?
The Real Rydaz and some of the other low-rider clubs they teamed up with for South L.A.'s King Day parade yesterday specialize in parades. The great energy they bring by performing tricks with their intricately detailed bikes makes them crowd favorites around the city, but especially along King Blvd., where they have a long history with the community. It's not unusual to hear people chant "Real Rydaz!" from the sidelines as they see the bikes approaching. Or to hear the entire crowd break into song, as they did yesterday, when Stevie Wonder's "Happy Birthday!" (written to celebrate Dr. King) blared from Tyrone "T-Money" Williams' speakers.
"Sir, they ride in the parade every year," I interjected. "Everybody knows them."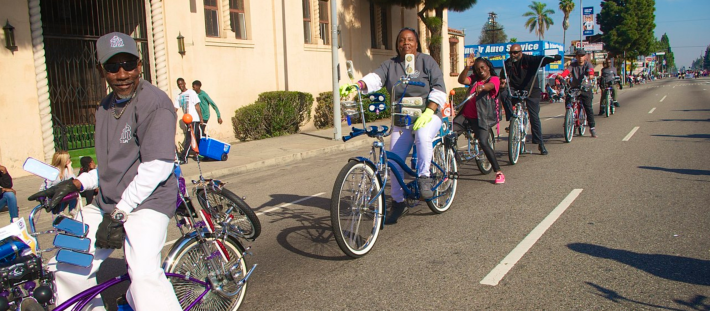 Holloway then began to speak up, as did some of the others, asking what the problem was and declaring that they had been participants in the parade for years.
Now a little less sure of himself, the officer kept looking back and forth between me (the non-African American) and the Real Rydaz, as if he wasn't sure he could take their word for it and I might be the one to provide the truth about what was going on.
He then back-pedaled a bit, saying that they had had a problem with helmetless kids crashing the parade with another bike group up ahead (more on that below) and people trying to get photos, and everything being a mess. Then he pointed to a youth on a three-wheeled bike (Holloway's son, below) and demanded to know where his helmet was, saying it was illegal for kids under the age of 18 to be without helmets.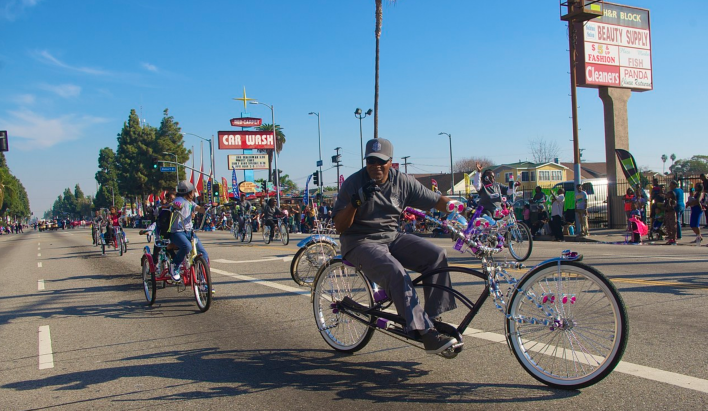 "It's a parade!" we exclaimed.
And possibly one of the slowest-moving parades in the history of man, at that -- it took nearly four hours to travel the 2.6 miles between Vermont Ave. and Crenshaw Blvd.
The safety argument made no sense, in other words. The LAPD -- who were out in much higher numbers than seen at past events yesterday -- were certainly not telling the numerous dignitaries sitting on the back seats of their convertibles to sit properly and put their seat belts on or the members of the many groups riding in flatbed trucks that they shouldn't be standing up like that.
But they did seem to see bicyclists as potential disruptors, and were disinclined to believe they had a right to be there.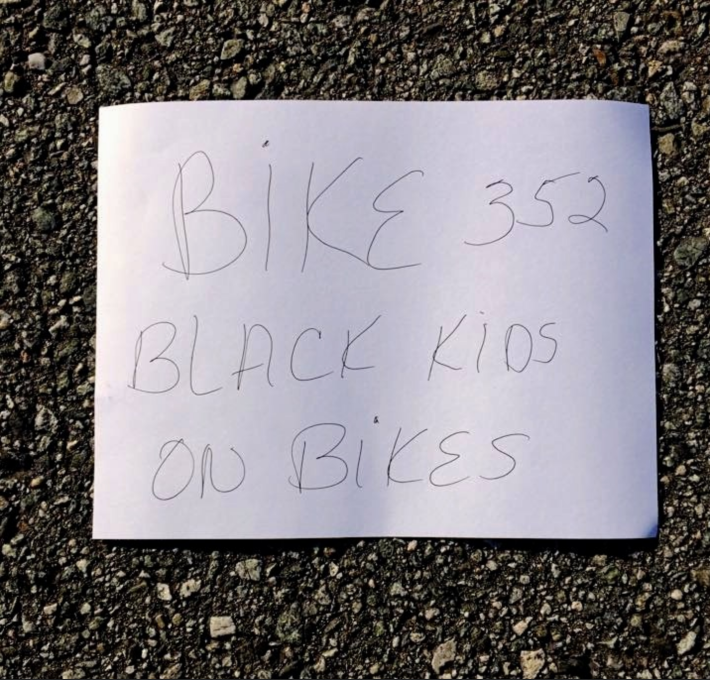 Even when shown the hand-written paper indicating the Real Rydaz' position in the parade (the same hand-written paper given to all participants who had paid entry fees), the officer dismissed it with a wave of his hand, saying "Anybody could have written that."
"Are you serious?" we asked.
The officer finally backed down and let the group continue, mumbling something about safety and that he had just had to check to be sure everything was above board.
"You just got profiled in your own parade!" I said to Holloway, shaking my head.
It should not have been surprising.
Additional police had been deployed along the route in anticipation that protesters from the nascent Black Lives Matter movement would join in the parade and, LAPD appears to have assumed, incite chaos. Black bicyclists - a group LAPD had generally viewed with suspicion already - were apparently pegged as some of the potential disruptors.
The Real Rydaz weren't the only ones they harassed.
Aaron Flournoy, the owner of Bill's Bike Shop -- a long-standing community asset on Jefferson Avenue, was harassed by an officer as he tried to catch up with Black Kids on Bikes (BKoB) after he and I patched up his flat tire together.
And BKoB, a group that has been a fixture in the parade for five years now, was treated even more poorly than the Real Rydaz.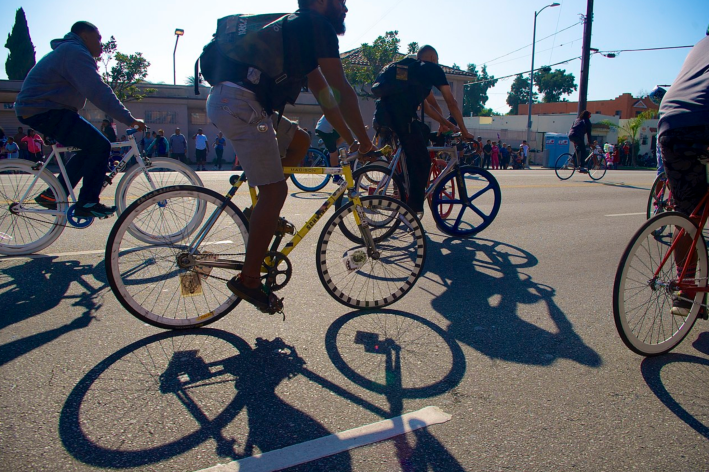 The officer took co-founder Jeremy Swift and others to task for allowing neighborhood kids without helmets to "crash" the float. Then, he questioned the authenticity of Swift's paperwork indicating their position in the parade and even tried to call over parade organizers to verify he was getting the real story from the cyclists.
Where the officer had given up rather quickly with the Real Rydaz, the questioning of BKoB dragged on for some time. Finally, Swift found himself having to take aside four youth, talk to them about the importance of helmets, both for safety (Swift himself is a strong advocate of helmet use) and as a way to avoid being hassled by law enforcement in the street in the future, and then ask them to leave.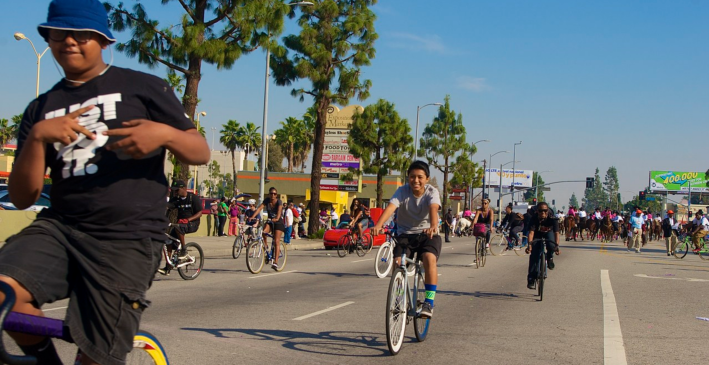 It was an unhappy moment and the antithesis of what BKoB's participation in the parade was about.
Their approach to doing a "float" is non-traditional, in that they tend to have their group members ride slowly in circles while some of the riders do tricks on their bikes in the middle.
Their appearance is highly anticipated by a lot of the younger kids along the route who have grown up watching the group in the parade. Many can't wait to grab their own bikes and take advantage of the rare opportunity to ride safely on an otherwise incredibly busy and unsafe street.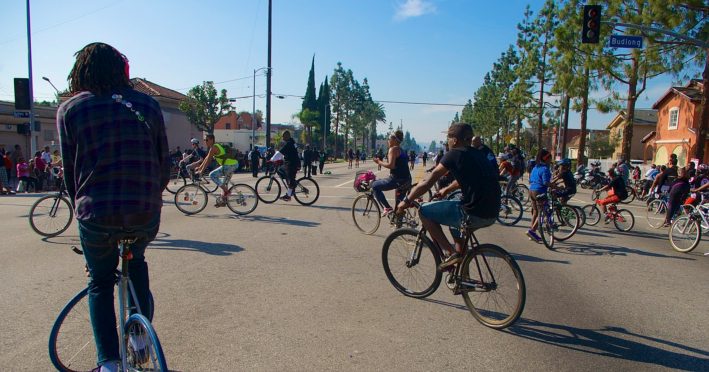 That interactive quality of their "float" is very much in line with what Swift and the others had hoped for.
When I first rode in the parade with BKoB two years ago, Swift was clear that his goals were to let people know they were a resource in the community, to promote positive images of African American cyclists, and to spread messages of family, fun, community, and health.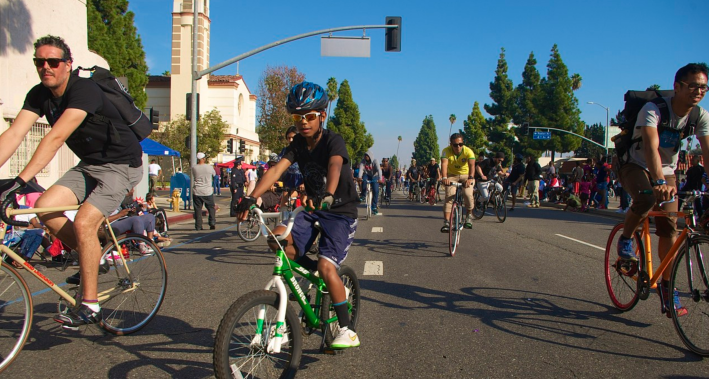 A dedicated parent himself, it was not unusual to see Swift, with his two boys in tow, stopping along the route to speak to young kids about the importance of listening to their parents and doing well in school. Other riders helped kids (and sometimes curious adults) test out their bikes and invited parade-watchers to join in their monthly rides.
This time around was not much different. Both before and during the parade, all I heard were positive comments about what a great example BKoB was setting for the community. A young man, inspired by seeing youth of color on bikes, spoke of his own work with troubled kids returning from juvenile hall. Women near the intersection of Leimert Park Blvd. mused about getting their own bikes and starting to ride. Young girls, impressed by rider Taryn Randle and her fixie, called out shyly, "I like your bike!" and declared to each other that they would one day ride bikes like hers.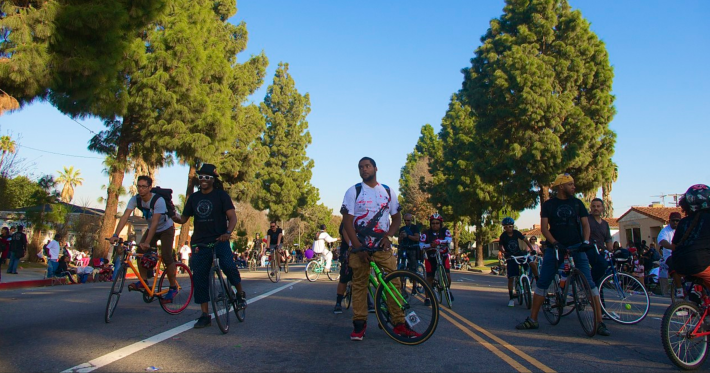 Two of the kids that had been asked to leave eventually made their way back to the group, just hoping to sneak back in for the last half mile. They had been surprised by the officer's behavior, they told me, but were happy to be welcomed back by BKoB.
Even though the parade was essentially at a stand-still for the last stretch before Crenshaw, they happily rode in circles around me, telling me stories, peppering me with questions, and asking how they could find any photos of themselves I might have taken.
They were proud to participate in the parade and it meant a lot to them to see themselves reflected in the group of BKoB riders.
They were also exactly what the day was supposed to be about: youth believing they have the right to declare the streets are theirs.
Sahra is Communities Editor for Streetsblog L.A., covering the intersection of mobility with race, class, history, representation, policing, housing, health, culture, community, and access to the public space in Boyle Heights and South Central Los Angeles.
Stay in touch
Sign up for our free newsletter