California State Assembly
CA Legislature's New Session: Hit-and-Run, Cap-and-Trade, No Tolls for Bikes
5:18 PM PST on December 8, 2014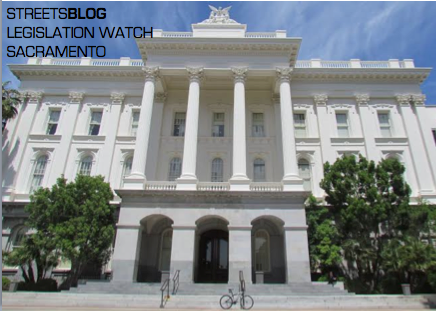 A new California legislative session started last week with the swearing-in of ten new Senators and 27 new Assemblymembers, the introduction of a hundred new bills between the two houses, and adjournment until January 5.
These first-out-of-the-gate bills can be discussed in hearings as soon as the legislature reconvenes, since by then they will have been "in print" for 30 days. Bills introduced in January will have to wait a bit longer.
Some of the new bills are placeholders that are likely to be further developed as the session moves forward, but some are identical to bills from last year's session.
Hit-and-Run
A case in point is A.B. 8, from Assemblymember Mike Gatto (D-Los Angeles), which would create a statewide Yellow Alert system to inform law enforcement and the public about vehicles involved in hit-and-run crimes. It is exactly the same bill as last year's A.B. 47.
A.B. 47 sailed through both houses, then was vetoed by Governor Brown.
Earlier in the session, the Governor had already signed a law similar to Gatto's bill that allowed the existing Amber Alert system to expand from childhood abductions to include lost or missing seniors and disabled people. The governor said in his veto message that he didn't want to overload the statewide alert system before the newly added pieces were tested.
Gatto considered this an invitation to try again, and so he has. His staff says they are confident the bill will pass easily again--and that by the time it does the governor will have seen that the system is not overloaded.
Other early bills in the 2015-16 session are listed after the jump.
Early Bills
Republicans Unite to Evade Climate Change Law
Also introduced in the first day of the session were three identical bills that propose to exempt fuel distributors from California climate change law: A.B. 32 from Assemblymember Jim Patterson (R-Fresno), S.B. 1 from Senator Ted Gaines (R-Roseville), and S.B. 5 from Senator Andy Vidak (R-Hanford). Almost all of the Republican members of both houses—and none of the Democrats—have signed on as co-authors to at least one of these three bills.
The bill's authors are presenting their legislation as a way to save poor, hard-working Californians from unnecessary taxes. Assemblymember Jim Patterson's website features the misleading headline: "State Legislators Introduce Bill to Keep California Gas Prices Low by Eliminating the Gas Tax." The post even quotes the Assemblymember saying that "when the gas tax kicks in, we will feel the pinch," with a specious claim from the Clovis school district that this "gas tax" will mean a $100,000 loss.
It's all so very wrong.
The bill would not eliminate the gas tax, and in fact has nothing to do with gas taxes at all. It would also have little to no effect on gas prices, which are a full 60 cents per gallon lower than they were a year ago.
What it would do is create a singular exemption from California's climate change legislation for one segment of the fuel industry.
Fuel refiners have been subject to California's cap-and-trade system for several years, and thus have been paying for the greenhouse gases they emit—which is meant to be an incentive to reduce those emissions. Fuel distributors had been granted extra time before they came under the cap, to allow everyone to figure out the best way to apply the regulations, and to give them time to plan for and adapt to the law.
Now their extra time is over, and they are scheduled to come under the cap on January 1. Oil company-funded groups have been trying to rile up consumers by claiming a "hidden gas tax" will hit suddenly in January and force gas prices to rise.
It looks like either some of the Republicans in the state legislature have naively fallen for this line, or they are just willing to use it in a cynical attempt to undermine climate change legislation.
These three bills all include an urgency clause, but even so the earliest they could be heard is January 5, when the legislature reconvenes.
Email tips, alerts, press releases, ideas, etc. to melanie@streetsblog.org.
For social media coverage focused on statewide issues, follow Melanie @currymel on Twitter or like our Facebook page here.
Streetsblog California editor Melanie Curry has been thinking about transportation, and how to improve conditions for bicyclists, since her early days commuting by bike to UCLA long ago. She was Managing Editor at the East Bay Express, and edited Access Magazine for the University of California Transportation Center. She also earned her Masters in City Planning from UC Berkeley.
Stay in touch
Sign up for our free newsletter