City Planning
Ten Reasons L.A.'s Mobility Plan Needs to End Road Widening
2:09 PM PST on November 19, 2014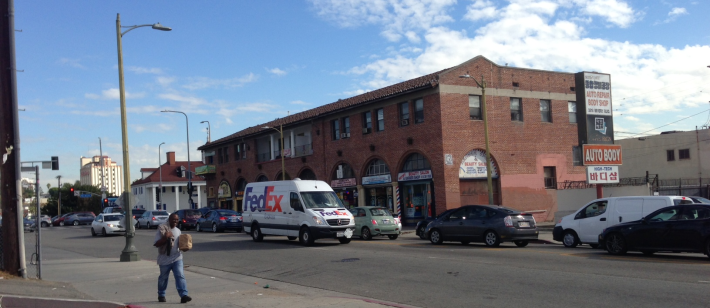 The City of Los Angeles is updating its primary transportation plan, something it hasn't done since 1999. The new Mobility Plan 2035, authored by the City Planning Department (DCP), will be before the city's Planning Commission tomorrow.
There is some welcome stuff -- especially in the vision statements -- in the latest draft Mobility Plan. It is better than 1999's plan. But what gets most stuck in my personal craw is road-widening.
This is 2014. Vehicle miles driven are declining. We're building five rail lines. We spent a billion dollars widening the 405 Freeway only to experience slower commute times. Greenhouse gas reduction legislation is mandating sustainable communities. And Los Angeles is about to reaffirm its self-destructive policy of continuing to widen the crap out of the majority of our already built-out road network.
Briefly, how street-widening plans work in L.A.: Perhaps 100 years ago, someone (usually the city or developers) built a street. Let's say said street was and is 50 feet wide. During the post-WWII car-centric planning era, following the latest car-centric traffic engineering standards, DCP decided that the 50-foot wide road should really be 60 feet wide. Someone buys a property on this street with the intention of tearing down the existing building and replacing it with a new one. DCP mandates that when that new building goes up, the developer must pay to widen the street to some or all of that now "missing" 10 feet, typically half of it, sometimes more. So, in this case, the developer loses a 5-foot strip of land which goes toward widening the street. Corner lots, perhaps the most desirable for visibility and foot traffic, often lose two strips of land, one for each street that they front. In theory, all of the properties on the street would be redeveloped and the whole length of the street would be up to the new standard, but that could take hundreds of years.
Civilized nations like Pasadena and even Downtown Los Angeles ended street widening practices a while ago.
Some folks already read this when I opined about it this past May, but one especially heinous example just three blocks from where I live, walk, and bike is Beverly Boulevard. In L.A.'s most population-dense neighborhood, alongside the Metro Red Line subway station, Beverly would be widened from 78 feet to 110 feet. Really. Beverly is just one of many streets that DCP wants to widen.
I urge the Planning Commission to reject the Mobility Plan unless it explicitly ends road widening.
Here are my top ten reasons to end road widening:
1. The City Can't Afford to Maintain Wider Streets - Wider roads are more expensive for the city to maintain. With gas tax revenues at their lowest inflation-adjusted levels ever, transportation funding is scarce at the federal, state, and local level. The feds resorted to budget gimmicks, including "pension-smoothing," to make up for huge transportation funding shortfalls. Los Angeles is looking to its own budget gimmicks, including closing parking tax loopholes, to fund street resurfacing, which L.A. already has trouble keeping up with. Though it is apparently on hold, L.A. was also looking to float a $3+ billion road repair bond.
The first thing we should be doing when we find ourselves in a hole like this is to stop digging. Stop the bleeding. Stop the road widening. Though roads seem cheap when the feds or developers pay to build or widen them, excessively unnecessarily wide roads come with excessive maintenance costs. They are ticking fiscal time-bombs for cities. (Thanks to Strong Towns for getting me thinking about this in this way.)
2. Widening Hurts the Local Economy - Street-widening requirements drive up the cost of new development. New housing, retail, etc., is not only required to pay to build a chunk of new street (up to 32 feet wide in the Beverly example above), but that development also loses that strip from what can be developed, meaning a smaller building footprint, so less housing, less retail... not to mention impacts on public projects: less park, less school, less library, less transit station, etc. 
3. Widening Hurts Affordable Housing - A noteworthy subset of item 2 above, shaving that road-widening dedication off of housing parcels drives up the cost of housing. This is especially true in core older neighborhoods where streets are at sane dimensions but not up to the latest car-centric standards. As Mayor Garcetti pushes Metro to step up joint development of affordable housing at transit stations, let's not dedicate a bunch more of that land to streets when it should go to housing.
4. Widening Hurts Historic Preservation - There are some great old apartment buildings along that stretch of Beverly that DCP plans to widen. Preserving these historic buildings will preserve the character of the neighborhood, as well as preserving existing affordable housing. My personal anger concerning widening and historic preservation is the way the city widens roads leading to great historic bridges, then it declares those bridges, plus buildings adjacent to them, as obsolete. Then it demolishes the bridges and the buildings. See my earlier opinion pieces about the Riverside-Figueroa Bridge and the North Main Street Bridge.
5. Scale Matters - As the classic Donald Appleyard study showed, people who live on narrower streets tend to interact more with their neighbors. Wider and wider streets degrade the fabric of urban communities.
6. Lane Width Matters - Jeff Speck, writing at CityLab, makes the case that one of the most important safety changes we need to make is to end excessive-width lanes -- to abandon the 12-foot lane standard enshrined in L.A.'s past street practices in favor of a 10-foot lane standard. Ending road widening would curb L.A. traffic engineers' preference for 12+foot wide traffic lanes.
7. Vehicle Miles Traveled (VMT) are Declining - For the past ten years, per-person driving has declined in CA and nationwide. Excessive-width street standards are an artifact of the now-proven-wrong 20th century projections that showed limitless traffic growth. Turns out the predictions were wrong and it is time to undo the seemingly-limitless widening the flawed predictions engendered.
8. Widening Degrades Street Safety - Generally, the wider the street, the faster people drive. The greater the speed, the more deadly and harmful the collision. See the Jeff Speck article referenced above for studies and explanation if you doubt this. Wider streets endanger pedestrians when they have to cross more and wider lanes. This discourages walking and bicycling, undermining safety-in-numbers effects.
9. Widening Degrades the Environment - Wider streets mean more car traffic generating greater air, water, and noise pollution.
10. Ending Widening Could Include Rare Exceptions -  Where it's absolutely necessary, streets can still be widened. Imagine that Beverly Boulevard is really needed for transporting large rocks and space shuttles... or more realistically, if a narrow area becomes an exceptional bottleneck for Bus Rapid Transit, drivers, and cyclists, then widening could be approved. Explicitly ending widening in the city Mobility Plan would basically set the default to "no widening." Widening could still go through a variance process (the way not-widening does today). It should be cumbersome to widen and easy and convenient not to widen.
I urge the Los Angeles Planning Commission to reject any Mobility Plan that continues destructive street-widening! And I encourage readers to join me in letting the Commission know at their 8:30 a.m. meeting tomorrow.
Stay in touch
Sign up for our free newsletter