Beverly Hills
A Plea to Beverly Hills: Give Up the Anti-Subway PR Campaign
9:30 AM PST on November 7, 2014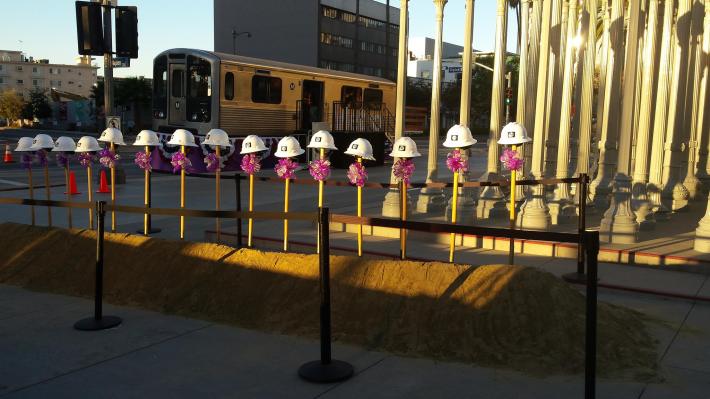 Today is a great day for L.A. County. After decades of stalling, Metro is finally breaking ground on the Westside Subway extension from Wilshire/Western to Westwood.
Well, maybe it is not a good day for everyone. The NUMBY's (that would be "Not UNDER") in Beverly Hills are still so upset about the subway, they are still crusading against a train route that's now already under construction.
Having exhausted the $3 million budgeted to fight the planned route of the Westside Subway extension of the Purple Line, the Beverly Hills Unified School District decided last month to double down.Perhaps buoyed by the pandering of Supervisor-Elect Sheila Kuehl, the BHUSD voted to allocate another $3 million (up to $6 million) in school construction bonds to wage a public relations, legal and political war of attrition against Metro.
So here's a plea to the BHUSD. Give up. It's over. The subway route is going to run under a portion of the Beverly Hills High School Campus. Please, stop spending Measure E construction bond funds to fight the subway. You're just throwing your money away. It would be one thing if this were just about the legal fees needed to reach a settlement with Metro, which seems closer now than ever, but a lot of that money is also going to the communications firms to help smear the subway and alarm residents.
While I make this plea, I know it's going to do zero good. The Chair of the School Board, David Goldberg, thinks the tunnel is going to endanger students. Despite being shut-down in court thus far, he also thinks that the School District will eventually be reimbursed its legal fees after its eventual victory. Here's an excerpt from his fiery email defending the spending:
"By not fighting MTA, we will be taking tens of millions of dollars earmarked for classroom improvements and instead spending those dollars to reinforce foundations to striatal tunnels running under instructional buildings," Goldberg writes.
Metro has publicly committed to mitigations in the EIS/EIR, but the exact amount of funding for other damage has yet to be negotiated. Because there are legal questions involved with BHUSD's never-ending lawsuit, nobody is going to talk to a reporter about what Metro will and won't commit to pay for after construction is completed. Even legal mediation can go awry.
Measure E is a $334 million construction bond proposal passed in 2008, ironically the same election as the County-wide sales tax Measure R which made the subway possible.
The language of the bond states that, "Funds received from the sale of the bonds shall be used for the specific purposes set forth in this Measure including modernizing school facilities; making structural seismic repairs; upgrading, repairing and reconstructing classrooms, infrastructure, multi-use, gyms, libraries, science and technology labs, roofing, plumbing, heating, ventilation and electrical systems."
I would call tripling down on the subway fight gambling with other people's money, but it is so obvious they will not win that it is only gambling in the same way that betting my son's lunch money on the Utah Jazz to win an basketball championship would be gambling. The good news is, that BHUSD is spending its bond money so quickly they're going to have to go back to voters to extend or increase the tax paying for the bonds. Voters will get a chance to weigh-in on how BHUSD is spending their money.
The bad news of course is that no matter what, $6 million of it won't be spent on students.
So how is that money being spent? Mostly on public relations and lawyers.
The original Public Relations team of Sitrik and Company, who's primary goal seemed to be to stop the BHUSD members from saying insane-sounding things in public, has been replaced by Endeavor Communications. Sitrik was clearly missed when the debate briefly turned to whether or not ISIL would use the subway to launch a terrorist attack against Beverly Hills High School.
Oddly, Endeavor has scrubbed every mention of BHUSD from its website in recent weeks so thoroughly that even the cache option comes up blank. Maybe the School District did not like being associated with Darrell Issa, the firebrand Congressman who is still investigating Benghazi who is the firm's largest client. At least you can still find the old links on google.

But you can't argue that the money being shoveled to Endeavor that was supposed to pay for shovels for construction is being mis-spent. The public relations firm was able to change the editorial direction of the right-wing opinion website Breitbart in just eleven days. On May 10 of this year, the website seemed angry at the mis-appropriation of school funds to fight the subway. Just 11 days later, it was parroting BHUSD talking points.
Good work, Endeavor! Totally worth the $400,000 that the school district appropriated to the Washington, D.C. firm earlier this month.
Of course, in the end it's always easiest to spend other people's money.
Stay in touch
Sign up for our free newsletter