LAPD
Days of Dialogue Opens Conversation on Police-Community Relations in South L.A., Gets an Earful
4:41 PM PDT on October 31, 2014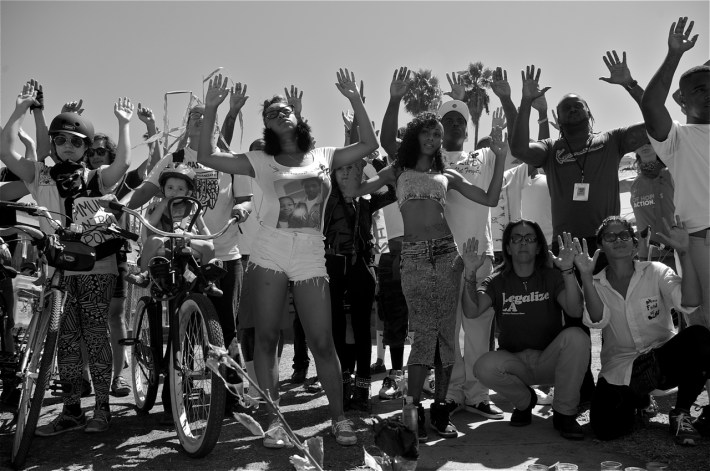 Dialogue was great, said a young man from Youth Justice Coalition as we left the Days of Dialogue on Police-Community Relations in the Aftermath of Ezell Ford and Michael Brown event held at Dr. Maya Angelou High School in South L.A. last night, but what he cared about was action.
It seemed to be a sentiment shared by many of the approximately 200 people that participated in the conversation hosted by 9th District City Councilmember Curren Price and Days of Dialogue, an organization founded in 1995, in the wake of the O.J. Simpson verdict.
The sentiment was particularly strong among the youth. They see themselves reflected in the cases of Michael Brown, Ezell Ford, Omar Abrego (a graphic video of Abrego on the ground can be seen here) and, most recently, Clinton Alford, the young man mistakenly identified as a potential robbery suspect and brutally beaten by police while handcuffed on October 16, just two blocks from the school where the event was held. And they are tired of fearing that they could be next.
But these frustrations with law enforcement and fears of being victimized by those who feel at liberty to abuse their authority are nothing new.
When Patricia, the facilitator at the table where I sat with a dozen community members, asked us to give voice some of these concerns, she didn't have to ask twice.
Helen, an African American woman in her 70s and a life-long resident of South L.A., related a story about having stopped to ask the police for directions because she was lost only to have them run her plates instead.
"I didn't ask them for that," she said wryly.
She then went on to describe how her mother had sat her and her siblings down while they were still little kids to tell them that, because of the color of their skin, they would always have to make sure to move slowly and keep their hands visible at all times when interacting with the police.
For another young African American mother at the table, those lessons still resonate today. During a recent routine traffic stop, she said, she had panicked and stepped out of the car with her hands up, announcing that there were babies inside.
"Kids move so fast and they're not good at keeping still," she explained. She had been afraid that any sudden movements the kids made might have prompted officers to open fire first and ask questions later (as happened recently in South Carolina, when a trooper shot a man after instructing him to retrieve his license).
To someone who has never experienced profiling or had a negative encounter with law enforcement, those sorts of reactions might seem like paranoia or even bias on the part of the speakers. For the participants in the dialogue, however, it was clear their apprehension and distrust was a trained response to years' and years' worth of, as participants put it, being "terrorized," "pre-judged," "abused," "disrespected," "harassed," and "left unprotected" by officers.
Many of those raising concerns were people that knew officers well. Helen had worked for the Sheriff's Department for 30 years. Yet she says the things she saw -- particularly the opportunistic beatings of inmates and the bragging that officers would engage in after the fact -- would keep her up at night. She saw officers regularly beat people in her neighborhood, too, she continued, and harass a mentally ill young man whenever they saw him out walking, despite her repeated requests that they leave him alone.
Sue, also in her 70s and whose daughter was a detective, described how she could not get officers to respond when a neighbor -- someone she recognized -- was attempting to break into her home, with the apparent intent to assault her (as he had waited for her to arrive at home before attempting to break in). At the time they told her they couldn't send any officers because no one was available to assist her. It was only after she called her daughter that the incident was taken seriously and officers were dispatched to her home to take fingerprints and follow up.
It was unacceptable, she said, that people should not be taken seriously unless they are seen as somebody important.
"Whoever calls," she said, "you should come see about us!"
And when they arrive, they need to be respectful, Helen chimed in, recounting an incident when officers had shown up at her home (incidentally, the wrong house), took one look at her 16-year-old grandson, and asked him what gang he was from (he was not affiliated with any gang).
There is no way they can feel safe moving through their streets if they know they are being seen as having so little value.
Or be seen as criminals, added Cookie Partansky, recalling having been accosted by officers for walking alongside a woman she didn't know in Pasadena. Her point was echoed by others at the table who were tired of seeing youth of color be targeted for harassment for simply walking down the street or be assumed to be part of a gang because they were walking with a friend.
Youth are so afraid they're going to be beaten by officers that it can prompt them to behave in counter-intuitive ways, said Oscar Murcia III, a gang interventionist who regularly works with officers. In the case of one youth he knew that had been stopped for tagging, the youth was so fearful of what was going to happen that he took off, while handcuffed, and threw himself under a car to hide. The officers, contend Murcia, dragged the unarmed handcuffed youth out from underneath the car and shot him.
You want to be able to trust law enforcement, he said, but "time and time again they disappoint you."
"It speaks to a pattern of behavior," agreed Francisco Ortega of the city's Human Relations Commission, who remembered having his own run-ins with law enforcement as a youth in the area.
Looking to move the conversation forward toward solutions, he noted that, "A lot of the issues in our neighborhoods are not about emergencies. They're about relationships."
Relationships within families, within communities, with institutions, with the city, and with agencies like law enforcement. A community policing approach could help, but healing those relationships was something everyone -- including those that had been wronged by or distrusted law enforcement -- had to participate in in order for people to "feel confident to take back our streets."
Having unarmed civilians working within the police department and alongside officers might be one approach, he suggested. Murcia -- who often acts as a first responder, arriving at the scene of gang-related incidents to help calm tensions -- agreed, adding that he felt that officers needed to be subjected to due process (not just handed desk duty) when they behaved badly for trust in the force to be rebuilt.
But trusting law enforcement seems quite a ways off yet. Of the 200-plus participants present last night, 90% felt that people of color were treated less fairly by law enforcement at least some of the time (62% felt it was the status quo). And 66% were unsure that we would ever have a true accounting of what happened in officer-involved shootings like those of Brown and Ford.
And while the consensus in the room seemed to be in agreement that dialogue was the way forward, the question I was left with was, "Dialogue with whom and to what end?"
Fewer than a dozen officers were on hand to listen to the conversations and address concerns last night. And while they joined the discussion tables and did their best to engage folks' questions, the truth is that they were not the officers that needed to hear the concerns that were raised. As is generally typical at dialogues I've attended in the past, these were experienced officers that were already on board with a more community-centric approach to policing.
And their mere presence wasn't enough to ensure dialogue actually happened, despite their best efforts. When a white officer sat down at our table and discussion turned toward the bigger picture issues -- fear and distrust of law enforcement, the culture within the department, and the problem of LAPD being data-driven rather than taking a preventative approach to policing -- it was clear he was out of his depth. He could answer from his experience and approach to the job, which he described as having to fight assumptions that he was racist because of community members' past experience with white officers, but he was unable to tie those observations to deeper structural issues.
For true and productive dialogue to happen, conversations would need to be more focused, structured, ongoing, and community-specific, including both those officers responsible for setting the tone within their divisions and some of those who are known to have a poor reputation in the community, as well as some of the community members (particularly young men) who have had the most trouble with law enforcement and are the most targeted and misunderstood, including those involved in gangs.
That said, the remedies participants were clamoring for were more proactive and long overdue: more training for officers addressing culture, diversity, mental illness, and de-escalation, more foot patrols, more community policing, more accountability, and more community partnerships that could support officers and help them engage in prevention-oriented work.
Because clearly a greater show of force is not the way to go. When asked about police forces around the country getting access to military-grade weapons, participants were adamant that coming into communities with that level of aggression would serve no positive purpose.
"They look like they're fighting a war with ISIS," said Sue, disgustedly, "not helping a community."
* * * *
Days of Dialogue will hold a second dialogue on Saturday, November 1, at Augustus Hawkins High School at 9 a.m.
Sahra is Communities Editor for Streetsblog L.A., covering the intersection of mobility with race, class, history, representation, policing, housing, health, culture, community, and access to the public space in Boyle Heights and South Central Los Angeles.
Stay in touch
Sign up for our free newsletter