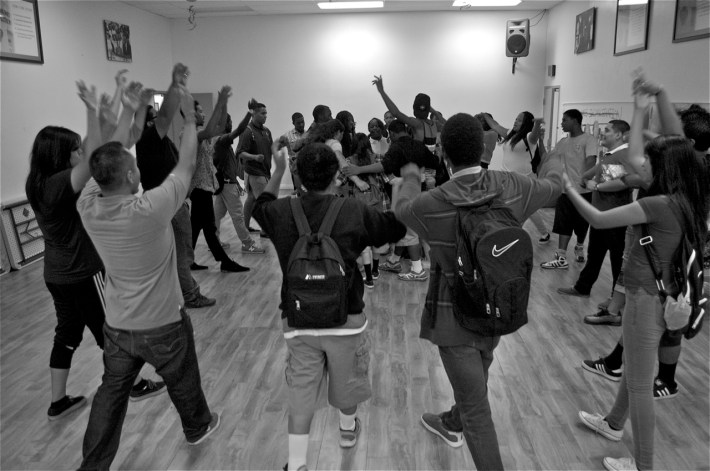 "We are only as strong as our weakest link," youth leader Alfonso Aguilar tells the youth participating in the South Central Youth Empowered through Action (SCYEA) program at Community Coalition (CoCo).
"So, if you're feeling weak, step into the center of the circle."
Much to my surprise, a dozen students ranging from 14 to 18 years old move into a huddle in the middle and immediately link arms. Those left on the outside circle cheer them on and pledge their support before the circle collapses in a massive group hug.
It was an uplifting way to end what had been a long day for them -- it was now well after 7 p.m. and the youth had come to CoCo directly after school so they could get a snack, do their homework, and pound the pavement in the surrounding neighborhoods to promote this weekend's South L.A. Power Fest at Martin Luther King, Jr. Park.
I was there because I had wanted to do the door-knocking outreach with the SCYEA youth.
Much like when Erick Huerta and I assisted CicLAvia with door-knocking in Boyle Heights, I was looking to hear directly from community members about how they saw their neighborhood and their relationship with the public space. I spend enough time in South L.A. to feel like I know the needs and concerns pretty well, but its important to continue to check in and listen, especially as the area grows and changes.
It seems even more important to listen to the youth from the area -- like those CoCo had tasked with doing the outreach as part of their leadership training -- who often feel constraints on their mobility in the public space most acutely.
So, I was thrilled when CoCo gave me the OK to tag along with their door-knockers last week.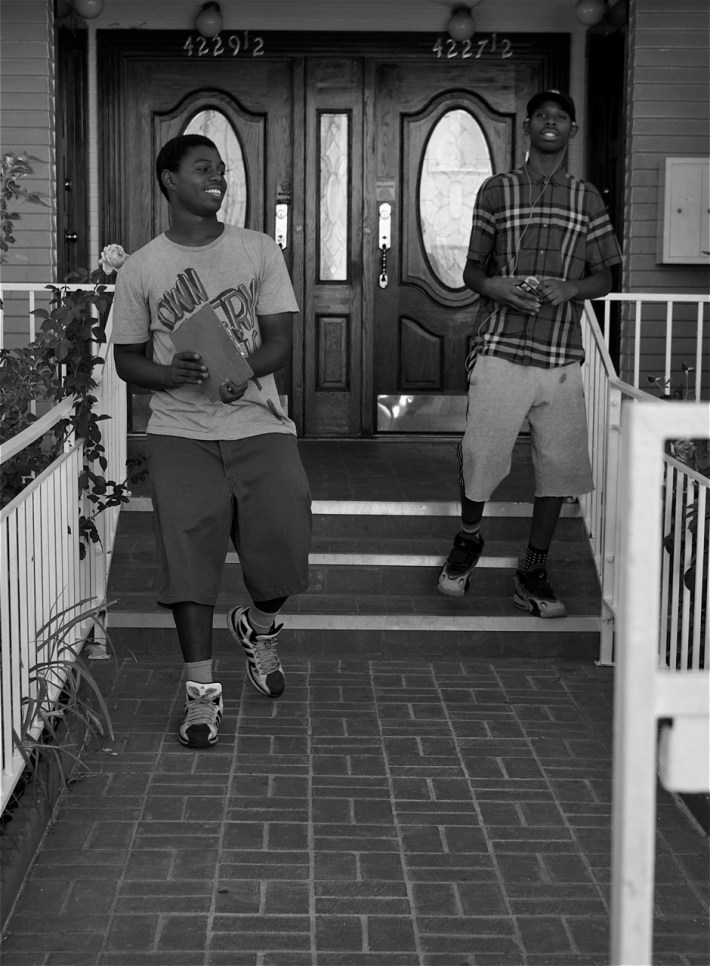 Besides being really cool youth, it was clear that they knew the issues well, cared about engaging neighbors, and were sincere in wanting residents to come out to the event.
As we canvassed an area near Manual Arts High School on 41st St., Raymond Davis (above, left) would announce he was a sophomore there, that he knew the concerns of the community, and that he wanted a place for kids to be able to play where parents wouldn't have to be fearful for their safety.
The festival would have something for everyone, he would continue, including a job and other resources tent, information on healthcare enrollment, cooking demonstrations, food trucks, music, zumba, and an artivist (artists + activism) tent where local artists will share their work and contributions to social justice.
"I don't like that park," one man said, scowling as he turned the event flyer over in his fingers.
He was fed up with the drive-bys, the drug dealing, the prostitution, and the gang-banging he saw in the area and wouldn't let his teenage son play hoops in that park. He didn't even feel comfortable letting him hang out with more than a few friends that he felt could be relied upon to answer their phones when he called looking for his son.
He didn't like having to be so protective, he said, but that was the reality of the neighborhood they lived in.
Raymond acknowledged the man's concerns and explained that CoCo had been working to clean up King Park for the past several years. Between the renovation, community clean-ups, and partnerships with local businesses (including the placement of a weekly produce stand in a nearby liquor store parking lot with the help of CSU), the park and surrounding area has been transforming into different place.
It (and the area) still has problems, many of which I documented here, and perceptions are hard to change. But the Power Fest is part of CoCo's effort to demonstrate that public spaces can be reclaimed for families and that South L.A. spaces can be destinations for entertainment, fun, justice, and community.
The man contemplated this information, won over by Raymond's persistent earnestness, and agreed to think about giving it a try.
He was glad to hear that someone was trying to do nice things for the community, he said.
He had wanted to contribute to the community as well, but had been so discouraged by everything he saw around him that he had given up and focused on keeping his kids out of the streets, in school, and in programs he hoped would give them the upward mobility he himself would never have.
He was not alone. Many of the people I met while walking with Raymond and Antoine (or the next day with Ennis Brooks and Tyne White, at right) had similar concerns.
But most were also hopeful that the event signaled the neighborhood was changing. They often thanked the youth for caring enough to do something positive and for inviting them to be a part of it.
And it was clear that the time taken to make a personal invitation had had an impact. As we made our way back down the street we had just covered to meet up with the rest of the group, people we had spoken to an hour earlier -- including those that had been reluctant to answer their doors -- now offered friendly waves and called out well-wishes from their yards.
Regrouping back at CoCo headquarters (located at 81st and Vermont), Hina Sheikh, the Director of Organizing, asked if I wanted to interview any of the youth about SCYEA or Power Fest, gesturing toward Daniel Madrigal, who was sprawled out on a sofa, and a few others that were still hanging around.
I looked over at Daniel who, unsolicited, began to tell me about an education-related campaign he was working on. He was clearly passionate it about it -- he believed he and his fellow students deserved an education that prepared them for college -- and he was excited to be able to fight for it.
"Come back tomorrow," he suggested, explaining that I would get a better sense of all the issues and campaigns the youth were working on by sitting in on SCYEA's debriefing meeting the next day.
This is how you do placemaking, I thought, listening to Daniel rattle off the benefits of participating in SCYEA, this is how you prepare a community to take back -- and sustainably safeguard -- the public space.
It's about more than enhancing the tangible public space.
Don't get me wrong -- physical improvements and events matter tremendously with regard to bringing people together, celebrating community, and presenting a vision for how the neighborhood should be. And Power Fest is a great way to do all those things.
But for any claims made to the public space -- particularly in areas where it is contested or troubled -- to endure, investment in preparing the next generation of leaders to tackle the issues that impact the character of and constraints on the public space needs to continue year 'round. This is what CoCo does so well -- helping youth understand how their well-being is dependent on the wider health of their community (broadly defined to include access to education, opportunity, safety, etc.), educating them on the barriers to health, and instilling in them the belief that, both individually and together, they have the power to tear those barriers down.
Learn more about Community Coalition, meet their inspiring cadre of youth, organizers, and community partners, and enjoy a day of music (Buyepongo! Las Cafeteras! Mali Music! Mr. Choc!), food, and community at the festival this Saturday, September 6th, from 1 to 8 p.m. at King Park, located at 3916 S Western Ave. For more information, check out the event website, here.
Sahra is Communities Editor for Streetsblog L.A., covering the intersection of mobility with race, class, history, representation, policing, housing, health, culture, community, and access to the public space in Boyle Heights and South Central Los Angeles.
Stay in touch
Sign up for our free newsletter