CEQA
California Has Officially Ditched Car-Centric 'Level of Service'
11:08 AM PDT on August 7, 2014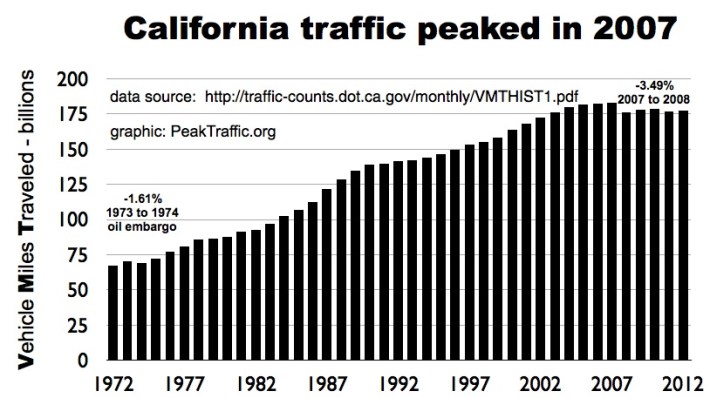 Ding, dong...LOS is dead.
At least as far as the state of California is concerned.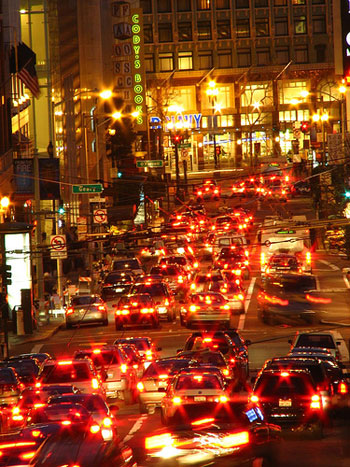 Level of Service (LOS) has been the standard by which the state measures the transportation impacts of major developments and changes to roads. Level of Service is basically a measurement of how many cars can be pushed through an intersection in a given time. If a project reduced a road's Level of Service it was considered bad -- no matter how many other benefits the project might create.
Now, thanks to legislation passed last year and a yearlong effort by the Governor's Office of Planning and Research (OPR), California will no longer consider "bad" LOS a problem that needs fixing under the California Environmental Quality Act (CEQA) . This won't just lead to good projects being approved more quickly and easily, but also to better mitigation measures for transportation impacts.
Late yesterday, OPR released a draft of its revised guidelines [PDF], proposing to substitute Vehicle Miles Traveled (VMT) for LOS.
In short, instead of measuring whether or not a project makes it less convenient to drive, it will now measure whether or not a project contributes to other state goals, like reducing greenhouse gas emissions, developing multimodal transportation, preserving open spaces, and promoting diverse land uses and infill development.
"This is exciting," said Jeffrey Tumlin, principal and director of strategy at NelsonNygaard. "Changing from LOS to VMT does away with a  contradiction that applicants currently face under CEQA. The contradiction between the state's greenhouse gas reduction requirements and the transportation analysis requirements is no more."
This revision in state law promises many positive changes.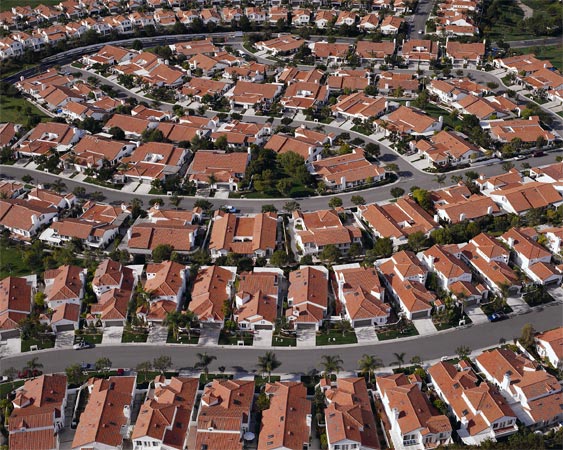 The most obvious one is that sponsors of projects that aim to reduce car dependency will no longer have to spend time and money measuring their potential to delay cars. VMT is easier and faster to estimate, and it produces a measure of a project's effect on overall travel, rather than just focusing on delay caused to cars at certain intersections.
In an extreme example of LOS wreaking havoc, a lawsuit in 2009 forced San Francisco to spend more money studying the traffic impacts of its bike plan than it will take to completely implement it.
Such a study will no longer be necessary.
But perhaps a larger change will be what kind of development the law now encourages. When the state measured transportation impacts of a project based on car delay, it was fighting against its own environmental goals. Using LOS, it was easier and cheaper to build projects in outlying areas where individual intersections would show less delay resulting from new development. At the same time it was much harder and more expensive to build in dense areas where there was already a lot of traffic, and where measured LOS impacts would require expensive mitigations or reduced project size -- but also where higher density would make transit, walking, and bicycling more viable transportation choices.
Now, projects that are shown to decrease vehicle miles traveled -- for example, bike lanes or pedestrian paths, or  a grocery store that allows local residents to travel shorter distances to shop -- may be automatically considered to have a "less than significant" impact under CEQA.
Another change will come in how developments mitigate their transportation impacts. In many urban areas, under LOS analysis the only way a development could lessen its impact would be to slim the sidewalk and widen the roadway. This was particularly frustrating along major bus routes or near rail transit stations, or anywhere bicyclists wanted to travel safely.
Under the new rules, the hypothetical development would instead be able to mitigate transportation impacts by funding better transit, creating better access to transit, building better pedestrian facilities, or a host of other improvements that would actually improve travel choices.
The change in law does not require individual cities and local governments to change the way they analyze traffic impacts for other purposes, although some cities have already been working on more creative analysis than LOS.
While the change from LOS to VMT is clearly a good one in many respects, many of the state's most progressive transportation leaders hope this is just the first step towards more progressive transportation planning in the state. In her confirmation hearings, incoming Los Angeles Department of Transportation General Manager Seleta Reynolds argued that when projects are analyzed, they should be scored on their value in creating a stronger community by providing better housing, cleaner air, more transportation options, or something else.
Tumlin agrees. "Ultimately, what we need is a process and tool to help us imagine what a better California would look like and what we would need to move toward that vision," he said. "Even with these improvements, CEQA can't do that."
The proposed guidance must still go through a formal rulemaking process, which may involve further revisions. OPR welcomes public comments on the draft. Send them by 5 p.m., October 10, to: CEQA.guidelines@ceres.ca.gov.
Stay in touch
Sign up for our free newsletter