BRT
Balancing Cars, Cash and Congestion: Metro Silver Line BRT in ExpressLanes
12:19 PM PDT on July 8, 2014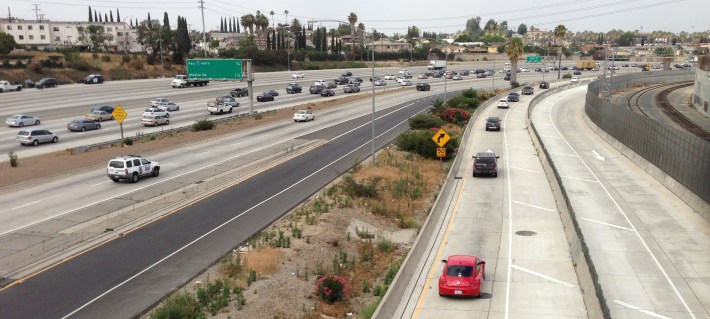 At the April 2014 board meeting, Metro's ExpressLanes and the Metro Silver Line were the big success story.
The ExpressLanes program is a $210 million federally-funded trial project to "to develop multi-modal solutions to improve traffic flow and provide enhanced travel options on the I-110 and I-10 Freeways." The program converted freeway carpool lanes to toll lanes, and simultaneously improved transit service, especially the Metro Silver Line freeway-running BRT, in the same freeway corridors. In late 2012, L.A.'s first ExpressLanes opened on the 110 Freeway; the full two-freeway pilot was in place in early 2013.
In April, Metro staff reported results for the first full year of ExpressLanes. Ridership on the Silver Line is up 52 percent. Drivers acquired 259,000 transponders, greatly exceeding the program's goal of 100,000.  Possibly most importantly, Express lane revenue was way up. The forecast was for $8-10 million over the course of the 1-year pilot. Actual revenue was $19 million. This revenue is directed back into transportation improvements in the Freeway corridors.
The Metro board was unanimous in voting to make the Express Lane program permanent.
How does it work?
There are already videos and websites explaining how drivers take advantage of the new toll lanes. So the focus of this article is the transit rider experience: how did the ExpressLanes program benefit transit riders? How did ExpressLanes result in such impressive gains in Metro Silver Line bus ridership?
The Metro Silver Line is Bus Rapid Transit (BRT) running on separated freeway high-occupancy lanes along the 10 and 110 Freeways - the same lanes that were converted from carpool-only to toll lanes. The Silver Line runs as an express bus on downtown streets between its two freeway stretches.
The Silver Line opened in 2009 with relatively limited service. Though it had some of the advantages of running unimpeded in carpool lanes, the frequency was inadequate. Buses ran every 30 minutes.
With the ExpressLanes project, Metro purchased 59 new buses for the Silver Line. Service frequency was increased such that buses today run every 4-6 minutes at peak commute hours. Other bus line service on these lanes was also increased; including the Foothill Transit Silver Streak.
To incentivize drivers to ride the Silver Line, Metro created a "first of its kind" Transit Rewards Program. Enrolled drivers who use their  TAP card 32 times per month receive a $5 credit toward ExpressLane toll fees. In regards to livability, this incentive seems a bit perverse. It is like giving a child candy for brushing her teeth. The roughly 90 percent of transit riders who arrive by foot, bus, or bike receive no similar incentive, though there is a low Toll Credit program that subsidizes low-income driver's tolls.
Though non-driver transit riders don't receive any reward-type incentives, they do receive the benefit of increased bus frequency in the corridor. According to transit experts, including Jarrett Walker, this frequency is critical for effective public transit.
How is it working?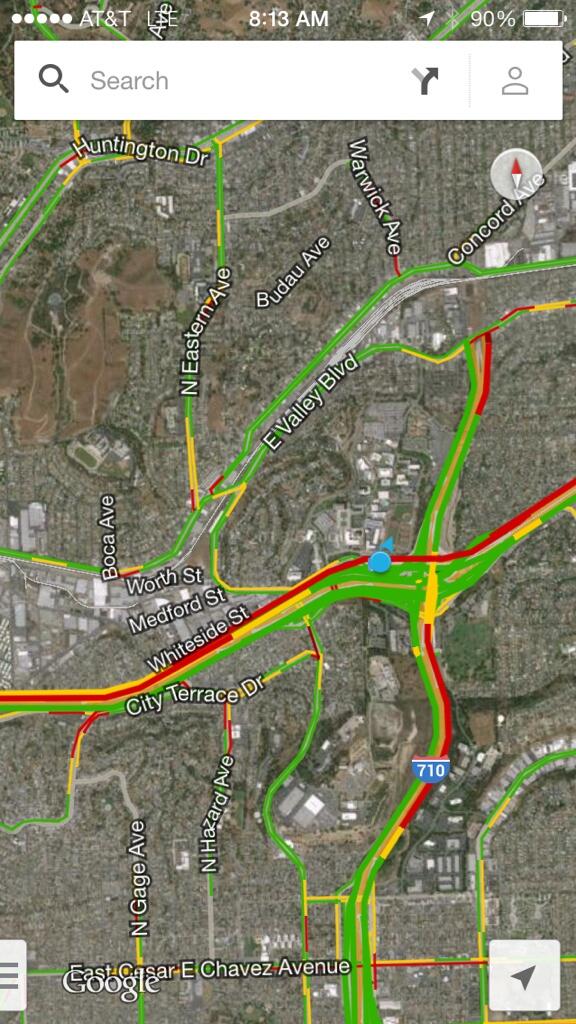 In May 2014, Streetsblog L.A. began to receive tips that Silver Line BRT service along the 110 Freeway was experiencing some problems. So many drivers were taking the toll lanes to the point where the mix of buses, carpools and paying drivers resulted in congestion.
In some cases, traffic in the express lanes was moving slower than the rest of the 10 Freeway. This congestion impacts all the busway users including buses, carpools, and toll-paying drivers. One reader, who requested to remain unnamed, sent SBLA this screen shot (right.)
In beginning to research this story, Streetsblog inquired to Metro to get their response. On June 6th 2014, Metro spokesperson Rick Jager wrote:
We are aware of the congestion related to the ExpressLanes from Cal State L.A. to Union Station (Westbound lanes). The one lane section of the ExpressLanes near downtown has shown marginal reduction in travel speeds over the last couple of months, but the overall average speeds to the ExpressLanes are still above 45 mph. With the continuing increase in demand, we will adjust/increase the tolls for solo drivers in the westbound direction to help manage the increased demand we are observing.

As part of the ExpressLanes program, when speeds drop below the 45 MPH threshold, we can close the lanes to solo drivers to ease congestion in the lanes. (Carpools are still allowed into the lanes as are buses.) We've done that a couple of times, once last February for a short time, and again earlier this week for a short time. Again, we are aware of the congestion and will work to manage it through various tolling options.
Metro opens and closes the ExpressLanes by posting on the electronic message signs. These normally display the solo driver toll amounts. In response to congestion levels, they are dynamically modified to increase and decrease prices, and, as Metro has stated, to occasionally close the lane to solo drivers.
What does it look like on the ground?
After hearing from our tipster and from Metro, Streetsblog visited the 10 Freeway ExpressLanes three times. All on rush-hour mornings on weekdays in mid-June 2014. The good news is that there wasn't any bumper to bumper traffic. The lanes work. Plenty of buses, carpools, and solo drivers were commuting smoothly toward downtown Los Angeles.
The only slowing observed was that transit buses would often develop a "tail" of cars lined up behind them.  It appears that buses, driving the speed limit, marginally reduce the speed of other vehicle in the ExpressLanes.
Most likely, the toll lanes are experiencing the dip in traffic congestion that generally occurs in Los Angeles during summer months. Gas prices are generally higher in the summer. Fewer students are commuting to school. Some residents go on vacation. And, lately, according to Mayor Garcetti's video here, drivers may be playing hooky to watch World Cup soccer.
What does the future hold?
Currently, Metro's ExpressLanes remain a win-win-win story. Transit riders get better bus service. Drivers get more capacity, and the ability to pay to bypass congestion. Metro gets revenue.  In a number of ways, though, the ExpressLanes program is a balancing act.
Encouraging more solo drivers to take advantage of excess lane capacity generates revenue. Maximizing revenue would mean getting as many drivers as possible to pay to get into the toll lanes, but allowing too many drivers into the lanes slows down everyone. Charging higher tolls can reduce congestion in the ExpressLanes, but probably results in greater congestion back in the "free" lanes.
Closing the toll lanes is sometimes necessary, but reduces revenue. Closing too often makes could make them appear unreliable, also depressing revenue. Congestion isn't a problem right now, but could again rear its head again this fall.
ExpressLanes generate income that Metro uses to invest in mobility improvements in freeway corridors. This can include hard-to-come-by funding for operations and maintenance. These funds are then tied to improvements along the freeway corridors where they are generated. Visible and frequent transit service in these corridors may attract some drivers onto transit. Overall, though, these corridors are notoriously car-oriented places, not known for livability or walkability.
What is your experience?
Share your Silver Line experience. How is the Silver Line (and other freeway bus service) working for you? How about the ExpressLanes? Are readers taking advantage of transit or carpool incentives? So far, Streetsblog is only aware of congestion along the 10 Freeway, how about 110? In the long run, how well will it serve Los Angeles to generate new transit funding tied to freeway corridors? Does transit ever become more competitive when it is coupled with increasing capacity for cars? Your comments below.
(Interested readers can read plenty more technical details at Metro's April 2014 preliminary report [PDF] entitled Los Angeles Congestion Reduction Demonstration (LA CRD) ExpressLanes Program.  Streetsblog summer 2014 intern Aviv Kleinman contributed to this story.)
Stay in touch
Sign up for our free newsletter