awards
L.A. Press Club Honors Streetsblog Los Angeles as Best News Blog in L.A.
10:36 AM PDT on June 30, 2014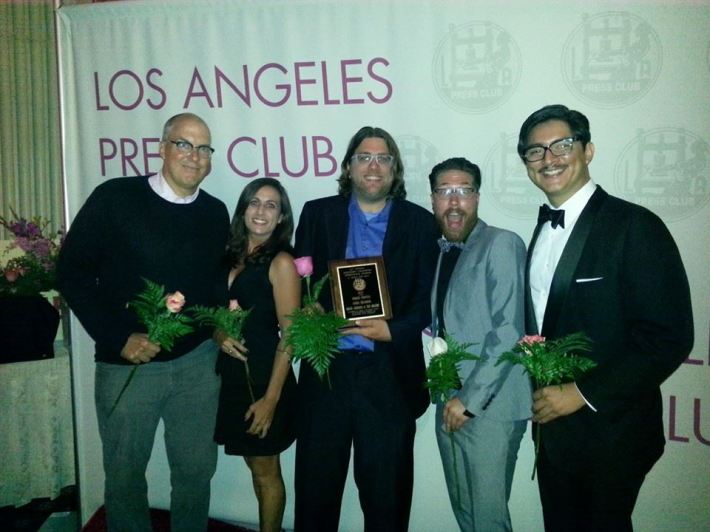 It was another banner night for Streetsblog Los Angeles at the L.A. Press Club Awards Dinner. In addition to our win as the 2013 "best blog" award, Streetsblog team placed in three other categories, including two that were "medium-wide" meaning that we were competing not just against online media but all media. Our awards haul from last night included:
Best Blog: Streetsblog Los Angeles
Best Online Journalist, 2nd place: Sahra Sulaiman
Best Use of Multi-Media, 3rd place: Kris Fortin, Shireen Alihaji, Damien Newton
Best News Photograph, 2nd place: Sahra Sulaiman
There are many many people to thank for the continued and growing success of Streetsblog Los Angeles:
Aaron Naperstek and Mark Gorton who encouraged me to think about "bringing Streetsblog to Los Angeles" in 2007,
our loyal readers and commenters,
our gracious funders,
our generous contributors - every donation counts!,
our staff,
our loyal advertisers,
our local Board of Directors, and
our partners at OpenPlans.
A special shout out to our friends at The California Endowment, Vida Feliz Foundation, David Bohnett Foundation and Threshold Foundation.
Before the awards portion of the evening, I had the privilege of making a special announcement to our team. In May, Streetsblog L.A., and our sister sites LongBeachize and Santa Monica Next combined to attract over 100,000 unique visitors and nearly 200,000 page views. To put that in perspective, there are 92,000 residents in the City of Santa Monica.
Of course, award-winning journalism isn't free and we rely on your contributions to pay our bills. If you haven't donated this year, please consider doing so by clicking here. For a rundown on our three winning nominations, read on after the jump.
Online Journalist of the Year, 2nd Place: Sahra Sulaiman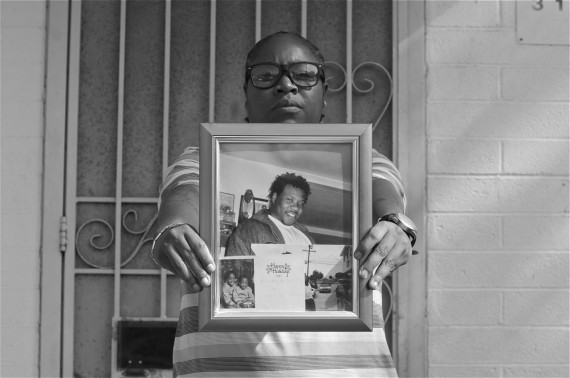 The Press Club highlights the beginning of Sahra's series on community violence and how it impacts Livable Streets. As we saw with Fidel last year, the nomination and story itself mean more to those portrayed than they do the author. This is one of many signs of how unique and important Sahra's work is. If you haven't read, "Death and All His Friends Cast Long Shadows When They Appear in the Public Space," set aside some time over the next week to do so.
News Photo, 2nd place: Sahra Sulaiman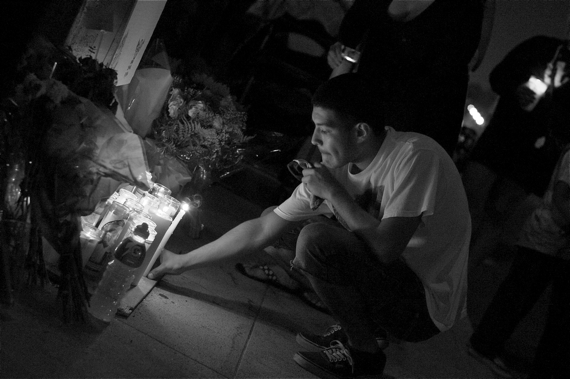 While Sahra's coverage of the tragic hit and run crash that killed Andy Garcia was one of our most-read stories of 2013-2014; for many people it's this picture of Jose Vazquez lighting a candle at Garcia's memorial that many will remember. Beautiful, sad and haunting it has long been one of my favorite pieces of Sahra's many photographic contributions despite the sad moment it captures.
Online Multi-Media Package, 3rd place: Kris Fortin, Shireen Alihaji, Damien Newton
When I first approached Kris and Shireen about this project, I was proposing "something like a Streetfilm" for each of the candidates. But the two film-makers who took the lead on this project had a more documentary-film style which served the series well...and they still managed to add some humor and light moments from our interviews into the final project. After we released the edited videos, we also released the full (nearly) unedited audio.
Last year, we were finalists for three awards. While we hope to have even more of our work recognized, for a small outlet such as ours to be continually tapped is a testament to our team.
Of course, we wouldn't exist without your support as readers, commenters, tipsters and donors. It's that last role I'm asking you to fill today. To help us continue to grow and produce quality independent journalism, make a donation by clicking here.
Stay in touch
Sign up for our free newsletter