LADOT
Speaking With Seleta Reynolds, Garcetti's New LADOT GM Nominee
3:53 PM PDT on June 20, 2014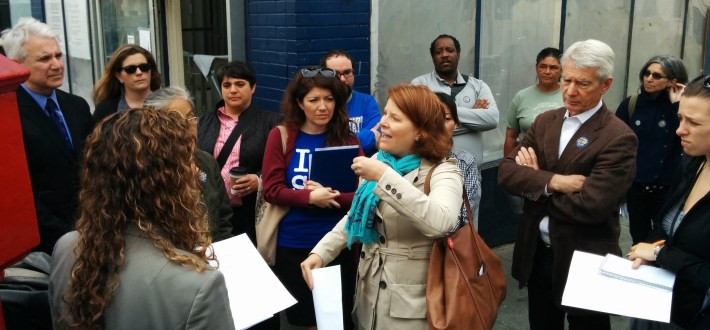 Earlier today, Los Angeles Mayor Eric Garcetti nominated Seleta Reynolds to be the new general manager for LADOT. Streetsblog announced the nomination earlier today via this brief article, which includes the mayor's press release.
Reynolds currently works for the San Francisco Municipal Transportation Agency (SFMTA), where she leads three teams in the Livable Streets subdivision responsible for innovation, policy, and coordination for complete streets projects citywide. Reynolds also serves on the Transportation Research Board's Pedestrian and Bicycle Committees, and the WalkScore Advisory Board. She is a past president of Association of Pedestrian and Bicycle Professionals. Prior to joining the SFMTA, Seleta managed the San Francisco and Seattle offices of Fehr & Peers, and worked for the City of Oakland Public Works Agency.
Streetsblog caught up with Reynolds on the phone this afternoon. Reynolds described herself as a "long time reader of Streetsblog L.A. and the Streetsblog family" and "really excited" to be coming to Los Angeles.
We asked her to name some of the accomplishments she's most proud of from her work at SFMTA:
Reynolds' team just delivered their Vision Zero projects list, which she describes as including "some [projects] that really push ourselves." Streetsblog readers may already be familiar with Vision Zero, a recent initiative embraced by New York City and San Francisco to improve safety, with target of zero traffic fatalities. Reynolds noted that one of the challenges for San Francisco's Vision Zero projects was the great deal of inter-departmental coordination required, including with SF's Public Works and Public Health departments.
Reynolds expressed pride regarding her role in San Francisco's August 2013 launch of Bay Area Bike Share, which she described as a long time in the works, and, now, tremendously successful.
Internally, Reynolds was proud of her role in upgrading SFMTA's system for staff performance reviews. She stated that it's critically important to take good care of the people who are doing important work. She stressed the need for providing staff opportunities for growth and leadership.
Lastly, Reynolds pointed to the Oak Street and Fell Street Pedestrian and Bicycle Safety Project, in which the SFMTA implemented semi-protected bike lanes (still unfinished) on a 3-block gap on one of the city's most heavily trafficked bike routes. The project is located on Oak and Fell Streets, from Scott to Baker Streets. Though perceived as a bike project, Reynolds called it a true "neighborhood livability" project as it includes pedestrian safety improvements and green infrastructure. Ms. Reynolds mentioned that the project included "significant trade-offs," (i.e. removing parking spaces) and required an extensive public process. She felt that both the community process and the project itself were important achievements.
Though Reynolds has not lived in Southern California, she mentioned that she has had a great time visiting here on numerous occasions. She suggested that her lack of a deep familiarity with L.A. might be a good thing, as she can bring a fresh perspective.
"We can't do it in L.A. the way we did it in San Francisco," she said. "We need to always fit the neighborhood and the context." Though she says that L.A. and S.F. share many similar transportation issues, including "serious congestion," one big difference is size. For Los Angeles, she stated "the canvas is bigger" and there are "huge opportunities to work at a neighborhood scale."
Bloomberg and Associates is working with the Mayor's Office and LADOT on the rollout of the Mayor's Great Streets Initiative. None other than former NYC DOT Commissioner Janette Sadik-Khan helped the mayor vet candidates for the top spot at LADOT.
"Just a fantastic choice," Sadik-Khan exclaimed in a phone interview. "I met (Reynolds) through my work with NACTO and TRB. I was impressed with her communication skills. She's been working on policies and transportation funding issues throughout the state. She's ready to work with the bureaucracy of an agency to create better communities and better outcomes through communities."
San Francisco livable streets advocates shared a high opinion of Reynolds. Marc Caswell, the San Francisco Bicycle Coalition's former program manager who now lives in L.A., called her "a strong but compassionate manager [who] really understands the importance of biking and walking in urban street designs."
Nicole Schneider, executive director of Walk San Francisco, also praised Reynolds:
Seleta is a force to be reckoned with--she's bright, respectful and knows how to get things done. Seleta was the driving force behind WalkFirst, San Francisco's data-driven approach to fixing our most dangerous streets, and our more recent Vision Zero work to eliminate all traffic fatalities in SF in 10 years. She will be missed in San Francisco, but her impressive work will continue to save lives for generations to come.
Before taking over the top spot at LADOT, Reynolds will need to be confirmed by both the Los Angeles City Council Transportation Committee and the full council. Her hearing with the Transportation Committee will be next Wednesday at 2 p.m. correction 1 p.m. in City Hall. There is no date scheduled yet for the final confirmation, but it could be as soon as the following week.
While you can expect some pointed questions, it is unlikely her candidacy will run in to any serious opposition. Streetsblog will continue cover her confirmation and will announce future news as it happens.
Stay in touch
Sign up for our free newsletter