Eric Garcetti
Mayor Garcetti Nominates New LADOT Head: Seleta Reynolds
10:54 AM PDT on June 20, 2014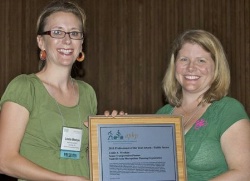 Los Angeles Mayor Eric Garcetti has nominated Seleta Reynolds to be the new general manager for the city's Transportation Department (LADOT.) From preliminary research on Reynolds's background, this looks like great news. Reynolds currently works for San Francisco Municipal Transportation Agency (SFMTA) where her focus had been livable streets, with a focus on building more equitable streets.
Reynolds' Twitter feed @seletajewel celebrates great bike and walk facilities.  Reynolds is featured in Streetsblog San Francisco articles explaining Bay Are Bike Share, pushing Caltrans on standards for protected bicycle lanes, and arguing for better motorist education for bicyclist safety.
Updated: Read our follow-up post, including a brief interview with the nominee here.
Mayor Garcetti's full press release follows after the jump. 
MAYOR GARCETTI NOMINATES SELETA REYNOLDS AS GENERAL MANAGER OF THE DEPARTMENT OF TRANSPORTATION

LOS ANGELES — Mayor Eric Garcetti has nominated Seleta Reynolds of the San Francisco Municipal Transportation Agency as the next General Manager of the Los Angeles Department of Transportation (LADOT).

"Los Angeles is changing the way it looks at transportation," said Mayor Garcetti. "Seleta is the ideal field marshal in our war against traffic who will bring to bear all the tools at our disposal, from better road design to transit to technology to bicycle and pedestrian improvements. She is also a big believer in our Great Streets Initiative and has committed to applying her passion and expertise to revitalizing key community corridors across our city to improve neighborhood gathering places and generate economic activity."

"Los Angeles is a world-class city that deserves excellent transportation choices," said Reynolds. "I'm excited to partner with the agencies and policymakers who deliver great projects on the streets."

Seleta Reynolds has over 16 years of experience planning, funding, and implementing transportation projects throughout the United States. She presently works for the San Francisco Municipal Transportation Agency, where she leads three teams in the Livable Streets sub-division responsible for innovation, policy, and coordination for complete streets projects citywide. Her teams' current projects include the launch of a pilot bikesharing system and construction of safety projects to help the city meet Vision Zero, a goal to reach zero traffic deaths by 2024.

"Seleta is the right person at the right time. L.A. is poised to expand transportation choices, improve mobility and design safer, more vibrant streets, and Seleta brings the innovative vision and strategies needed to lead LADOT at this critical moment," said Janette Sadik-Khan, principal at Bloomberg Associates and former NYC transportation commissioner. Sadik-Khan helped support the search for a general manager, advising and assisting Mayor Garcetti and L.A. officials throughout the extensive selection process. "L.A.'s streets are its most valuable resource, and Mayor Garcetti's selection is a key step toward making them great streets for walking, biking, living, and business."

Reynolds' nomination is subject to confirmation by the City Council.

"Seleta Reynolds is the perfect choice to transform LADOT and get Los Angeles moving again," said Councilmember Mike Bonin, chair of the Transportation Committee and a member of the interview and selection panel. "Seleta has deep experience creating change, building projects, and removing the roadblocks to mobility. I'm eager to work with her as she applies her skills and abilities to the implementation of the Mayor's progressive transportation agenda."

"With the selection of Seleta Reynolds, the city is bringing on proven expertise that will allow LADOT to explore both innovation in design and equity in implementation," said Transportation Commissioner Tafarai Bayne. "Multi-modal transportation options are fundamental to improving the quality of life for all Angelenos, where residents in South L.A. can as easily walk, take a bus, train, or bike to work, the grocery store, or to school as easily as they could drive. I look forward to working closely with LADOT and our new general manager as we continue to make Los Angeles one of the greatest cities in the world."

Seleta currently serves on the Transportation Research Board Pedestrian and Bicycle Committees and the WalkScore Advisory Board. She is a past president of Association of Pedestrian and Bicycle Professionals. Prior to joining the SFMTA, Seleta managed the San Francisco and Seattle offices of Fehr & Peers and worked for the City of Oakland Public Works Agency. She graduated from Brown University.

"Seleta understands how cities work and she possesses an ability to get people both inside and outside of transportation to look at their streets differently," said Ed Reiskin, Executive Director of SFMTA and President of the National Association of City Transportation Officials. "San Francisco is losing a tremendously talented innovator but LA is gaining a skilled manager and planner who knows where the city needs to go in the 21st century."

"Transportation is a regional issue, and Metro looks forward to working with Seleta Reynolds and the LADOT to find solutions to keep people moving throughout the L.A. region," said Metro CEO Arthur T. Leahy.

The Department of Transportation leads the planning, design, construction, and operations for transportation systems in the city of Los Angeles and partners with sister agencies to improve multi-modal service and infrastructure in the city and the region. The Department currently has an annual budget of approximately $131 million and an authorized staff of 1,278 full-time employees and 272 part-time employees. The Department is also responsible for extensive federal funding in transportation-related grants and special funds. For more information, visit ladot.lacity.org
Stay in touch
Sign up for our free newsletter