SCAG
CA's Regional Agencies Tout Increased Ped Safety Funding in Sacramento
3:53 PM PDT on May 15, 2014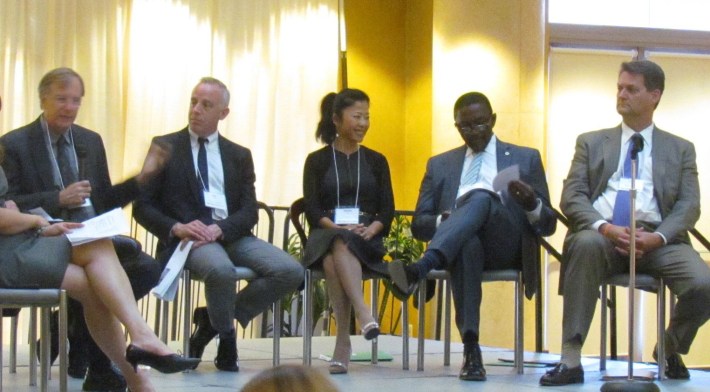 The Peds Count! 2014 Summit kicked off in Sacramento with a panel of top-level executives from regional planning agencies celebrating their accomplishments in improving conditions for pedestrians.
The speakers represented an alphabet soup of major metropolitan transportation agencies in California: SANDAG, the San Diego Association of Governments; SACOG, the Sacramento Area Council of Governments; SCAG, Southern California Association of Governments; KernCOG, the Kern Council of Governments; and MTC, the Metropolitan Transportation Commission from the San Francisco Bay Area.
The summit, the third bi-annual conference organized by CaliforniaWalks, brings together advocates and planners from throughout the state to discuss the current state of research, policy, and innovation in the realm of planning for pedestrians in California's cities and counties.
According to the California Household Travel Survey, the number of walking trips has doubled since 2000, to 16.6 percent of all trips reported. However, less than one percent of transportation funding in the state goes towards improvements for active transportation (walking and bicycling). In addition, pedestrian safety goals were not included in a recent Federal Highway Administration proposal on new performance measures for national highways.
But the agency executives at the conference celebrated the progress that was made, and challenged pedestrian advocates to build support to make it easier for agencies to do more.
SANDAG's Charles Stoll told the crowd of advocates that funding for active transportation projects in the San Diego region increased from $1 million per year up to 2007 to between $4 and $4.5 million per year, with a new bike plan approved in 2010.
SCAG tripled its funding for active transportation, said Huasha Liu, the agency's director of land use and transportation. Up north, a new federal grant program One Bay Area allowed the MTC to consolidate projects and increase the amount of money allocated for bicycle and pedestrian projects to $60 million, with additional funds available through programs such as Safe Routes to School.
KernCOG has committed to building a thousand miles of bikeways by 2040, to be funded by deferring two large freeway projects and investing that money, around $100 million, in active transportation.
"Our board is not so much focused on greenhouse gas emissions," said Ahron Hakimi, KernCOG's executive director. "But we're laser-focused on air quality and related health issues."
SACOG's director, Mike McKeever, said that more than eight percent of its regional transportation budget is dedicated to active transportation projects. McKeever also talked about the Sacramento area's "Blueprint," one of the first regional planning processes in the state to connect land use and transportation by focusing on creating many small scale, mixed-use infill developments.
"This has moved beyond boutique funding," he said. "These are go-to, workhouse transportation projects, and they compete well with other projects for funding."
Clearly, active transportation is seeing a greater emphasis at the regional level, and increased funding is a crucial first step. But there remains a lag between between talking about projects and getting them on the ground.
"I don't think any of us think we're where we want to be or need to be," said McKeever. Several panelists attested to the difficulties of getting buy-in from local agencies and the public.
"Getting these things into the plans is so important; it's a crucial first step," said SANDAG's Stoll. "But getting these things on the ground is hard. Some very progressive stakeholders are still concerned when you talk about removing parking or a lane. We need help from you," he told the advocates in the audience. "We need to keep things focused on what the community is going to look like when we're done."
Despite these difficulties, McKeever struck an optimistic note. "I think the revolution is here," he said. "I think it's a whole new world in transportation planning."
The PedsCount! conference continues through tomorrow morning.
Streetsblog California editor Melanie Curry has been thinking about transportation, and how to improve conditions for bicyclists, since her early days commuting by bike to UCLA long ago. She was Managing Editor at the East Bay Express, and edited Access Magazine for the University of California Transportation Center. She also earned her Masters in City Planning from UC Berkeley.
Stay in touch
Sign up for our free newsletter