Donald Shoup
Rock Star or Comedian? Donald Shoup Takes His Parking Show to Berkeley
1:42 PM PDT on March 20, 2014
[UPDATE: Here is a link to a video of Professor Shoup's talk and here is a link to the Q&A portion of the evening.]
"Parking is the single biggest land use in any city," said UCLA Professor Donald Shoup to a packed house in Berkeley last night, "and it's almost completely unmanaged." At the same time, "zoning requires a space for every car but ignores the homeless. In our cities, free parking is more important than affordable housing."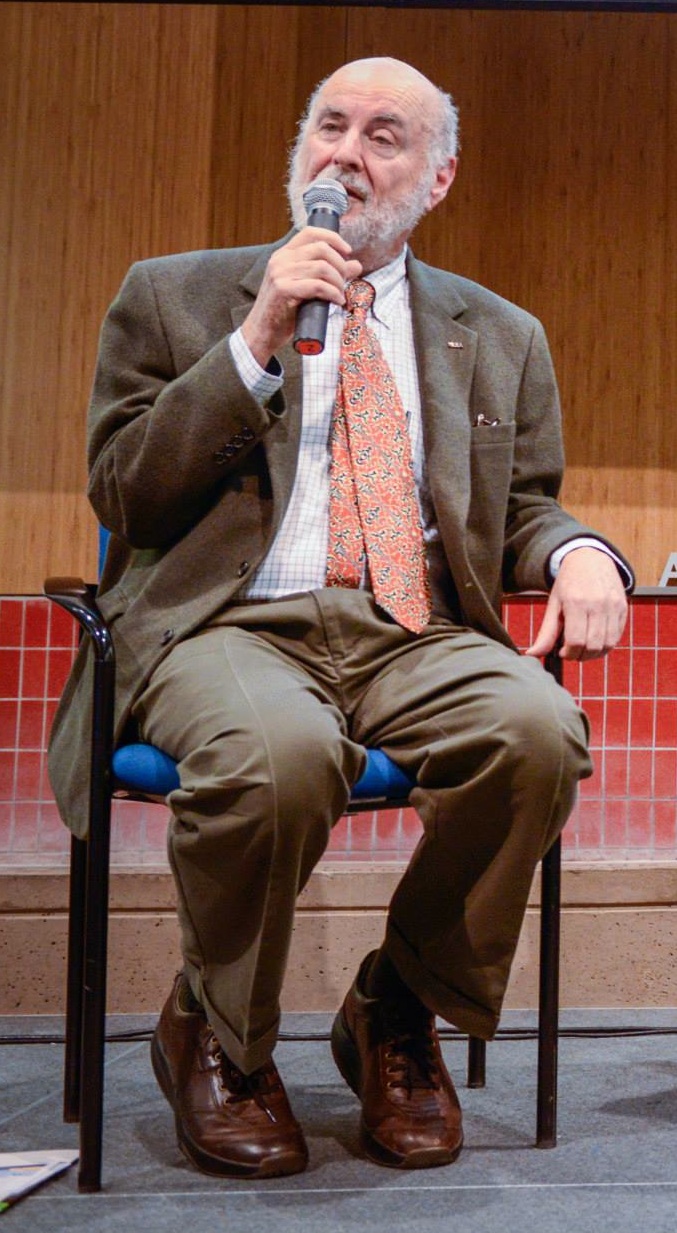 Shoup entertained the crowd of public officials, developers, students, and community members with his signature witty observations on the irrational ways cities plan and price parking.
"Parking is free for us only in our role as motorist--not in our roles as taxpayer, employer, commuter, shopper, renter, as a homeowner. The cost of parking does not cease to exist just because the motorist doesn't pay for it," he told the rapt audience. They had all come to hear the "parking rock star" talk about parking.
Given his polished delivery of dry one-liners skewering American parking policy that kept the audience chuckling throughout the talk, it's more accurate to call him the stand-up comic of parking. But it's his simple, rational, and yet radical-to-many approach to the storage of cars that has earned him a growing fan base of "Shoupistas" throughout the state and the nation.
The event was sponsored by TransForm, an Oakland-based advocacy group working for rational land use and transportation planning in California. TransForm has taken Shoup's work to heart, using the principles he proposes as a basis for their GreenTRIP program that seeks to convince cities to allow housing developers to replace overbuilt, expensive parking with alternatives like car share, bike parking, and transit passes.
Shoup had a great time poking fun at pretty much everyone, including himself. He compared himself to a cat, sniffing and marking the tires of parked cars, while most transportation planners he likened to dogs, "running after and trying to bite at cars as they drive down the road."
"I thought I could find something useful if I studied what cars do for 95% percent of the time, which is park," he said.
He made fun of planners. "No planner can claim to have any training in parking policy," he said. "Planners are winging it."
The American Planners Association's "Parking Standards" book lists parking requirements for land uses that look sensible at first glance—until you look at the connection to people, he said. As he spoke, a list of minimum parking requirements appeared on the screen behind him. Barbershop: two spots per barber.
"There seems to be some gender disparity," he said [Beauty Shop: three parking spots per beautician]. "Even in religions institutions [Convent: ten parking spots per nun. Church: three parking spots per clergyman], and when you don't have people, you have to base it on something" [Swimming pool: one parking spot per 25,000 gallons].
In many cities the size of a building is dwarfed by the size of its required parking lot. Minimum parking requirements "look scientific," said Shoup, "but they're not—it's just pseudo science."
He poked fun at the huge parking lot outside the building where he spoke, the Ed Roberts Campus on the Ashby BART parking lot. "Most cities would think that was a good place for transit oriented housing," he pointed out. "Instead, it's a cheap parking lot for downtown workers."
On the screen behind him, "Parking at Ashby BART: $2. Parking in downtown Berkeley [one stop away]: $15." (The roundtrip fare is $3.70.)
He also made fun of a local group that protested changes in parking policies under SFpark, San Francisco's attempt to apply some of Shoup's principles on the ground. "[This group] is against foreign wars for oil but for free parking at home," he said, to knowing chuckles from the audience.
But "free parking for everybody reduces municipal funds and therefore public services, and poor people are less able to substitute private services for public services. Subsidizing free parking for everybody is not the best way to help the poor."
Shoup elaborated on his three recommendations for parking sanity:
Remove parking minimums
Charge for curb parking
Spend parking revenue on neighborhood services
His basic advice to planners: get out of the way and allow developers to build the amount of parking that makes sense.
"Getting out of the way would solve a lot of the problems that we as a society face. [Replacing parking lots with housing] could be the largest land reclamation project outside of the Netherlands. These are unplanned land reserves in places where we want it most."
He pointed out that such a policy would increase housing supply, shorten commutes, lessen the need for cars, use less fuel, and lessen congestion.
And, he said, everyone should be behind it:
Liberals, because "it creates opportunities for new public spending."
Conservatives: "It relies on markets rather than government regulation."
Environmentalists: "It would lower carbon emissions."
Businesses: "Parking becomes their decision, not something dictated by a planner who never learned one single thing about it in planning school."
Libertarians: "It increases individual choice, and reduces regulations on land use."
Developers: Decreased building and permitting costs.
Neighborhood activists: "There's a nexus between funds and what they're spent on" when parking fees are used to improve neighborhood services."
Local politicians: "There is no more need for city council meetings until 3 am arguing about whether to increase parking fees by 25 cents."
We all need to be a little more rational about the impacts parking is having on our cities. "People address parking as a personal issue, never as a policy issue," he said. "I think people's level of thinking regresses to a lower part of their brain—the reptilian brain, that we use for marking territory and mating, when they talk about parking."
Streetsblog California editor Melanie Curry has been thinking about transportation, and how to improve conditions for bicyclists, since her early days commuting by bike to UCLA long ago. She was Managing Editor at the East Bay Express, and edited Access Magazine for the University of California Transportation Center. She also earned her Masters in City Planning from UC Berkeley.
Stay in touch
Sign up for our free newsletter