"Accidents"
The Teachable Moment Everyone Is Ignoring
10:53 AM PST on December 3, 2013
By all accounts, Paul Walker was a great person.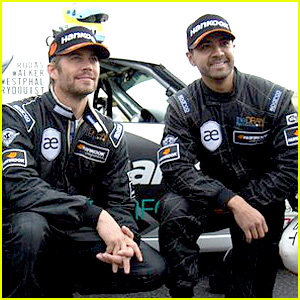 He was a movie star who cared about people. He raised millions for charity. He loved his daughter. He did all the things that one hopes celebrities do in their lives, by using his money and fame to make the world a better place.
Except for the part where he made a terrible decision with his friend on Saturday that led to both of their untimely deaths.
On Saturday night, after leaving a toy drive organized by his charity for victims of Typhoon Haiyan in the Philippines, Walker got into the passenger seat of his friend Roger Rodas' 2005 Porsche Carrera GT. The next thing we know, the Porsche collided with a tree a couple of hundred feet from Rodas' specialty car shop on Hercules Street in Santa Clarita and burst into flames. Both men died in the crash. Based on camera footage and tire patterns on the street, authorities estimate that the pair were going well over the posted 45 mile per hour speed limit...perhaps as high as 90 miles per hour.
The tragedy is being mourned across the world. Social media and news websites are filled with tributes. The memorial at the scene of the crash looks larger than some of L.A.'s parks. Walker is survived by a teenage daughter who is, of course, completely heartbroken. The Sheriff's Department is looking into the crash.
This isn't a surprise. By all accounts, Paul Walker was a great person.
But by ignoring that Walker and/or Rodas made a stupid and selfish decision on Saturday, the media and their fans are deliberately letting a teachable moment slip way. Both men were accomplished and skilled drivers. But by going at excessive speeds on a road not meant for high speed travel, they made a mistake that cost them their lives.
After living a life that was full of giving, Walker's death can give us something else...a lesson that is too often lost in the drumbeat of a car culture media:
Cars are not toys. When they are treated as such in a public place people die.
While the Sheriffs have ruled out a second driver, there is little doubt that the car was going well beyond the posted speed. Burnt rubber on the road hints that the road is regularly used for making figure eights and other tricks. 
But, even if the road is wide and seldom used except for the local businesses, it is still a public space. A public space that other people drive on. A public place where you can ride a bicycle. A public place where I might push a stroller.
When a driver loses control of a vehicle, everyone in the area is at risk, not just the two people behind the wheel. When a driver takes actions that increase the likelihood of a crash, they are being stupid and selfish. Even Kobe Bryant misses a free throw every now and then, even Matt Kemp can drop a fly ball, and even a professional driver can lose control of a vehicle. The goal should be to minimize the chance that happens.
Even if a study shows that the brakes of the vehicle were defective, Rodas owned the car since this summer. He should have had plenty of time to make sure the brakes worked properly before taking it out on the road.
The bottom line is that someone, or maybe two someones, made a mistake in Santa Clarita on Saturday night that left two men dead. The car is so badly damaged that it's possible the public will never know the full story of what happened.
But given the skill of the two men involved, and given that Walker is most famous for a movie role that glorified unsafe driving, someone has to say it. What happened on Saturday was not an "accident," it was a crash. It was avoidable and should not be greeted with a "these things happen" attitude. The events that led up to the crash put a lot of people at risk, not just Walker and Rodas. It is a tragedy that they are gone, but their absence puts the onus on the rest of us to use this moment to get out a simple message.
Cars are not toys. When they are treated as such, people die.
Stay in touch
Sign up for our free newsletter