community gardens
Hollenbeck Middle School Breaks Ground on a New Garden
6:07 PM PDT on September 26, 2013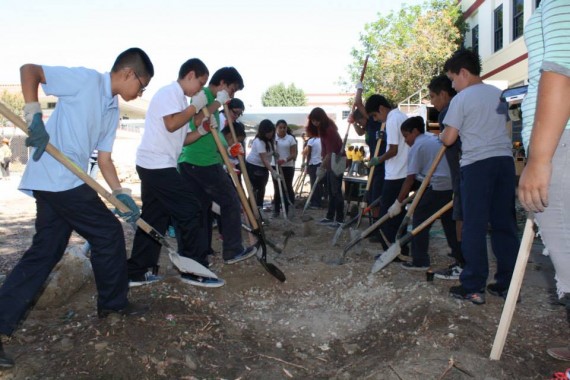 Earlier this week, parents and students broke ground on a new garden at Hollenbeck Middle School in Boyle Heights.
It was a lot of hard work, teacher and Leadership advisor Emily Grijalva told me as we eyed up the rather large area that they had spent the last two days digging up.
"It's a lot to take on," I said.
She agreed, but said that students were really excited about the project.
Her Leadership class from the previous year had looked at the designated space in their nearly completely paved-over schoolyard and envisioned a relaxing garden oasis that would serve as their legacy to future students. Those involved in the design phase had taken a walking field trip to Roosevelt High School (just up the street) to take inspiration from their garden. Then, they worked together on deciding what components they wanted the garden to have and on designing the layout of the space. Ultimately, they knew they wanted both a creek and a growing space, and (potentially) a sculpture of their school mascot (the Mighty Junior Rider).
With the help of a grant from Enrich L.A., she said, they were able to purchase the materials they will need to build a path, construct garden beds, and set up an irrigation system.
Teaching kids about how to take control of their health through the construction of the garden couldn't come at a better "teaching-moment" time.
Asthma affects 27% of Boyle Heights children (compared to 15% county-wide), while 50% of area teens are overweight or obese, as compared to 34% of teens county-wide. Meanwhile, ninety-one trees are coming down along 1st Street as part of the Eastside Access Improvement project just as embattled battery recycler Exide has been asked to cut production because of excessive lead emissions.
Although the trees will be eventually replaced (more about that Friday), the air quality and environment will suffer in the meantime. Something that seemed palpable Thursday, as I navigated the area amid swirling clouds of dust and debris kicked up by the high winds. Anything that contributes to making the neighborhood greener -- and to helping kids value a green and healthy neighborhood -- can only benefit the area.
Which made the slight push-back on the garden from parents in the all the more confusing to Grijalva.
Seeing her posts on the students' activities on Facebook, a few commented that they were not sure that they liked seeing their kids being made to do labor of that sort. White kids in wealthy communities would not be asked to step away from their studies and do hard labor, they suggested.
It was hard for her to know how prevalent the sentiment was among parents; Facebook posts don't necessarily offer a representative sampling of people's feelings on a topic. It was also hard to know if the concern was that they felt it meant that Latino children were being trained to be gardeners or that the kids were being short-changed on their education.
The push-back was interesting.
Especially because many within L.A.'s Latino community were engaged in various forms of homesteading long before raising chickens and growing your own food became more mainstream in middle-class circles.
The fact that gardening could be seen as potentially carrying a stigma means that there is still work to be done within the wider gardening, food, and homesteading movements to engage with immigrant and minority communities.
The garden project may also need to be more specifically framed as both an educational tool and/or a source of cultural pride for it to resonate more deeply with skeptics. The efforts of organizations like Rooted in Community, Community Services Unlimited, or Boyle Heights' own Proyecto Jardin may be instructive in dealing with some of those issues.
Whatever the solution, it is clear that the garden will serve as a catalyst for dialogue with parents on health and education, and that is always a good thing.
If you'd like to keep up with their progress or help out on a volunteer work day, check out their Facebook page, here. Hollenbeck Middle School will also host the Caine's Arcade East L.A. "Day of Play" Cardboard Challenge, a family-fun day inspired by Caine and his homemade arcade. The challenge, on Oct. 5th from 10 a.m. to 3 p.m., will feature cardboard games, maker stations & activities for kids, button making, food trucks, and, perhaps best of all, a "high five parade. Click here for more information.
Sahra is Communities Editor for Streetsblog L.A., covering the intersection of mobility with race, class, history, representation, policing, housing, health, culture, community, and access to the public space in Boyle Heights and South Central Los Angeles.
Stay in touch
Sign up for our free newsletter