CicLAvia
The Streetsblog Guide to CicLAvia VII: Iconic Wilshire Corridor
8:34 AM PDT on June 19, 2013
If there are two complaints people have with CicLAvia they are, in order of how often I hear them: cyclists are racing by and there's not enough space to walk and that the event doesn't last long enough to truly explore the entire route.
CicLAvia VII: Iconic Wilshire Corridor, seeks to address both of those concerns. First, the time of the event is longer, lasting 7 hours from 9 am to 4 pm. Second, each end has "pedestrian zone" where bike riders won't be allowed for several blocks. One zone is at One Wilshire in Downtown Los Angeles. The other is at Fairfax Ave in Miracle Mile, right near all of the wonderful Mid-Wilshire museums. In addition, CicLAvia and the Getty Center have teamed to bring a series of architecture tours along the iconic route.
"This is our dream CicLAvia. The route is ideal for pedestrians, for people who love the history of Los Angeles architecture, foodies, families, cyclists and everyone who wants to experience the grand thoroughfare of Los Angeles from a new perspective," CicLAvia Executive Director Aaron Paley said in a media release.
As part of Pacific Standard Time Presents, CicLAvia will include programs designed to provide participants with a deeper look at the architectural history of Wilshire Boulevard. Radio broadcasts by noted architectural researcher and commentator Edward Lifson will be available for participants to download and listen to as free podcasts. The radio series will tell stories that run quickly through Wilshire's beginnings more than a century ago and its pre-WWII boom years, to focus on the modern era, with stories and sounds. As of this writing, the downloads aren't on CicLAvias website, but when they are you can find them here.
Going from east to west, let's look at some of the attractions of CicLAvia VII.
CicLAvia begins at the "One Wilshire Hub" at Grand and Wilshire in Downtown Los Angeles. As mentioned, this hub has a large "bicycle free zone" stretching three blocks west to Figueroa and Wilshire.
One of the iconic images of Columbias Ciclovia, the event that started the worldwide open street festival phenomenon, is of thousands of people taking a dance class and later an exercise class together. Finally, CicLAvia is adding that type of experience. The One Wilshire Hub will feature a climbing wall, pilates and art pilates, belly dance classes, bicycle helmet decoration and give-aways.
Or, you can just walk in the street for a couple of blocks free of anyone on any wheels, minus those in wheelchairs. That's pretty cool too.
Wilshire and Figueroa is also home to Metro Center, the second largest transit hub in Los Angeles. Red, Purple, Blue, Expo and Silver Lines all meet at Expo Center. Metro staff has quietly worried that the station will be overwhelmed with CicLAvia participants and their bicycles, but thus far I have not seen any warnings from Metro to avoid the station.
At each Hub, CicLAvia participants will also be able to grab a free copy of The Modernists Guide to Iconic Wilshire Boulevard (or you can download it here.) Researched and written by Catherine Gudis and designed by Colleen Corcoran, the guide allows readers to appreciate and understand the context for modernism and the role that Wilshire's built environment has played as the city's cultural and demographic makeup has changed.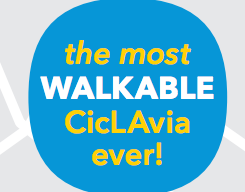 Wilshire and Grand is also the start of Los Angeles Walks "WalkLAvia" event. The walk begins at 9:15 am, but the feet powered non-profit recommends arriving right at CicLAvia's opening at 9 am. They plan to walk the entire route, arriving at Fairfax near 1:30 pm. They'll stop at all the major hubs, but take an extra long break at the Koreatown Hub for lunch.
Traveling west, walkers will find themselves mixing with bicyclists until MacArthur Park at Alvarado and Wilshire. MacArthur Park has been a part of every CicLAvia, and is a regular place for activities, restaurants, and more food trucks. Of course, a large urban park such as MacArthur is a sort of CicLAvia extension on its own as a carfree place to sit and relax by the fountain, with or without street food, and cool your wheels (or souls) free of interfering automobiles.
MacArthur Park will also feature a yoga area. The fun at the park doesn't end at 4 pm. a post-event concert, including a children's show and an evening show, will all take place at the park.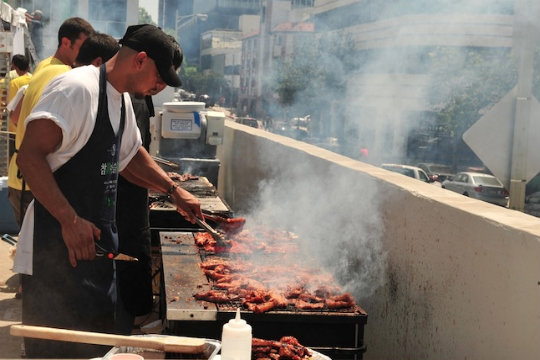 From there, we head west to the Koreatown Hub. As luck would have it, CicLAvia coincides with the 5th Annual Koreatown BBQ Festival. I'm not sure that needs a lot more explanation. In addition to the gigantic BBQ party, the hub features  music, aerobics, crossfit, cardio kickboxing and, yes, more yoga.
The Koreatown Hub is also the starting point for a second large, organized walk. Meetup with Yelpers, ie people that use Yelp, at noon for a walk from Koreatown to Downtown. Grab your BBQ and a drink and get ready to work off those calories. If you walk with Yelp, you'll receive a free Yelp t-shirt.
From there we next meet the smaller Mid-Wilshire Hub. The smallest of the hubs, Mid-Wilshire features a picnic area and more live music. There's no yoga planned, but you can always do some on your own.
The Westernmost Hub is the Miracle Mile Hub. This Hub features...cars! Ok, it features a lot of great things, including The Modernists Guide to Iconic Wilshire Boulevard, gigantic oscar statues, refreshments from Johnny Rockets, and a a Photo Op Stop, Tattoo Parlour, and Interactive Spin Art Studio, provided by the Los Angeles County Museum of Art.
But yes, there will be cars too. The Petersen Automotive Museum will be bringing a collection of its vintage cars out to the street corner for public viewing. There will also be events for the kids.
But the most appropriate event of the day is programmed by For Your Art (FYA). FYA celebrates CicLAvia with a temporary public art installation of works by Ben Jones and Ruben Ochoa. Organized to celebrate the first CicLAvia's first pedestrian zone, in the city where "nobody walks", the works reflect the increasingly pedestrian-centric bent of the city and the event. FYA's engagement campaign for the event, Stop and Smile #ForYourArt, encourages pedestrians to document and share their experience with the works during #CICLAVIA (make sure to share these photos via Twitter and Facebook!).
Be sure to check back on Friday for the Streetsblog CicLAvia scavenger hunt. Fun for the whole family.
Stay in touch
Sign up for our free newsletter