Election 2013
Heavy Rail, or a Light Rail/BRT Mix? Garcetti and Greuel Discuss Options for Sepulveda Pass
11:09 AM PDT on May 3, 2013
"Behind me, you can see one of the most notorious symbols of LA traffic: Valley commuters stuck in the 405 South daily traffic jam," began Wendy Greuel at her transportation themed press conference at the Sherman Oaks Galeria. "The 405-101 interchange is the most congested interchange in the United States."
Greuel, the City Controller who is battling City Councilman Eric Garcetti to be the next mayor of Los Angeles, took a moment to yesterday to highlight what many Angelenos already know. There is not enough freeway space for the number of people that want to, or feel forced to, drive to get where they need to go.
That statement is doubly true for the 405.
Maybe the next mayor should do something about it.
One issue that both Garcetti and Greuel agree on is that further widening of the I-405 through the Sepulveda Pass, one of the few transportation links between the populous exhurbs of the Westside and San Fernando Valley, is a fool's game. Both advocate for a strong and real transit alternative to driving on the 405.
And advocates agree. David Murphy is the head of Angelenos Against Gridlock (AAG).  In the past weeks, AAG earned a lot of media attention by attacking the widening and revealing the celebrity support of Elon Musk for highlighting how far behind, and over budget, the 405 widening project is.
But Murphy's group isn't arguing for further widening, but for rail expansion.
"What does all the attention to the 405 traffic, including even on Good Morning America today, say about the need for rail?" Murphy asked rhetorically in an email.
While both candidates agree that transit is the best way to move people through the pass, they each offer different solutions.
"I am also committed to developing a relief project for the 405," Greuel continued yesterday. "I began exploring this as a councilmember and, as mayor, I am ready to put those plans into action and provide relief to the 405 congestion. My plan supports investing in Bus Rapid Transit (BRT), Light Rail, dedicated lanes and prioritizing the city's bike plan."
But Garcetti doesn't think light rail, even supplemented with other transportation options, is the answer. At a recent candidate forum broadcast by CBS 2/KCAL 9 and hosted by the 
National Council of Jewish Women Los Angeles
 and 
Bend the Arc
, Garcetti made the case of a major investment in heavy rail, or even a subway through the mountains.
"If you look at the number of passengers we have to alleviate, light-rail probably wouldn't do enough," Garcetti is quoted as saying in Neon Tommy. "[The rail would] go from the north San Fernando Valley basically to LAX, including a transit tunnel through the 405 pass that would allow you to be able to go essentially from Sherman Oaks to UCLA in five or 10 minutes."
While a tunnel may sound cost prohibitive, Greuel hasn't ruled out the tunnel option. She noted that it might actually be easier to tunnel than build on or near the 405 given recent experiences.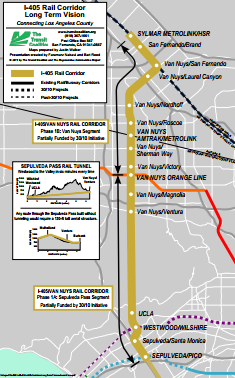 Despite the higher cost of heavy rail, the plan does have backers in the transit advocacy community. The Transit Coalition proposes a "JEM Line" of heavy rail right through the mountains. Their proposal incudes stops throughout the San Fernando Valley starting at Sylmar and ending on Ventura Boulevard. Then there are another four stops on the Westside, including one at UCLA.
Whether it's Greuel's transit mix or Garcetti's heavy rail, the conversation sure has changed from a couple of years ago when then-Governor Schwarzenegger suggested double-decking the freeway.
However, to move a project for the Sepulveda Pass is going to require some political muscle. True, there is funding for a transit project for the Pass in Measure R, but under the current funding plan funds wouldn't be available until the third decade of funding from the half cent sales tax. Again, both Garcetti and Greuel have pledged to work hard to accelerate construction of transit projects, but Mayor Antonio Villaraigosa can tell you that's a lot easier said then done.
Despite assembling a national coalition of mayors and transit advocates, the Mayor's famous America Fast Forward program acheived only modest reforms of federal funding formulas. All the logic in the world will be dashed against the rocks when pushed up against the short-sightedness of the House Republican Caucus. And without reforms that lower the 2/3 voter threshold needed to pass another transit tax, or an extension of the current one, it's anyone's guess whether another tax proposal would just pass the threshold as Measure R did in 2008 or just miss as Measure J did in 2012.
"We need to use our resources wisely including innovative funding mechanisms, like America Fast Forward bonds for Measure R to accelerate construction of priority transit and highway projects. Measure R transit projects will generate more than $67 billion in economic activity, adding 409,000 jobs, $25 billion in income and 8 billion in new tax revenues. But we need to keep up the momentum," Greuel promised yesterday. "That means expediting the Subway to UCLA, extending the Expo Line to Santa Monica, and we have to get the Regional Connector built. I'll also work closely with Sacramento and our Congressional delegation to make sure Los Angeles is getting our fair share of state and federal transportation dollars." 
Garcetti agrees that it is important to find other ways to accelerate transportation and transit projects and has suggested that a second run at Measure J might be one of the best options.
Stay in touch
Sign up for our free newsletter