CicLAvia
Riding to CicLAvia from South L.A.? We've Got Four Feeder Rides for You!
12:56 PM PDT on April 16, 2013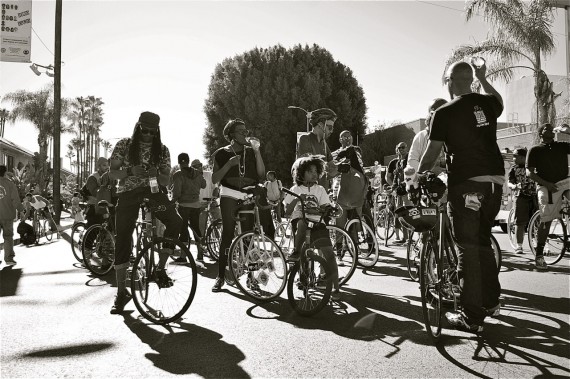 When a week starts off with senseless acts of violence like those seen in Boston, it feels a little frivolous to prattle on about less serious subjects. That said, in its defense, CicLAvia is not as frivolous as it might seem on the surface. In the name of fun, health, good neighborships, and more livable cities, with each iteration, it manages to seamlessly bring together more and more people from all races and classes in what can otherwise be a very segregated city.
We're still waiting for the route to come deeper into South L.A. -- we would be thrilled to have the opportunity to introduce Angelenos to the South L.A. we know, not the one people might think they know. Since that still seems a little ways off, we've got some ways for you to start your day by getting to know the community through some of its best ambassadors -- the cycling groups in the area. So, whether you are a resident from the community or looking to dip your toes in it for a day, we've got a bunch of rides for you to choose from.
Leimert Park
The Black Kids on Bikes will be hosting a ride up Crenshaw, leaving around 9:30 a.m.
If you haven't met them yet, they are a really fun group of unique individuals from all walks of life. I know you're wondering about the origins of the name. And, contrary to what thoughts the name might inspire, their group is very diverse and incredibly welcoming. I oughta know. I've ridden with them a few times and chronicled their efforts to inspire more kids from their community to get on bikes during the MLK Day parade earlier this year.
The meeting site -- the park wedged between 43rd Pl., Leimert Blvd., Vernon Ave., and Crenshaw -- is in the heart of Leimert Park. It serves as the site of the monthly artwalk and is also where the BKoB ride out from on the last Sunday of the month. Across the street is the KAOS Network, home to numerous cultural events, including Bananas, an eclectic music showcase, held every third Tuesday (read: tonight. GO!)
Location: 43 Pl. and Leimert Blvd.
Ride out: 9:30 a.m.
Bonus: May stop at Earlez Grille along the way for those in need of a quick breather. Or a vegan chili dog.
More event information is here.
Watts
The United Riders of South L.A. -- the superhero identity under which the East Side Riders and Los Ryderz sometimes engage in great acts of kindness and community-building -- are hosting a feeder ride from Ted Watkins Park in Watts with the Southeast Bicycle Alliance (a group actively working to bring CicLAvia to the southeast cities).
While the East Side Riders have been around for several years now, last October's CicLAvia was the first for the youth from Los Ryderz. Many cite it as the highlight of their year -- they were stunned to see so many people on bikes and to be able to explore places they had never been before. For the leaders of both groups, getting youth and other community members out so they can have experiences like those is at the heart of what they do. Recreational riding is not always an easy sell in an area where people's movement can be constrained by some of the socio-economic dynamics of the area. The dedication these groups have to changing peoples' lives by the (deceptively) simple act of getting them on the bike is incredibly inspiring.
Location: Ted Watkins Park @ 103rd and Central
Meet up: 8 a.m.
More event information is here.
Vermont Knolls
Need a fancier escort to CicLAvia? We've got you covered.
The Real Rydaz -- the L.A. cycling community's equivalent of the two-wheeled, fuzzy-diced Rolls Royce -- will be leading a ride from the Vermont Knolls area. After we profiled them last year, suddenly everybody wanted to know more about them, including folks from the Subculture Club, who put together this nice little video.
They cause a spectacle wherever they go and are disciplined parade veterans, knowing how to thrill audiences by bouncing and breaking down their elaborately decorated bikes. Because of the nature of their bikes and how eager people are to get a look at them in action, they usually ride independently and in formation. This feeder ride offers a unique opportunity for you to ride alongside and get to know them. Who knows, maybe some of that swagger will even rub off on you and make you cooler by association.
Probably not, but there's no harm in trying.
Location: Manchester and Vermont, in front of the Payless store
Meet up: 8 a.m.
Route: Vermont to Exposition to National, meeting up with the CicLAvia route in Culver City
Find more event information here.
Downtown
OK, so I lied. Downtown is not South L.A. But this feeder is being organized by some of our favorite and most creative personalities, some of whom are from the area. You guessed it, it's Treats 'n Beats.
The details of the ride are shrouded in a little bit of mystery, meaning you may just have to show up to get what will likely be the really fun goods. I've heard tell of the ride possibly being part of a film project, talk of a pool party, and something about an after party.
Intrigued? Me, too. Find out more here. Better yet, just show up on the steps of City Hall Sunday morning and let them guide your way for the day.
Location: City Hall steps along 1st St.
Meet up: 10 a.m.
Roll out: 11 a.m.
Whatever route you take, we hope to see you there!
Sahra is Communities Editor for Streetsblog L.A., covering the intersection of mobility with race, class, history, representation, policing, housing, health, culture, community, and access to the public space in Boyle Heights and South Central Los Angeles.
Stay in touch
Sign up for our free newsletter