community gardens
South L.A. Happenings: Anti-Fracking Concerts, Farmers' Markets, Sports Fairs and Runs, Bike Rides for Justice, and Detoxes
2:31 PM PST on March 8, 2013
TONIGHT
Sitting in a room full of California journalists and their editors last week as part of my training for a journalism fellowship, I was incredibly surprised to learn that few of them knew that fracking was going on in L.A.'s back yard. The lack of awareness has been of great concern to many of the local environmental organizations because it makes it harder for them to gather support to counter powerful lobbies in favor of the practice. It is one of the reasons representatives from a number of the organizations have gathered this weekend for a California Fracking Summit; they hope to cobble out a common position against regulations proposed by the Department of Oil And Gas (DOGGR) and decide upon strategies that will facilitate their fight. While the summit itself is closed to the public, the festivities of the evening are not.
Join activists tonight at the Concert to Ban Fracking in California, presented by Food & Water Watch.
The concert, held at The Joint from 7:30 - 11 p.m., will feature music from the Make Peace Brothers, Dúo del Sol, and Magnolia Memoir. Tickets are $10 online and at the door. The Joint is located at 8771 West Pico Blvd., Los Angeles, CA 90035. (Ok, so that's not technically South L.A., but drilling in the Inglewood Oil Fields affects its inhabitants.)
****
TOMORROW: Farmers' Markets, Free Yoga, Garden Workshops, and Bike Rides for Justice
With the recent conversion of an Albertson's into a Superior Foods, the impending closure of the Ralph's on at Rodeo and Crenshaw, and the uncertainty of the future of the few Fresh & Easy stores in the area, fresh, healthier fare is getting harder and harder to come by in South L.A.
Enter the Baldwin Hills Crenshaw Plaza. While "the mall" may not be the first place you think of when you ask yourself where you can go to get healthy, the plaza owners are trying to change that. Every Saturday, from 10 a.m. to 3 p.m., more than 30 farmers participate in the Certified Crenshaw Farmers' Market, located on the outside lower Sears level of the mall. Recipes are available at their information booth, and there is often entertainment to accompany as you peruse the produce.
But, wait! There's more. You can also participate in a free Yoga class while you are there. They are held every Saturday, from 10 - 11 a.m., on the Macy's Bridge. The yoga classes join the already super-popular free Zumba classes held every Tuesday at 7:30 p.m., and free Cardio Kick classes held every Thursday at 7 p.m. Classes are free as part of their Bfit Club, but they request that you sign up to get a key tag and spread the word about getting healthy via social media. Signing up isn't mandatory, however, and classes will only cost you a dollar if you decline membership. For more information, click here.
****
If you'd rather grow your own food, no worries. We've got you covered.
Community Services Unlimited (CSU) will be teaching participants to build raised garden beds at their Free Garden Gateway Project Workshop. Better yet, they will supply you with the necessary materials for you to build your own raised bed at home. Whether you are just a beginning gardener or an experienced one, they can help you build a bed that will match your abilities and needs. Experienced gardeners will work on building climbing trellises. The workshop will also feature cooking demonstrations and recipes that participants can take home.
The workshop will be held from 9 a.m. to 3 p.m. at CSU's urban farm, located at 3980 South Bill Roberston Lane, Los Angeles, CA 90037. Supplies are limited, so you must RSVP at 213.746.1216 and check out their website.
****
Feel like running around instead? Run or Dye, billed as "the world's most colorful 5K" will be held at Exposition Park at 9 a.m.
The route runs through Expo Park, so you can wave at the gardeners at CSU as you go by. And is meant to be more "fun" than "run," it seems. "You are your own canvas," say organizers, so be sure to wear something you don't mind getting blasted with eco-friendly powdered dye. Check out their website for details and registration information.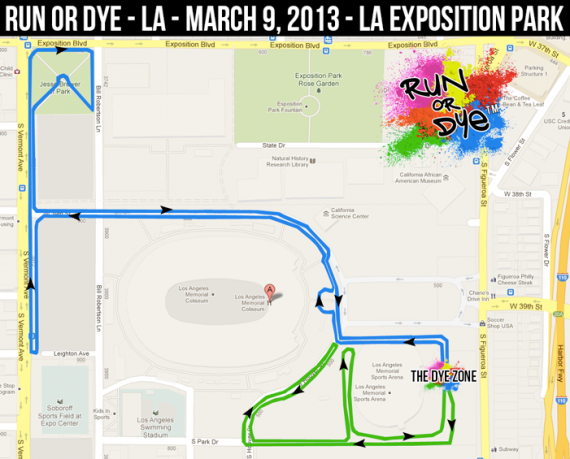 ****
Expo Park will not be the only host of sports activities. Saturday, from 10 a.m. to 3 p.m. the Children's Collective will hold its 3rd Annual Sports and Health Fair at the Rita Walters Learning Complex.
Organizers will provide a free lunch to participating children as well as interactive health games, an obstacle course, fitness and nutrition classes, and free health screenings. The Learning Complex is located at 915 W. Manchester Ave. and you are invited to call 323.789.4717 for more information.

****
Saturday afternoon, join the East Side Riders, Los Ryderz, and the family of hit-and-run victim Benjamin Torres for the BIKE RIDE FOR SAFETY AND JUSTICE.
For the last several months, riders have gathered on the anniversary of Torres' death to tour the area and raise awareness both about the dangers to cyclists and the lack of movement in the investigation into his death. Torres had been killed in the dawn hours of October 10, 2012, on his way to work. Although both the debris left behind and the violence with which Torres was struck indicate that the vehicle that hit him must have sustained significant damage, there have been no leads in the case. In desperation, the family invited the gentleman that found their stepfather in the street to dinner to ask about the painful details surrounding the incident. What they heard, step-daughter Teresa Chaidez told me, didn't match what they read in the police reports, further undermining their faith that justice would ever be done.
Meet the family and join other riders seeking justice at Rowley Park (13220 South Van Ness Avenue, Gardena, CA 90249) in Gardena at 3 p.m. For more information, see the facebook event page.
****
ONGOING
Los Angeles Green Grounds wants you to get healthy and invites you to join them in a 21-day detox starting Saturday. To make it easy for you, they will be posting a 21-day meal plan, recipes and photos, and additional information about the ins and outs of detoxing. The goal is to get you to change the way you think about food and dieting. I say this as I am munching on the last bits of red velvet cake, so maybe this detox is more for me than for you. Either way, check out L.A. Green Grounds' facebook page or website for more information.
And, if you don't think they don't practice what they preach, check out the inspirational TED talk by one of the organization's founders, renegade gardener extraordinaire Ron Finley, where he tells those in attendance that the solution lies in making gardening sexy, "get[ting] gangsta with your shovel," and "plant[ing] some shit." It's amazing:
Feel inspired? Their next dig-in is March 23. You're welcome to volunteer. See their website for details.
Sahra is Communities Editor for Streetsblog L.A., covering the intersection of mobility with race, class, history, representation, policing, housing, health, culture, community, and access to the public space in Boyle Heights and South Central Los Angeles.
Stay in touch
Sign up for our free newsletter