community gardens
Do You Know Where to Find Healthy Food in South L.A.? RideSouthLA and CSU Take Riders on a Different Kind of Food Tour
5:14 PM PST on March 4, 2013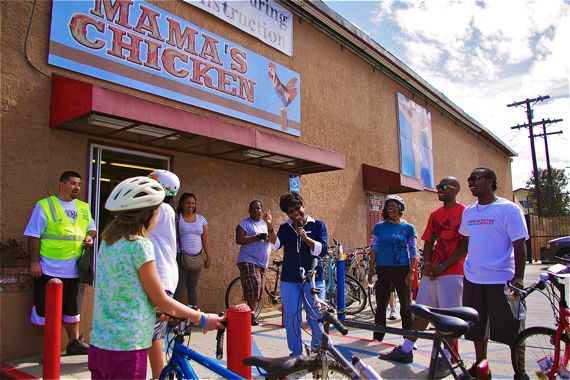 "They've been receiving it pretty decently, I must say," Karen Whitman, the "Mama" of Mama's Chicken, told the riders with the Healthy Food tour regarding her customers' response to the fresh produce she recently began offering at her shop. "The more people that know about it, the more that's coming in."
Located at the corner of Slauson and 4th Ave., the market (and the produce she offers with the help of Community Services Unlimited (CSU)) fills a unique niche for neighbors in the area that want healthier options than those found at the "grocery" across the street offering candy, sodas, incense, body oils, and hygiene products.
And, she added, "it makes me really happy to know that they can come here because, a lot of times, they don't have transportation to even get to some of the stores," referring to the Ralph's at Crenshaw, 1/2 a mile away, or the Food-4-Less almost a mile down Slauson at Western. Although those distances may not sound great, for people who struggle to afford transit fees, the elderly or disabled, or those with children in tow, lugging groceries back and forth by bus or along streets where safety is a concern may not be viable options.
Whitman is so happy about offering healthier fare, in fact, she'll be remodeling the store later this year to feature refrigerated shelves that will allow her to display the organic collard greens, grapes, green beans, mustard greens, carrots, cabbage, and celery right up front to tantalize customers.
The makeover is a long time coming.
A few years ago, the Community Market Conversion Program (CMC) -- a now-defunct partnership of the Community Redevelopment Agency - Los Angeles (CRA-LA), The California Endowment, and the County Department of Public Health that funded the conversion of small, locally-owned stores in under-served communities to offer healthier choices -- had identified Whitman's store as ripe for transformation.
The financial and technical support the CMC program would have provided her was vital to the conversion process. Whitman and others in her position are rarely able to scare up the capital and expertise necessary to secure the permits from the Department of Public Health, invest in compliant infrastructure and facilities (refrigeration, drains, etc.), source and maintain produce -- something that is not a big money-maker for grocers in the first place -- and try out different marketing techniques on their own. It is too risky and the rewards are too few to do it without assistance.
Thanks to the dismantling of the CRA, Whitman's plans were on hold until earlier this year, when the Los Angeles Food Policy Council picked up the mantle in the form of the CMC Collaborative and pledged to work towards converting 15 markets in the South L.A. area by June of 2013. She's grateful for the help from CSU and the other funding organizations so she can finally move her plans forward.
"Believe me, I was so thrilled...these blessings are just coming left and right for me," Whitman told the cyclists.
Then, she thanked the cyclists for stopping by and patronizing the market.
The minor windfall the hungry group had bestowed upon her store would help her pay rent that month, she said -- something that had become a bit more of a struggle since construction on the sewer had begun along the Slauson, directly in front of the shop.
She asked the group to visit again soon, cajoling, "Don't be a stranger!" as she turned back to tending her shop.
Like Whitman, it is also very much the hope of the organizers of the tour, CSU and RideSouthLA, that the riders will return to the area. In fact, one of the main goals of the event was to help familiarize members of the community with resources in the area, like Mama's Chicken, so they would know where to get healthy food and would continue to come back for more.
To this end, the RideSouthLA team -- a joint effort between USC's Annenberg School for Communication and Journalism and T.R.U.S.T. South L.A. to use communications technology to build community and advance social justice -- has spent the past several months working with CSU to map out community gardens, produce stands, converted markets, and other resources to help challenge perceptions that South L.A. is devoid of healthy options for residents. Certainly more are needed in the community, organizers acknowledge. But part of bringing more such resources to the community involves raising awareness about existing markets or gardens and getting residents to clamor for more through their patronage.
This weekend's bike tour -- launching from Mercado la Paloma, where CSU's produce stand is located -- offered a way to bring the map to life and put that process in motion. Organizers toured participants through quiet, tree-lined neighborhood streets to Mama's Chicken, to Normandie Elementary School (where CSU has a teaching garden and maintains a sizable orchard), to the California African American Museum (where CSU participates in the open-air market), and then back to Mercado la Paloma for fruit and debriefing.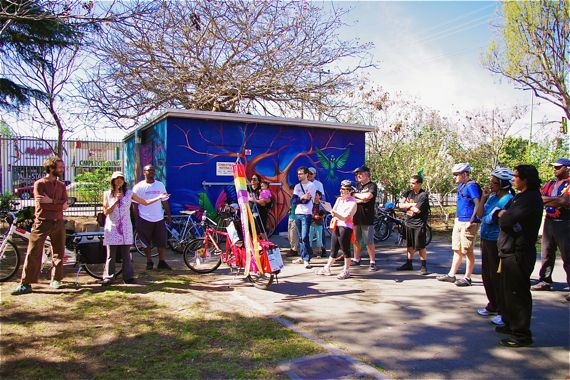 The subject of the ride -- healthy food -- brought together many of the usual suspects but also a number of people I hadn't seen on rides done in the area before.
One gentleman on the tour was a cyclist that just happened to really like gardening. He wanted to begin a master gardening program, he said, and was looking to find organizations where he could begin to volunteer his time (as volunteering in local gardens is part of the program). Others were familiar with one of the participating bike clubs, RideSouthLA, or CSU, and had come out to support the event and learn something new.
Perhaps my favorite connection was with three members of Root Down, a local organization that, like CSU, uses food as a gateway to teach youth life lessons and healthy living. Educator-activist Andre Chopin, a young man with a big head of hair and a love for the working the earth, had been inspired to get involved with the organization after participating in one of their programs, he said. His friends had started coming along with him as a way for them to be able to hang out. Over time, however, they had become just as dedicated to the work as Chopin was.
Their enthusiasm was infectious and they seemed both very educated about agricultural issues and sincere. But, I don't know if I fully believed how much they lived what they preached until one of them remarked they had noticed that some of the tour participants had purchased junk food from Mama's Chicken instead of healthier fare. I decided not to mention that, at the moment, I was having really bad chocolate cravings brought on by hearing about Mama's yummy chocolate cake.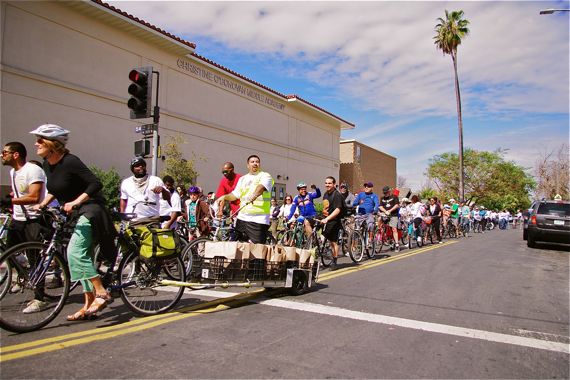 All in all, it was a lovely day. People were enthusiastic about the ride, about meeting "Mama," about having a map of healthy opportunities in the area, about the work of CSU, and about getting to promote cycling and health in the area on TV with the lovely Michelle Valles of NBC4.
As with most efforts in South L.A., however, what matters is the long term. Changes in health don't happen overnight. Nor do changes in communities. The bulk of the riders -- although from South L.A. or in close proximity to it -- were not from the area we toured and may not return to visit the area, volunteer with CSU or attend one of their Garden Gateway workshops, or frequent the markets that really need their support.
Knowing this, organizers encouraged participants to take copies of the map with them, spread the word among friends and family, and keep thinking about the importance of encouraging healthy habits in their own neighborhoods.
"This is not just a bike ride," CSU's Dyane Pascall and lead organizer of the event told the group. "This is how we change our community."
*Thanks to the efforts of CSU and RideSouthLA for a lovely tour and to the East Side Riders and Los Ryderz for ably keeping everyone safe, as always.
Sahra is Communities Editor for Streetsblog L.A., covering the intersection of mobility with race, class, history, representation, policing, housing, health, culture, community, and access to the public space in Boyle Heights and South Central Los Angeles.
Stay in touch
Sign up for our free newsletter