bike lanes
LADOT Holds Singles' Night…er, a Public Hearing for First Year Bike Lanes in Central and South L.A. on Valentine's Day
9:42 AM PST on February 13, 2013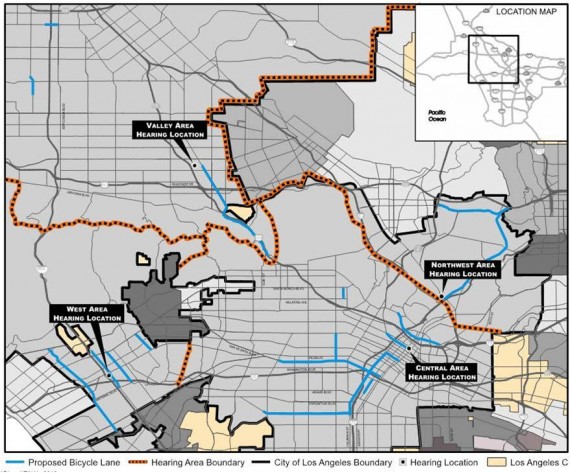 When I think "Valentine's Day," I think "bike lanes."
OK, maybe that's a lie and I am more likely to think "CHOCOLATE!" than "Hearing to Support New Bike Lanes in South Los Angeles!" But this year, the LADOT has decided to help us all spice up our love lives by holding a hearing specifically designed to bring us closer to finding that special someone whose passions drive them to unique feats of heroism, like lobbying in support of the bike lanes in the Central and South areas of L.A.
OK, so maybe that is not completely true, either, and the folks at LADOT just happen to be some of the least romantically-inclined people on the planet. Either way, we still need your support!
The public hearing is one of four events created to gather feedback on the traffic and safety impacts of the nearly 40 miles of bicycle lanes evaluated in the recently released Draft Environmental Impact Report (EIR) and scheduled to be implemented this year. The projects are spread around the city, including along Sunset Blvd., Vermont Ave, 7th Street, Cesar Chavez Ave., "strategic gap closures" like Venice Blvd, and Figueroa Ave., the city's first proposed protected bicycle lanes or "cycle tracks" (part of the MyFig Streetscape project). According to planner David Somers, lanes like those proposed along Sunset Blvd. will move us toward greater network connectivity by "provid[ing] a direct connection [from] the neighborhoods of Hollywood, Silver Lake, and Echo Park to Downtown by a continuous bikeway."
Sounds great, right? So, why the need for you to drag your honey to a hearing?
Because the implementation of lanes along major thoroughfares generally requires the removal of traffic lanes and/or parking, which can make many community members pretty unhappy. At the recent hearing for the West Adams-Baldwin Hills-Leimert Park Plan, for example, several speakers described the removal of peak-period travel lanes and approximately 54 street-parking spaces on the north side of MLK (between Crenshaw and Leimert) to accommodate a new bike lane stretching 3.2 miles between Figueroa and Marlton as detrimental to the community.
"Look, I'm not going to get on a bicycle," said one older gentleman.
Another woman complained that the planners should think instead about the needs of drivers and how the loss of parking could harm their ability to patronize local businesses or increase congestion at peak traffic hours (Images below show proposed lane route and provide before and after of intersections, for original images see p. 19 of the Project Description).


Lanes like those proposed along Figueroa will necessitate even more significant changes. The installation of buffered bike lanes between MLK and Exposition and protected bike lanes from Exposition to Venice (northbound) or Washington (southbound), for example, will require the elimination of parking on the east side of the street, the removal of a southbound lane, and the removal of a northbound peak-period lane between MLK and Exposition. Between Exposition and 30th, peak-period lanes and one travel lane in each direction will be eliminated, and parking will be converted to full-time (rather than off-peak) (see p. 34 of Project Description).
If opposition to the removal of travel lanes or parking far outweighs the support for bike lanes, it could mean that implementation is delayed or plans are watered down to respond to community concerns.
Thus, even though the projects on tap this year will not move any deeper into South L.A. than MLK Blvd., your support is necessary to ensure the first wave of lanes are implemented and to pave the way for future projects in the community.
I'll be there, and I'll be armed with chocolate kisses for those that come to offer support. If that isn't enough incentive, just think about how sexy your honey will find you when you stand up and argue passionately in favor of health and community. I could have sworn I read somewhere in the Draft EIR that bike activists were 90% more likely to get lucky after attending city planning events. Hard to believe the city would have funded that particular study, I know. But stranger things have probably happened.
The time/date: 6 - 8:30 p.m. on February 14
The location: Caltrans District 7 Bldg, Room 01.040 A, B, and C, 100 S. Main St.
Can't make the hearing in person? LADOT staff will also conduct a webinar on February 20th from 2 - 4 p.m. to review the traffic and safety impacts of the entire list of proposed projects. The webinar reservation can be made here.
Sahra is Communities Editor for Streetsblog L.A., covering the intersection of mobility with race, class, history, representation, policing, housing, health, culture, community, and access to the public space in Boyle Heights and South Central Los Angeles.
Stay in touch
Sign up for our free newsletter