Long Beach
Three Government Committees Reject Current Plans to Widen 710 Between Long Beach and East LA
9:21 AM PST on February 5, 2013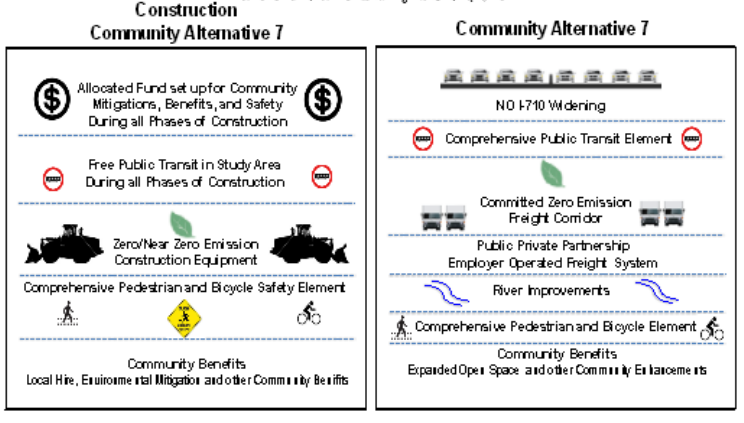 Long Beach City Council I-710 Oversight Committee,  Gateway Council of Governments and The Project Committee all reject current environmental documents for 710 widening between Long Beach and East Los Angeles.
Following thousands of comments from leaders within community health and environmental coalitions, the State-led project to expand the 710 Freeway from eight lanes to 14 lanes for 17 miles from Long Beach to the 60 Freeway in East Los Angeles was delayed. The Project Committee, am advisory committee to Metro, Caltrans and the Southern California Association of Governments, halted the project with an astounding "no" on the proposed routes.  Meanwhile, the Long Beach City Council I-710 Oversight Committee recommended that Caltrans and Metro recirculate the draft EIR, allowing for more public comment.
The proposal presented last week had problems beyond just concerns over induced traffic demand and air quality. It required moving power lines to line the banks of the Los Angeles River, interfering with service provider facilities including Shelter Partnerships, Bell Shelters, the Long Beach Multi-Service Center, and Seasons at Compton senior housing. The Gateway Cities Council of Governments (GCOG) understood this, and called for the EIR to go back out for public comment, another 90 days for the public to read, criticize and weigh-in, at a January 29th meeting.
At that meeting, two of the most exceptionally flawed alternatives--known as 5A and 6A--were recommended to be removed from the table by GCOG consultant Jerry Wood, stating that "south of the 405, we don't need 10 general purpose lanes."
While community and environmental advocates are desperately fighting against the proposed widening plan, they aren't just naysayers. Aided by a group of environmental groups, they've developed their own alternative.
Community organizers were forthright in their desires at the public meetings. Despite praising state officials for abandoning two harmful alternatives, still asked that the Oversight Committee consider their "Community Alternative 7" within the upcoming EIR in addition to the other alternatives, mainly the no build, 6C (zero emission freight corridor with 10 lanes) and 6D (zero emission freight corridor with 8 lanes).
Community Alternative 7--developed by a slew of organizations including the East Yard Communities for Environmental Justice, Communities for a Better Environment, Legal Aid Foundation of L.A., Long Beach Alliance for Children with Asthma, Natural Resources Defense Council, Long Beach Community Action Partnership, Coalition for Clean Air, and Physicians for Social Responsibility--proffers a committed zero-emissions design that includes a public transit element, biking/pedestrian elements, river improvements, and a public-private partnership for an employer-operated freight system which avoids the 710 expanding.
Their proposal was met with a yes (though not from CalTrans or the Southern California Association of Governments), as a follow-up meeting on February 1 by the committee took the recommendation to include Alternative 7. With more than 120 people in attendance, chants of "¡Sí se peude!" could be heard following the support of Alternative 7 from agencies ranging from Bell to Paramount, Port of Long Beach to South Gate.
7th District Councilmember James Johnson proposed a $10 million pilot project in the Port to test a zero-emissions catenary system, where overhead electrical wires power trucks--but ultimately failed in getting a second, in which a representative from Metro was quick to point out the process required for enacting early action projects.
Of course, the action by this committee doesn't automatically guarantee a recirculation of the draft EIR; that is ultimately left to a vote by CalTrans and Metro.
¡Sí se peude! -- or we hope.
Stay in touch
Sign up for our free newsletter