CicLAvia
CicLAvia 2013: Routes to Venice Beach, Wilshire/Fairfax, Extended "Classic Route"
10:19 AM PST on January 11, 2013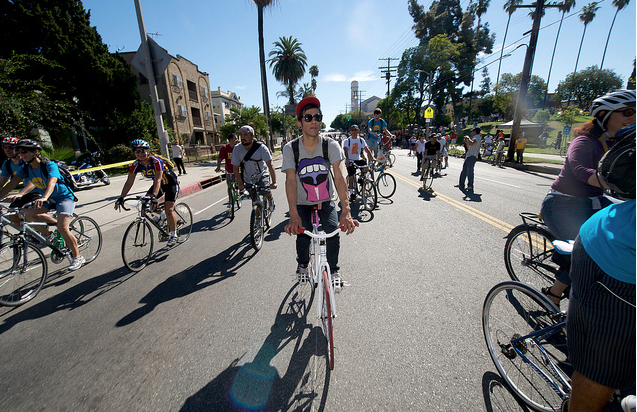 It may be generations before the Subway reaches the Sea, but CicLAvia will head to Venice Beach this April.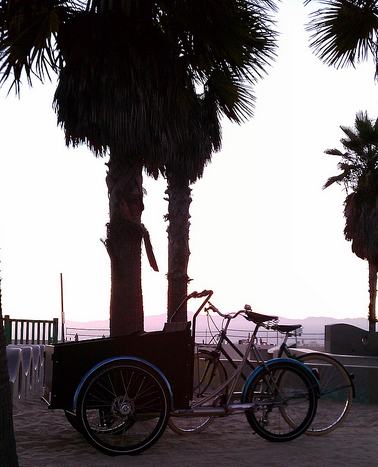 Last year, Streetsblog announced that CicLAvia, Los Angeles' wildly popular car-free party modeled after Bogota's Ciclovia, would expand from two events to three in this calendar year. Yesterday, CicLAvia executive director Aaron Paley announced the routes for CicLAvias. Instead of the traditional CicLAvia that centers in Downtown Los Angeles with snakes into South L.A., Mid-town and East Hollywood, Chinatown and Boyle Heights; two of the three CicLAvias will feature completely new routes.
On April 21, CicLAvia will head west from Downtown Los Angeles all the way to Venice Beach. While Paley wouldn't get into the details of the route, in an email to West Los Angeles stakeholders he outlined the basics. The route will utilize "Venice Boulevard from Figueroa to the Beach," creating a straight shot that will allow Westsiders easy access to explore Downtown and Downtown cyclists a dream ride to Venice Beach.
The second 2013 CicLAvia will take place on June 23 and will also utilize a completely new route. The route starts in Downtown Los Angeles, but this time a somewhat smaller CicLAvia will extend to Fairfax Boulevard and Wilshire in the SoFax area. The route will run mostly along Wilshire Boulevard.
The switch from the traditional CicLAvia routes to some of L.A.'s most iconic streets could be the harbinger of things to come. Paley reports that the goal of CicLAvia is to have an event every month, with each month featuring a predictible community route.
"The intent is to move to a system where every month has its route,"Paley explains. "In a couple of years we want it to be predictable. We want people to say, 'It's April, that means the Venice Boulevard route.'"
On October 6th, CicLAvia returns to its traditional "Downtown with spurs" route centered on Downtown Los Angeles and 7th Street. "It's going to be the same route as last year, with a few changes," Paley supplies.
In particular, the two most noticeable changes are a longer spur into Boyle Heights and a new route to Chinatown. For Boyle Heights, the October 2012 route stopped at Boyle Heights and Soto Street. In 2013, CicLAvia plans to extend it further, most likely to the transit stop at Indiana and 1st.
Crossing Caesar Chavez into Chinatown proved difficult, so the CicLAvia team is looking at new options such as utilizing Hill Street which is grade separated at Caesar Chavez instead of Spring Street.
While the CicLAvia team plans for the new routes in 2013, its never too early to start planning for 2014. "Yes, we're starting to look at new routes for next year, even while we're preparing for this year," Paley responded to a question about future plans.
A large portion of the funding for the new CicLAvias and the future expansions is made possible by a large grant from the City of Los Angeles and Metro that was designed to help the non-profit grow and stabilize its finances. Part of that grant funds a Director of Development position that was posted yesterday on Idealist.
Stay in touch
Sign up for our free newsletter