Bicycling
Let There Be Light: Operation Firefly Lands in South L.A.
12:45 PM PST on December 14, 2012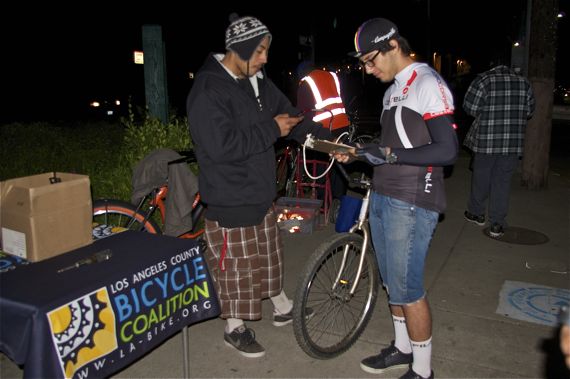 I don't know about you, but I feel naked riding a bike at night without lights.
On the few occasions I have found myself out later than expected or sporting dead batteries, images of the myriad unpleasant ways in which I was sure I was going to die played in my head the whole way home.
Lightlessness doesn't seem to bother some people. I often see young guys bombing their way through stoplights along busy streets like Sunset Blvd. with little thought to the fact that nobody can really see them coming or going until they are almost on top of them. Some commuters are a little more fearful of being without lights and might take refuge on the sidewalks, where they are prone to having close calls with pedestrians or cars turning in to and out of driveways or side streets.
The prevalence of the lightlessness always surprises me, especially because these days you can get pretty cheap lights just about everywhere. My own front light is a 99-cent gem that I power with the same rechargeable batteries I've had for three years. Even cheaper lights are available at swap meets and informal markets in places like MacArthur Park, where people will lay out used back lights with the other goods they are hawking. They might be junky, but they are functional.
When asked why they aren't riding with lights, young riders will often tell me they don't know. They didn't think about it, or they don't have them, or they aren't worried. Sometimes they laugh at me for being such a mom and take off into the dark.
Hoping for more concrete answers, I went down to 103rd and Central last night, where the Los Angeles County Bike Coalition (LACBC) and the East Side Riders were handing out lights to the lightless as part of the LACBC's Operation Firefly. For this program -- intended to reach out to riders caught without lights since the switch to daylight savings time -- the LACBC does weekly street distributions of approximately 40 light sets and educational materials. The materials, including spoke cards in English and Spanish, offer a summary of the California Vehicle Code requirements for night riding, along with additional tips for enhanced visibility.
While attaching the lights to cyclists flagged down in the street, volunteers conduct brief surveys asking if they know the law requires them to have lights, if they have had a night collision, and why they are currently without lights.
"Well?" I asked. "What have you found is the reason people don't have lights?"
Colin Bogart, the LACBC's Education Director, wasn't able to offer a concrete answer. He still has to go through the data he's collected, he said. But, anecdotally, he's found that people have a million reasons they don't have lights. And most of them are not particularly good.
Lights are "gay" or "not cool," some people have told him. Others just hadn't gotten around to getting them. Or they just hadn't thought about it. Or didn't know they needed them. Few seemed to be citing the expense of lights as the problem.
Listening in to conversations with riders the the East Side Riders flagged down yielded more of the same. Some people didn't want the lights, even after being told they were free. Kids playing handball at Ted Watkins park just had never thought about putting lights on their BMX bikes. Others hadn't gotten around to getting them.
No one seemed to want to cite expense as the issue, but it was clear that that played a role. Some people had lights, for example, but their batteries were dead and they hadn't bothered to replace them. Others were very concerned about safety and had makeshift light set-ups that were somewhat functional, but just hadn't been able to invest in more appropriate lights. One guy was wearing a reflective vest and carrying a glow stick. Another couple of people had multipurpose flashlights with them -- one woman carried hers in her hand as she rode and another man had managed to attach the flashlight to his bike, but it seemed unstable. And, he complained, it didn't blink like a proper front light, so people didn't see him as easily.
Surprisingly, it took a while to get rid of all the light sets. At their previous distributions, Bogart told me, they were tapped out within the first hour.
It may have been the location -- it was hard to flag down riders at such a wide intersection. And it was also quite cold, so word of mouth seemed to travel a little more slowly. It wasn't until the supplies were gone and we were packing up for the night that people came by saying they had heard about the distribution.
All in all, the outreach effort was a success.
People thanked the volunteers profusely and rode away happy, including one young guy excitedly shouting, "I'm all lit up!!" and raising the open 20-oz. can he was holding, as if to toast us.
"Was that alcohol he was carrying?" I asked, watching him pedal off on his BMX.
"Yeah," said John Jones of the East Side Riders, shaking his head.
I guess that issue will have to wait for another campaign.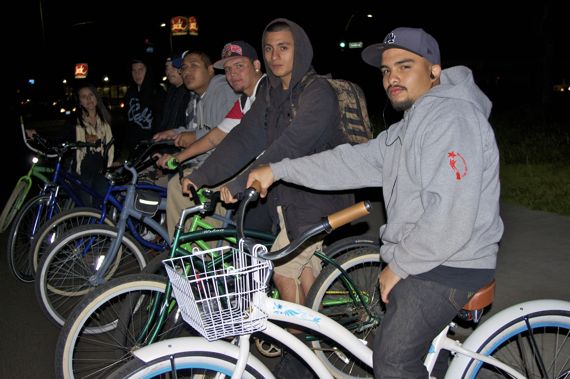 Sahra is Communities Editor for Streetsblog L.A., covering the intersection of mobility with race, class, history, representation, policing, housing, health, culture, community, and access to the public space in Boyle Heights and South Central Los Angeles.
Stay in touch
Sign up for our free newsletter