environmental justice
BNSF Falsely Claims Marginalized Communities "Better Off" with Proposed Railyard; Public Hearing Tonight
8:52 AM PDT on October 18, 2012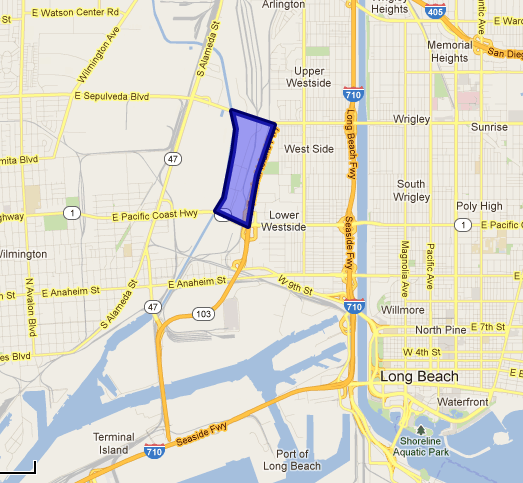 In a sadly misunderstood and ill-grounded editorial, the Press-Telegram endorsed Burlington Northern Santa Fe's (BNSF) proposed 153-acre railyard project west of the 710 freeway, the Southern California International Gateway (SCIG). The endorsement comes right before a public hearing featuring demonstrations from some 20 community organizations who will offer evidence denouncing the benefits of the project as well as proposals for a new site.
The initial draft environmental impact report (DEIR) released September of last year was re-visited due to overwhelming complaints from community members and groups, particularly the South Coast Air Quality Management district. BNSF then re-circulated the EIR (RDEIR) in a study that was, in some sense, relatively the same as the first which, by the way, stated clear and significant health hazards.
When asking BNSF to comment in regards to the fact that the RDEIR is heavily contested, BNSF correspondent Lena Kent replied, "The updated DEIR completed by the [Port of Los Angeles] affirms that building SCIG is better than the no project alternative or continuing with the current use at the site. The report shows that residents, students, teachers, and workers nearby would be better off with the project than without the project, in terms of air quality and health risk improvements, as well as all of those living, working, and going to school along the I-710 freeway. We think if folks review the report, the benefits will be clear."
Sounding oddly reflective of BNSF's (obvious) support of the project, the P-T continued along the same lines with their stance:
"[BNSF] says its proposed [SCIG] railyard would eliminate about 2 million [sic] annual truck trips, with most of the relief targeted for the Long Beach (710) Freeway. [...] The revised report essentially says the same as the study released last year: that local residents and schools are better off with BNSF's proposed railyard[.]"
Firstly, it seems no one has actually read the report.
Though they are somewhat correct in that the studies are relatively the same, the RDEIR actually uses harsher language in pointing out that, indeed, adverse effects on air quality, noise, and cultural resources will occur:
The proposed Project would have significant impacts related to [aesthetics, air quality, cultural resources, land use, and noise] that would remain significant after mitigation. With these unavoidable impacts, the Proposed Project would have new, significant effects with respect to minority and low-income populations. Those impacts would fall disproportionately on minority and low-income populations because the census block groups adjacent to the point of impact (the eastern edge of the Project site) constitute minority populations, and some (i.e., all or parts of census tracts 5727, 5728, 5729, and 5755) constitute low-income populations.1 [my emphasis]
The way in which BNSF claims 1.5 million trucks will be "removed" from the 710 is quite simple. Trucks, as of now, travel about 20 miles north on the 710 freeway to the company's Hobart Yard; with SCIG, trucks will travel via SR-47 from the ports.
The reason why this claim is immensely off-putting is the fact that BNSF plans a massive expansion of its Hobart yard and--in tandem with the 710 expansion project--will, in fact, increase truck traffic as well as net diesel pollution in the area's entirety. In fact, according to policy analysts working with USC2, SCIG will generate 5,500 additional truck trips and 16 train trips daily.
There's yet another caveat: BNSF is planning on shipping domestic containers to Hobart and international containers to SCIG.
This is key in regards to the concept of transloading, a trend which is vastly growing in the logistics of goods movement in Southern California, according to John Doherty of the Alameda Corridor Transportation Authority.
The basic gist is this: international goods arrive in 40-foot containers, while U.S. goods shippers use 53-foot containers. After discovering they could fit three 40-foot containers into two 53-foot containers, they built transloading centers which perform just such a function. By packing more goods into less space, they can drastically cut the cost of shipping across the U.S. Moreover, the containers are then labeled as domestic, despite having international goods inside.
This increase in transloading explains why Hobart is slated for expansion. But this then leaves BNSF's argument that less trucks will be on the road a bit ill-grounded: the domestic containers with international goods are still gonna be truckin' up the freeway.
What this comes down to is a need for the public to be more well-informed about this vastly complex project. That is exactly why a public hearing is being held tonight, including a call for the Los Angeles Harbor Commission to locate the new rail yard at the Port's dock so that more cargo containers can be moved from ships directly to trains without adding truck trips through residential neighborhoods.
"This alternative," stated a press release on behalf of the Los Angeles Port Working Group, "which would generate as many jobs as the SCIG proposal, was not examined adequately in the revised draft review, nor was the community's repeated request for an analysis of potential Zero Emissions Container Movement Systems, nor the recognition by the LA and Long Beach port authorities and the South Coast Air Quality Management District that such technology is necessary."
The hearing will take place tonight at Banning's Landing, located at 100 E. Water Street in Wilmington, from 6:00 p.m. to 8:00 p.m.
FOOTNOTES:
1. The language of the original DEIR, in comparison, stated:
"The EIR concluded that the proposed Project would result in significant impacts related to aesthetics (AES-1), air quality (AQ-1, AQ-2, and AQ-4), biology (BIO-1a), cultural resources (CR-1, CR-2, CR-3), greenhouse gases (GHG-1), land use (LU-4), noise (NOI-6), public services (PS-6), and water resources (WR-1a). With the exception of AES-1, CR-2, LU-4, and NOI-6, considered above, those impacts would either be reduced through mitigation, or would not fall on human populations, or would not fall disproportionately on minority and low-income populations. In the case of AQ-2 and AQ-4, although significant impacts in the form of exceedances of concentration thresholds would occur, those exceedances are not linked to localized health effects and thus would not disproportionately affect communities of concern. Likewise, GHG-1 would not target a specific group or area, but is instead a statewide and global issue; accordingly, it is not considered to be an environmental justice issue in this EIR."
2. Organizations involved with studying the SCIG project include: Asthma Coalition of L.A. County, Regional Asthma Management & Prevention, Bay Area Health 889 Communities, Building Healthy Communities/LB, CA Safe Schools, Coalition for Clean Air, Coalition for Clean & Safe Ports, Coalition for a Safe Environment, Communities for a Better Environment, Communities for Clean Ports/End Oil, Ditching Dirty Diesel Collaborative, East Yard Communities for Environmental Justice, Great Leap, Inc., Long Beach Alliance for Children with Asthma, Natural Resources Defense Council, Physicians for Social Responsibility/Los Angeles, and the West Long Beach Association.
Stay in touch
Sign up for our free newsletter