Downtown LA
How'd They Do It: City Worked Hard to Avoid "Sportsaggeddon"
9:07 AM PDT on May 23, 2012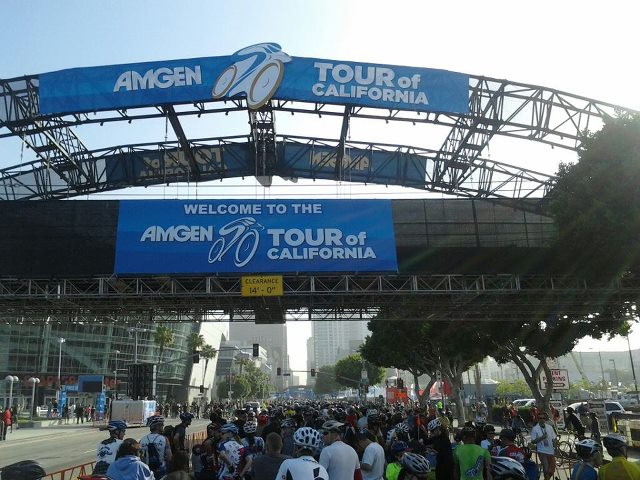 (Many of you know Carlos Morales from his leadership roles with the Eastside Bike Club or Voice Community Newspapers.  In his earlier career, Morales was an event programmer, producing large concerts and other major attractions.  He offers his views on this weekend's Sportsaggedon from both the view of a transportation advocate and large event planner.  In his eyes, L.A. has proven itself ready for many more major sports attractions. - DN)
What happens when fans of professional sports teams from basketball, hockey and cycling meet and collide?  That was the question for many Angelenos who live, work, or visited Downtown L.A. this past weekend.
As most of you know, Staples Center is home to the professional basketball teams the Los Angeles Lakers and the Los Angeles Clippers and also home for L.A.'s hockey team the Kings.  All three teams were in the middle of playoff series last week.
The Staples Center hosted six playoff games which included games for all three teams.  Added into the mix was AMGEN's "Tour of California," the largest and most prestigious professional cycling event in the United States.  This year it attracted 128 world class athletes to participate and ride 750 miles over 7 days.  The race ended at Staples Center, moments before the first of three playoff games last Sunday.  The convergence of this sports team mosaic made it ground zero and the perfect  traffic storm; a disaster and logistical nightmare that can only be best compared to hosting the Olympics.
Most Angelenos are aware of the amount of loyal fans that follow each sports team.  But when a team is in the playoffs each team naturally draws even more people.  Complicating the traffic planning is what happens behind the scenes; the team players, trainers, coaches, support staff, sponsors and VIP's, the delivery of AV equipment, food, merchandise, signage, staging, printed materials, kiosks, as well as other supplies and materials that are being delivered via trucks.
It literally takes an army of support staff to set everything up prior to each event, maintain it during the event and take down after each event.  There is also the public safety staff that were in stealth mode, homeland security and many other support services. There is a tremendous amount of movement of people and logistics of equipment and supplies behind the scenes that many do not account for and most are just estimating their numbers on spectators showing up.
Most major cities have not encounter such a dilemma.  Lee Zeidman, Senior Vice President and General Manager of Staples Center, Nokia Theatre and L.A. Live, was joined by Mayor Antonio Villaraigosa, LAPD, AEG, AMGEN and other officials at a press conference held at STAPLES Center last week to inform sports fans: "Be patient and use public transportation - Come early and stay late" that message was repeated several times on every broadcast network in multiple languages.
Metro provided an expanded train schedule all weekend long and added additional busses to try and neutralize the transportation impact these events were going to have on our city.  AEG officials expected over 250,000 people over four days, a daunting tasks for anyone to to move that many people efficiently and get them to their seat in a timely fashion for the tipoff or drop of the puck or get them in place along the race course on the streets of L.A. to see the finish of this prestigious bike race.
I road my bike to DTLA and witnessed it happen - I arrived early Sunday morning to see the bike race and the concurring bike festival which had taken up the entire two parking lots adjacent to the STAPLES Center on Figueroa.  Even before the race started in Beverly Hills at 10A.M., many bike enthusiasts already arrived in the Downtown.  Shortly afterwards Kings fans began to arrive.  Chick Hearn's Court - the street between STAPLES Center and Nokia Theater / LA LIVE venue had been transformed into one of the largest Bike Valets I have ever seen.  Soon, a fleet of bikes filled the street as volunteers checked in the bikes and safely stored them as spectators enjoyed their day.
Restaurants were jumping, hotel lobbies and bars were doing brisk business, vendors at kiosks at LA LIVE had lines of people, it seemed like the worst day at Disneyland on steroids because it was all taken place at a smaller geographical area.
When the Tour of California race was over, crews immediately began to break it down and pack it onto trucks as Clipper fans began to show up and fill the restaurants and bars again and wait for the Kings fans to exit the venue.
I overheard several dozen conversations over the day, and everywhere I looked and every corner I turned I saw smiles and felt the excitement that any sports fan can relate to. I did not here one conversation on how bad traffic was to get in and out of these historic events.  I just heard conversations on what a great experience it was to be there.
Another pleasant surprise was the 5-mile closed circuit course that allowed for  spectators to become participants.  It provided full street closures during the "Ride Before The Pro's" - (the 5 mile course is half the distance of CicLAvia)- Several thousand bike riders enjoyed riding through DTLA.  Bike traffic flowed seamlessly well and this setup utilized a lot less LADOT and volunteers manpower that are seen during CicLAvia events controlling road diets at intersections.
There are many great lessons learned from last weekend.  First, All the planning by AEG, AMGEN, STAPLES Center / Nokia Live, LAPD, LADOT, Metro, LAFD and many others, actually worked this time.  Second, as we saw with Carmageddon, Angelenos cooperated and utilized public transportation, walked and biked into DTLA also deserve much credit.
Third, L.A. has evolved and is ready for the next mega extravaganza. I say BRING IT ON! This is a World Class City with a new era for special event traffic control.
MISSION ACCOMPLISHED!
Stay in touch
Sign up for our free newsletter