CicLAvia
Beutner, Garcetti, James, Perry and Greuel on CicLAvia
3:26 PM PDT on April 18, 2012
Before CicLAvia, Streetsblog reached out to the five major declared candidates for Mayor of Los Angeles in the March 2013 elections.  All five wrote responses of some sort, and they are listed below in the order in which they are received.  We asked the candidates to describe their day on Sunday, but not all were in attendence at CicLAvia IV but wished to write about past experiences.
Streetsblog has not edited any of the responses.
Austin Beutner: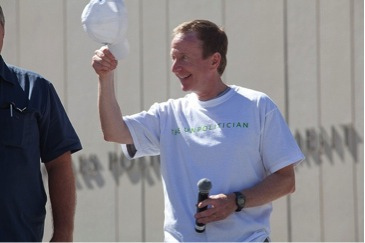 CicLAvia is a reminder of the rich and diverse culture of our city. Angelenos explore a different side of our city with their family and friends. You can really see how special Los Angeles is on a bike. I would like to expand CicLAvia's frequency and see mini CicLAvia's in neighborhoods across the region.
CicLAvia highlights the hard work that still needs to be done to connect our homes, schools, businesses, parks and people. City Hall will tell you that Los Angeles already has a bike plan. The problem is, it's a 35-year bike plan. Anything that is a 35-year plan is not a plan. It's a roadblock.
It's time to do things differently in Los Angeles and truly connect our city.
Councilman Eric Garcetti: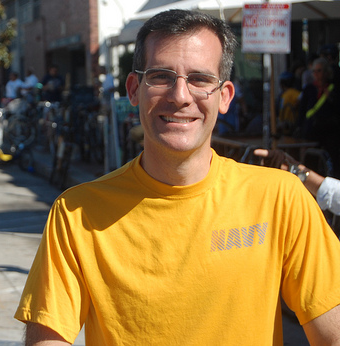 When the first CicLAvia was proposed for Los Angeles, I proudly stepped up to help make it happen. Yes, of course I knew that I -- and thousands of other Angelenos -- would have a good time. But to me, what's even more significant about CicLAvia is how it plays into our urban landscape.
We all know L.A. is dense. And in fact, the Census this year announced that the Los Angeles area is now the nation's densest, surpassing New York-Newark. At the same time, our need for open space has not diminished but has increased. But the question is how to provide more open space within our metropolis?
In my district, I am proud to have tripled the number of parks and increased open space by being creative – like transforming forlorn alleys into pocket parks and pedestrian plazas. But CicLAvia takes things to a whole new level.
The 2012 CicLAvia created an open space within the nation's densest urban area that was four-times longer than New York's Central Park. That is simply incredible. As I biked and walked the route, I saw the same things that you see in Central Park – people eating, people playing and people making new friends. And I saw things you can only see in L.A. – the beauty of the 4th Street Bridge overlooking the River; Taiko drummers in Little Tokyo being accompanied by Marimbas; and the Derby Dolls skating peacefully for a change.
CicLAvia represents the type of innovative approach we need to move L.A. forward. It shows us how we can take a new look at the space around us and do more with it than first meets the eye. My intention is to elevate CicLAvia from a "special event" to permanent part of the Los Angeles experience – moving across the city and on a monthly basis for starters. I can think of no greater canvas upon which the greatness of our city can be illustrated.
Kevin James:
I cannot remember the last time I saw so many Angelenos happy to be in traffic – bicycle traffic. One always wonders how the news media estimates the size of a crowd – but there is little doubt in my mind that CicLAvia on Sunday easily reached the 100,000 milestone.
I had two main observations this time (I participated in October's event as well). First, the sheer size of the crowd, which I believe speaks volumes about the number of Angelenos willing to use their bicycles more often as their primary mode of transportation if the City were more bike-friendly. And second, the true feeling of community in experiencing our wonderful City on such a beautiful day. How often does Los Angeles have such a "small town" feel?
The most unfortunate fact I heard from talking to people along the route was that many small businesses in downtown were apparently closed. Those businesses would have easily had a banner day because of all of the cyclists and pedestrians at their front door. This obviously frustrated potential customers and surprised me as I thought the organizers' outreach effort was quite good this time around. This awesome event will grow – and fast!
Controller Wendy Greuel: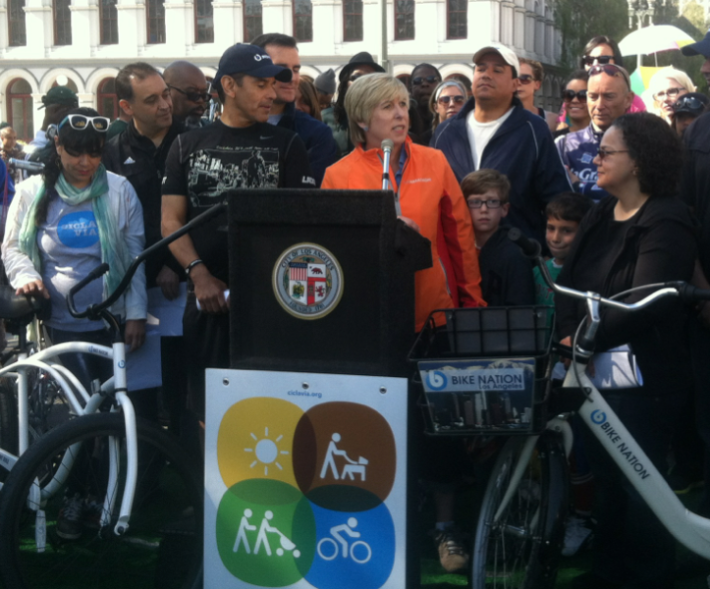 This past Sunday I had the opportunity to participate in cicLAvia!  My eight-year-old son, Thomas, and his friend Mateo joined me on an adventurous two-wheeled tour of the City.  It was a beautiful day; the boys and I were ready to ride!
We began our day by joining Mayor Villaraigosa for cicLAvia's kickoff at El Pueblo, the birthplace of Los Angeles.  We then rode for miles to our first destination, MacArthur Park.  It's wonderful to see that MacArthur's revitalization over the years has made it a prime biking locale.  The boys and I agree that experiencing the City from our bike instead of car allowed us to see Los Angeles from a new perspective.
From MacArthur Park we pedaled to Boyle Heights for a much deserved lunch break at Guisados Taquería on Cesar Chavez Avenue! Guisados lived up to its reputation as one of the best restaurants in Boyle Heights, the tacos were delicious.  Thomas, Mateo, and I were happily refueled and ready to cycle on from Boyle Heights back to El Pueblo.
Our cicLAvia adventure lasted four hours round trip!  Though cicLAvia left me a bit sore on Monday it was a fantastic event.  The chance to support and explore great livable streets in such a fun way brought all types of Angelenos together.  CicLAvia not only encouraged residents to change travel related behaviors, but also demonstrated how enjoyable getting out of your car and onto the street can truly be.
Council Woman Jan Perry:
Last Sunday, people from across Los Angeles came together to discover what makes our city great thanks to CicLAvia. While I was unable to attend this past weekend's event, I have been to all the prior CicLAvia events and have witnessed first-hand the great sense of community.
It is amazing what closing the streets to traffic can do for a car-centric city like Los Angeles. It opens doors and allows people to truly see the neighborhoods that are part of the patch-work quilt that we call Los Angeles. Instead of driving from community to community—families, friends, and individuals walk their dogs, push strollers, roller skate, bike, and engage in the environment around them. It is wonderful to see people play checkers on one corner, grab a cup of coffee at a small business on another, or just sit on the lawn and enjoy our beautiful weather.
I believe CicLAvia allows people to discover a new neighborhood or to rediscover their own. For example, the new route expanded the event all the way down to the African American Firefighters Museum on Central Avenue—a little known historic, community gem. While I am deeply connected to the history of Central Avenue, many in Los Angeles have yet to discover this great history here in their own backyard. The route is the first step in bringing CicLAvia to communities like Central Avenue and I was proud that local residents and activists conducted bike tours on Sunday beyond the route to Adams Boulevard and Central Avenue to share a community-based photo exhibit--"Central Avenue: A Community Album"—that highlights the rich culture of this special neighborhood. It is my hope that the next route will include more of South Los Angeles and communities East and West so that we can engage even more Los Angelenos in this feeling of community pride and discovery.
This is why CicLAvia is such an important event for Los Angeles. It is a way for all of us to step away from our cars—even if it is only for just one day—and challenge ourselves to use public transit, walk, bike, or run around our neighborhoods. It is a day for us to meet our neighbors and realize that Los Angeles is more than just a big city, but rather that it is wonderful mix of people and communities that combine together to make us a truly unique and special place in which to live.
CicLAvia also builds on the City's efforts of adopting a Citywide Bike Plan and updating the Transportation Element of the General Plan Framework. While these initiatives are not as fun as CicLAvia, they are certainly important as Los Angeles develops into a mature city with sophisticated transportation networks that focus on means other than the automobile.  With good planning, strong civic engagement and imagination, we can move Los Angeles forward.
Stay in touch
Sign up for our free newsletter