Boyle Heights
Boyle Heights Guide to CicLAvia
6:55 PM PDT on April 13, 2012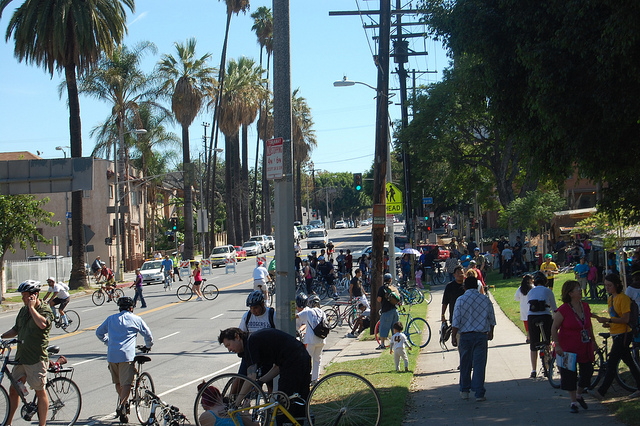 Though Hollenbeck Park is the jumping off point for many people in the Eastside to experience CicLavia, there are organized bike rides starting out on the eastside, and parties in the street itself, and intersections that will be teeming with activities both on and off the route. At the park itself, CicLAvia has a merchandise booth  and REI Los Angles hosts a rocking climbing wall.  Whether starting at the park, joining a group ride, or just planning a day in the sun by yourself, the eastside has a lot to offer.  Check it out:
Building Healthy Communities, Boyle Heights Ride and Party
Building Healthy Communities, Boyle Heights, hosts a youth ride that starts at 11:30 A.M. at the Weingart East YMCA at 2900 Whittier Boulevard. Families, youth, and members from Jovenes Inc., Inner City Struggle, Legacy LA, and Hollenbeck Police Activity League will all join the BHCBH contingent.  The group will ride at a leisurely pace throughout the route, said Eric Hubbard, development director for Jovenes Inc.
The group plans to arrive at Hollenbeck Park between noon and 12:15 P.M. before they ride CicLAvia. Last year, more than 45 people rode with this group for CicLAvia, Hubbard said. Adult supervisors will be riding throughout the event coordinating the group, making sure everyone is safe and the groups stays together. "We're trying to come together for the Boyle Heights Community," said Hubbard.  The group will ride until 3 P.M., and then return to the YMCA, where there will be a free quesadillas, chalking activities in the parking lot, and other community building activities.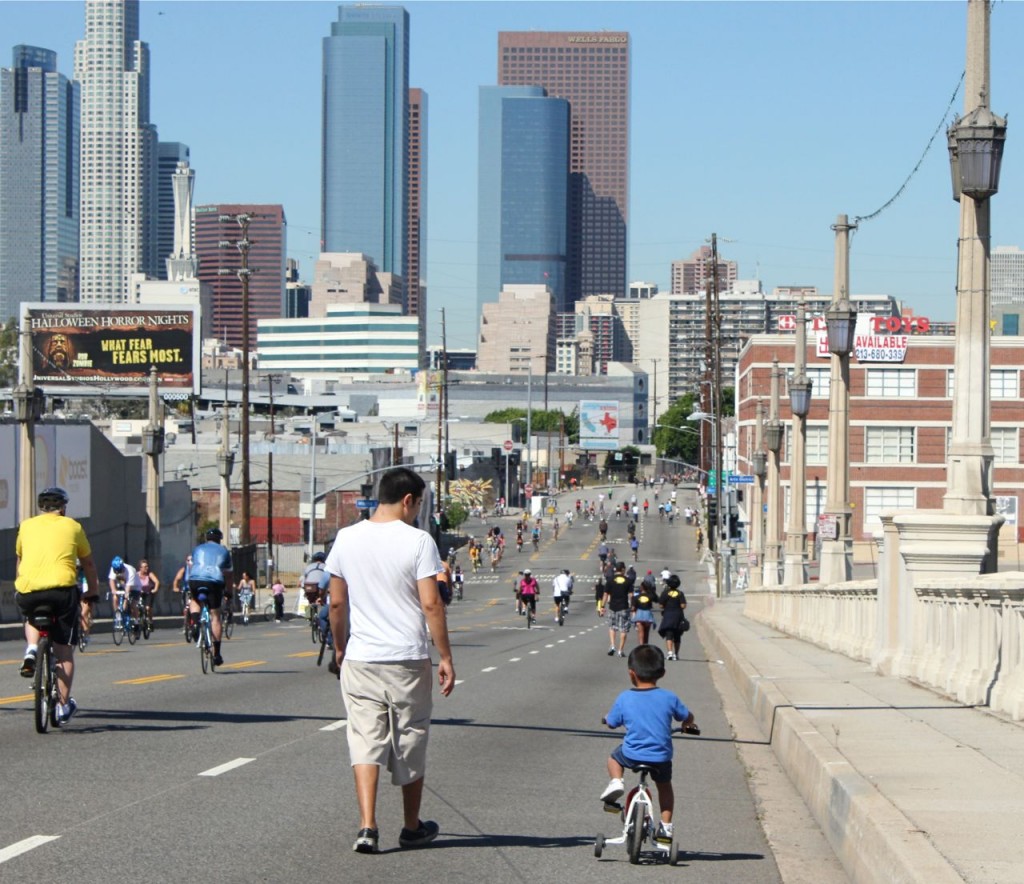 Ovarian-Pscyo Bicycle Brigade adopts the  4th Street and Boyle Avenue intersection, offers free silk screening
Just hosting an intersection to manage the traffic of bicycles and pedestrians isn't enough for the Oviarian-Psyco Bicycle Brigade.  Ova core member Cinthia Garcia desinged an Ovarian-Psycos/Boyle Heights/CicLAvia image that will be silk screened at the intersection the group adopted for CicLAvia, 4th Street and Boyle Avenue.  They will be playing music from a PA system, one of the members Xela de la X might perform her works of underground hip-hop. CicLAvia also provides a great opportunity to promote their all-female styled Critical Mass ride called Clitoral Mass.
DREAM Riders Contingent
Some of the DREAM riders that organized the DREAM Ride from Orange County to Los Angeles in February will meet at 10 A.M. at Hollenbeck Park to ride CicLAvia. This group has ridden in past CicLAvias to and show the connection the immigrant community has with cycling and exemplify the people that could be affected by the DREAM Act, a federal law that would allow undocumented immigrants a path to citizenship. The DREAM Riders have donned lucha libre masks, and installed PVC pipes on the back of their bikes with flags hanging off the poles with messages like "Sin Papers, y ke?" or "No papers, and what?" One of the groups founders and local resident Erick Huerta said he will be projecting music, specifically cumbia, from his backpack, and clanging his cowbell during the ride.
213 FB Hikers Ride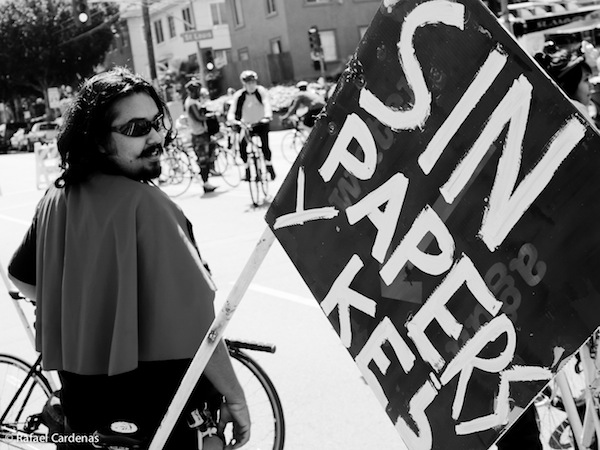 The 213 FB hikers, a recreational hiking group that focuses on wellness and healthy living, will be meeting at 9 A.M. at Metro Auto Service, on the Corner of 1st Street and State Street. The group, a majority of which are from Boyle Heights, plans to ride to Los Angeles City College, and then to the South Los Angeles hub. The 213 FB Hikers started in July as a hiking group that explores Griffith Park every Tuesday night at 7 P.M. and Saturday morning at 7:15 A.M. To learn more about the group click here.
4st Street bridge
It's one of the main arteries that connects downtown Los Angeles to Boyle Heights and it provides one of the best views of Downtown. A mobile photo booth will be at the bridge taking profile photos of bicyclists and pedestrians.
1st street bike lane/Mariachi Plaza/Mariachi Festival
Though the CicLAvia route wasn't able to extend to Mariachi Plaza at 1st Street, the adventurous pedestrian can head north on Boyle Avenue to check out the only other green striped bike lane in Los Angeles. The 21st annual Mariachi Festival will be going on at Mariachi Plaza from 11 A.M.-4 P.M. Cartoonist Lalo Alcaraz will serve as the master of ceremonies. Down the block, Primera Taza Coffee House will offer free conchita sweet bread with a purchase of a coffee. There are many restaurants that can be found on 1st Street, such as Placita del D.F. restaurant, where Huerta recommends the cemita and aguas frescas.
CORRECTION: The original post stated incorrectly that the Ovarian-Pscyos/CicLAvia/Boyle Heights shirts would be silkscreened for free. The Ovarian-Psycos will be taking donations for silkscreening.
Stay in touch
Sign up for our free newsletter