Boyle Heights
Fixing Bicycles in a Garden: Ovarian Psycos' ResuWRENCHion
2:30 PM PDT on April 12, 2012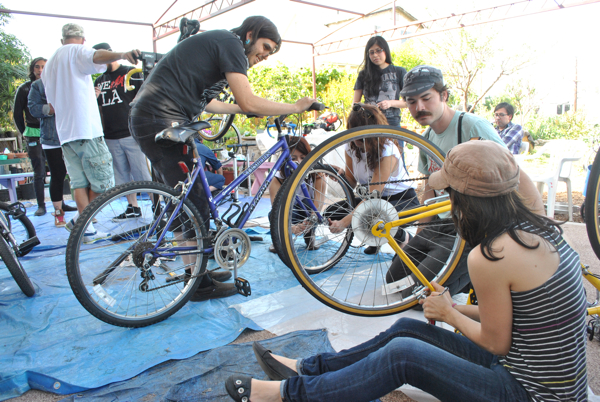 When Rey Veitia works on people's bicycles at Bici Libre, he's used to the sounds of traffic outside the co-op.  Volunteering at last Saturday's ResuWRENCHion at Proyecto Jardin in Boyle Heights was a nice change of pace.  The car horns of Downtown Los Angeles were replaced by the sounds of children laughing and bouncing a ball at each other.  Veitia compared the atmosphere to a backyard barbecue.  "I'm just waiting for the drunk uncle to get into a fight," Veitia said.
The Ovarian Psycos Bicycle Brigade hosted a bicycle repair workshop at Proyecto Jardin in Boyle Heights in preparation for this Sunday's CicLAvia. The event, which ran from 12-6 P.M., gave nearby residents, and specifically youth, a chance to fix their bicycles. The Ovas also wanted to find youth that didn't own bicycles or helmets and get them ones.
By all accounts, the event was a rousing success.
While this isn't the first time the group has put on a bicycle workshop, it is the first time they have had so many organizations working with them. Building Healthy Communities, Boyle Heights, a program of the California Endowment, gave $500 to the Ovarian-Psycos to purchase bicycle parts to be used to help the Boyle Heights community, specifically the youth.  The Flying Pigeon Bike Shop sold the Ovarian-Pscyos bike equipment, tools, and parts on discount, and donated Flying Pigeon t-shirts. Mechanics from the Bike Oven and Bici Libre came to help and teach people how to fix their bicycle.  Food Not Bombs, guerrilla chapter, prepared lunch, and Proyecto Jardin, a community garden behind White Memorial Hospital, opened its space for people to work on their bicycles.
"It basically shocked us," said Ovarian-Psyco member Magally Miranda about putting on an event with this much involvement. "It showed us we really have the potential to pull it off."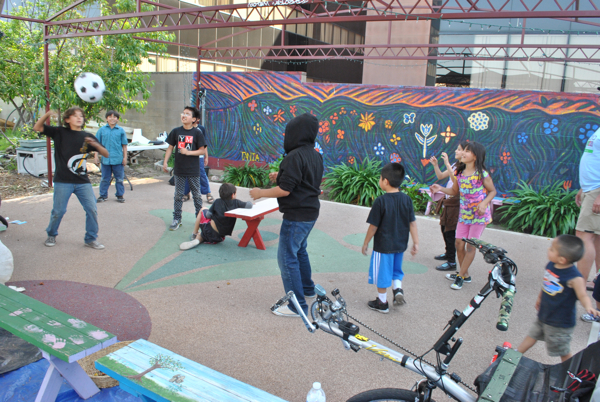 In researching the area, the California Endowment discovered that many Boyle Heights residents don't own bikes or own ones in a poor state of repair. Miranda volunteered the Ovarian-Psycos to host a bicycle repair workshop after the California Endowment looked into bring in an outside bicycle cooperative to work on bicycles in Boyle Heights, she said.
While the six-hour event took over one month to plan, organizers and attendees felt it was worth it.  The support from organizations and individuals was worth the effort. The Los Angeles County Bicycle Coalition donated 10 helmets, and, at the day of the event, two bicycles were donated. The helmets and bicycles went to youth who showed up eager to learn more about bicycling and either didn't own a bicycle or helmet of their own. Even though only four mechanics confirmed they would attend, eight mechanics came to work on bicycles at the event, said Maryann "Sunhands" Urdiales, an Ovarian-Pscyo member.
Ramon Martinez, a bicycle mechanic from  Austin, Texas, was surprised by the quality of the event.  "You can see what they've put on here," said Ramon Martinez. "There's kids, there's families, there's gardens, there's other community organizations they are already partnering with. They're out here in numbers. They got sponsorships from local shops and local businesses. I mean, they're hitting it on every level."
The mechanics and their students worked on  a range of bicycles: some were high end mountain bikes, road bicycles, and even one children's bicycle on training wheels. Other repairs required replacing whole bicycle parts.
The derailleur on Jorge Jimenez's bicycle needed a replacement, the bicycle chain was was twisted and the derailleur hanger was bent. Jimenez,28, couldn't afford these type of repairs at a shop, so for the past month he walked one mile to his security job.
Rey Veitia, the 41-year-old bicycle mechanic from Bici Libre that worked on Jimenez's bicycle, said that most bicycle shops will over charge for repairs, and sell parts that aren't necessary. "It's the nature of the business," Veitia said.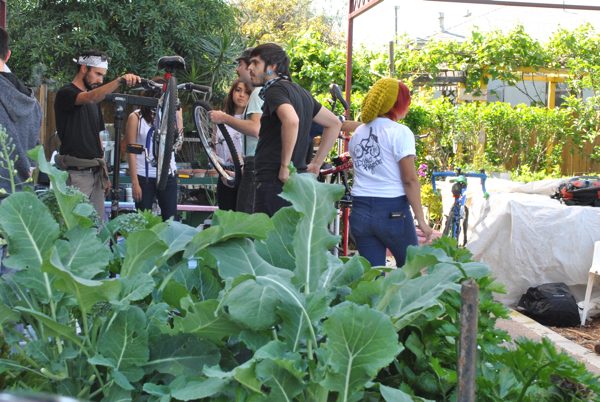 The mechanics helped realign the handle bars of 13-year-old Pedro Serrano's bicycle, and fix a small chid's bicycle that had its bicycle chain tangled up on an inner tube.
While the Bike Oven and Bici Libre and Ovarian-Psyco mechanics fixed many people's bicycles, they also tried teaching them how they can fix it on their own.
"A lot of these people don't have a lot of experience with bike mechanics, but all it is is willingness to learn," said Bobby Gadda,  LACBC program coordinator for Bici Libre.  While I watched ,Gadda taught one person how to replace brake cables after his cables got stuck inside due to rust.
Irene Peña, Proyecto Jardin's executive director, said most times the garden's contributors are the one's left doing most of the work for activities. Yet, "This is the smoothest thing I have ever done in this garden," Peña said.
With the purchase of their first air pump and bicycle repair stand, the environment they created on Saturday foreshadows what they hope to achieve as they are pursing a space with Proyecto Jardin at the Wellness Center at the Old General Hospital. There they would open up a bicycle cooperative that would be for the Boyle Heights and nearby communities to come and repair their bicycles.
"We walked into this kind of not knowing if we had any of the connections that were necessary, and it's really cool that we put ourselves out there in something that we want to do," Miranda said. "It's kind of boosting our confidence a little bit too. That we are going to be able to do this."
The Ovarian-Psycos will be hosting a ride from The Historic National Park in downtown to Tierra La Culebra Park in Highland Park, where there will be a daylong Sexual Health Fair. Click here for more information.
 Full disclosure: The California Endowment is a major grant maker for Streetsblog and The Flying Pigeon Bike shop was our first advertiser.
Stay in touch
Sign up for our free newsletter