Dodgers
Dodgers Sale Creates A Chance to Fix Broken Parking Lot/Transportation
12:38 PM PDT on March 28, 2012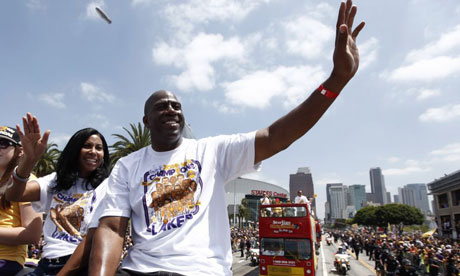 Getting to and from Dodger Stadium can be a nightmare.  Miles of gridlocked stop-and-go traffic snake out from the gates when the Dodgers are a hot ticket or a popular rival is in town.  Walking to the stadium is, at best, an uncomfortable experience as pedestrians are given the option of walking in a ditch or "sharing the road" with already irritated drivers.  The hearty cyclists who brave the hills to get to the ballpark are often mis-directed by clueless parking lot employees or invited to park their bicycle in the smoking section.
Any hope that the car culture status-quo could be shaken up by a new ownership group was squashed yesterday when it was revealed that the land surrounding Dodger Stadium, including its infamous parking lots, would be owned by outgoing owner Frank McCourt and "certain affiliates of the purchasers."  This is bad news for lovers of transportation options for a couple of reasons.
The first is that when stadium lots are owned by the teams, the real goal is to maximize the revenue created by the lot.  That's one reason teams such as the Mets and the Cubs have extensive advertising campaigns urging people to "Take the Train to the Game"  including commercial time on television, radio and in the ballpark.  That's also why AEG is openly talking about bundling transit tickets with football tickets to Farmers Field to encourage transit use.  When lots are publicly owned, the goal of the team and stadium is to get people to and from the event as quickly and painlessly as possible to assure a good time.  When they're owned by the team, the goal is to make as much money as possible, which means stifling transit options and making it uncomfortable to arrive by foot or by bicycle.
Which is nothing to say of the waste of open space the 284 days a year the Dodgers don't have a regular season home game.  Last week, Streetsblog covered how a lack of open space has led youths to use parking lots as soccer fields and for other recreational activities. Imagine what use Dodger Stadium lots could go to if they were used opened up for public use when the team was out of town or when baseball season was over.
But if the ownership group wants to make the pre- and post-game experience a better and safer one for fans, there are some changes they can make in the short-term to get people to and from the stadium.
1) Work with the city to invest in sidewalks for all stadium entrences and create pedestrian corridors through the parking lot that are well marked and have concessions available.  Dodger Stadium will never be able to capture the pre-game party atmosphere at stadiums located Downtown, but they could make it a more attractive place to walk to and walk through.
2) For Lord's sake, invest in a bike parking area.  Mark it on maps.  Make sure stadium security and parking lot personnel know where it is.  Don't make it the smoking area.  Don't use guardrails as bike racks.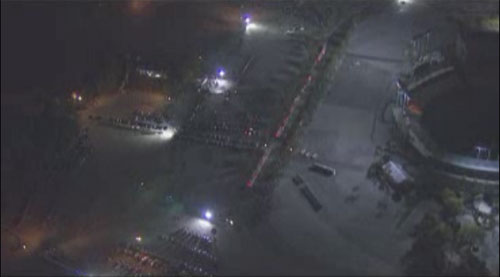 3) Embrace the Dodger Trolley.  Don't hide it on the website, advertise it through broadcast outlets and inside the stadium.  Heck, even vow that the Trolley won't go away in future seasons, even if you have to pay for it yourself.  Don't mock the trolleys, paid for with taxpayer dollars, in public meetings.  If you really wanted to go crazy, and by "crazy" I mean the minimum amount that is acceptable for a transit plan, start running free shuttles from other Gold Line stops, the North Hollywood Red Line stop, Staples Center, and other places that have lots of transit and lots of parking.
4) Declare a bold plan to extend the Gold Line to Dodger Stadium (the Blue and White Line) through a spur that is only active on game day, similar to the spur used to get football fans to and from the Meadowlands in New Jersey.  Having already invested $2 billion, they ought to be able to get that line up and running in the next ten years.
5) Use a plan similar to the one utilized by the Hollywood Bowl.  Remote parking in areas all around the city with shuttle buses.  It works well and serves many different communities.
6) On the way into the stadium, when people stop at the booths, they are handed bracelets for every adult in the car except one.  To buy beer, you have to have on this bracelet on.  If you arrive by bike, foot, bus or Gold Line and are over 21, you get a bracelet.  If you drive by yourself to the stadium, no beer.
If you have any other suggestions, feel free to leave them in the comment section.
Stay in touch
Sign up for our free newsletter