Bicycle theft
All Biked Up and Nowhere to Go: Four Boys in Florence-Firestone
10:23 AM PST on March 1, 2012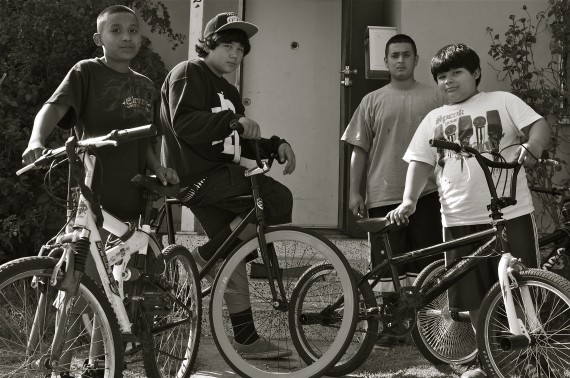 FOUR BOYS WITH BIKES between the ages of 9 and 13 stand in a yard along Hooper St. in the Florence-Firestone neighborhood, looking warily at me as I pull up on my bike. Victor, a solid kid with a swipe of grease across his cheek, tightens his grip on a wrench as the others glance nervously at each other. Strangers tend not to show up in people's yards asking questions very often around here, and these kids are clearly not sure what to make of the situation.
After some introduction, I ask, "Are you headed out for a ride somewhere?"
Victor gestures to the bike laid out like a corpse in front of him and says he needs parts to fix it, but isn't sure if he can get to the place that sells them because he's afraid of getting jacked on his way there.
It's happened before, he says. His bike was snatched out from under him by a gang member that lives "just right over there," he arches his arm behind his head and points around the corner.
"So, you know who took it," I say.
"Yeah."
"But you didn't get it back."
"Nah," he looks uncomfortable and stares down at his wrench.
He had gone to try to get it back with no luck. Then, the kids that stole it sent someone to beat him up. And they continued to "mad dog" him for up to a year later, he says. Undaunted, he recruited his brother-in-law to drive him back to try one more time.
It was a bad idea.
"Good thing the windows were bulletproof," he shakes his head.
I turn to the other three boys.
"You ever get jacked?"
"Yep," says a gangly Alexis and promptly clams up. The other two nod, but remain silent.
"You want to tell me about it?" I prod.
Alexis looks down and smiles shyly. He doesn't like talking about it, he says.
"Your mothers must be nervous about you being out in the street, no?" I ask.
They shuffle their feet a bit, looking like they want to pretend they're too old to have their mothers worry about them. But in the end, they nod: "Yeah."
Why this Matters for Long-Term Health
In truth, their moms didn't really need to be too worried about them going anywhere. They'd learned where they could and could not go the hard way. And, depressingly, what they'd learned was that it was best if they stuck to riding the length of one or two blocks next to where they lived.
Their situation -- one faced by a lot of kids in lower-income neighborhoods where gang activity is a constant concern -- presents a dilemma. Since 1980, obesity rates have tripled, with the highest incidence being in African-American and Hispanic communities -- groups that comprise the bulk of the population in South L.A. Nationally, nearly a fifth of all African-American children, and almost a quarter of Mexican-American children, are obese. Around 40% of adolescents in both groups are overweight. Besides healthy eating, the obvious solution is to get kids moving. But what if, like these kids, some of them don't have the luxury of being able to move around? How do we teach kids to be healthy adults if they are not able to practice being healthy kids?
Finding Community-Based Solutions
Florence-Firestone is a community that has enjoyed a reduction in violence over the years and, according to neighbors, is a vibrant community on the rise. Even so, there are lingering issues like safety for youth in the streets that are tougher to tackle, and not uncommon across much of South L.A. Getting a handle on the parameters of the problem is not easy, however. Youth may not report an assault (some don't even tell their parents to keep them from worrying) or theft of a bike and a call to the 77th St. Division confirmed that the LAPD does not keep separate statistics on bicycle theft.
In short, as Donald Rumsfeld once so clearly articulated, we have some known unknowns on our hands. We know the problem is out there, we know it has deep implications for how communities use their streets, but the problem itself is a bit of a moving target, making it hard to generate comprehensive solutions.
Consequently, it may be best to look for answers within the communities that live these concerns every day. Plagued by similar problems in the Watts area, for example, the WLCAC and the East Side Riders initiated the "Life Lanes Safe Passage Project" in 2011. The project established a safe loop for kids to ride around within Watts and was launched with the support of the LAPD, Sheriff's Department, and the California Highway Patrol. Most notably, because the lanes cross through the turf of a number of gangs, an integral part of the project entailed securing commitments from local-area gang members to allow kids on bikes to move unmolested through these areas.
The lanes have been moderately successful in that the route is often used by the East Side Riders on their monthly excursions. In between those group rides, however, the situation is less secure.
Acknowledging this, Tim Watkins (WLCAC CEO) said that what they would really like to do is hire a few local folks to ride the lanes several times a day. They could either accompany kids moving through the area like mobile crossing guards or just be a reminder to those in the area to uphold the agreement. It could create jobs, keep the community engaged on the issue of safe passage, and create a healthier environment for kids.
Unfortunately, he stated, the WLCAC is still in search of resources to make that happen.
Implemented or not, the Life Lanes model highlights what it may take to transform neighborhoods: active, visible, daily participation in the implementation of changes by a cross-section of community members until new practices take on a momentum of their own.
Complicated as solutions like this might be, they are worth exploring for the sake of kids in tougher neighborhoods throughout the city. Victor and his friends should be able to safely ride a distance greater than just a few blocks while they are still kids. It's still hard to believe that that is as far as they go, especially because Carlos claims he's been riding for a few years.
"Really? Just a block or so?" I ask the boys. "That's as far as you go?"
"Well..." a stout Erick grins excitedly, "I did ride up to the Burger King!"
Great, I think to myself. He risked life and limb to get to a fast food joint. That was four blocks away. Solutions to help these kids out cannot come soon enough...
Sahra is Communities Editor for Streetsblog L.A., covering the intersection of mobility with race, class, history, representation, policing, housing, health, culture, community, and access to the public space in Boyle Heights and South Central Los Angeles.
Stay in touch
Sign up for our free newsletter