Bicycling
L.A. City Adding New Bikeways, Will They Reach Pledged 40 Miles by June 30?
9:33 AM PST on January 19, 2012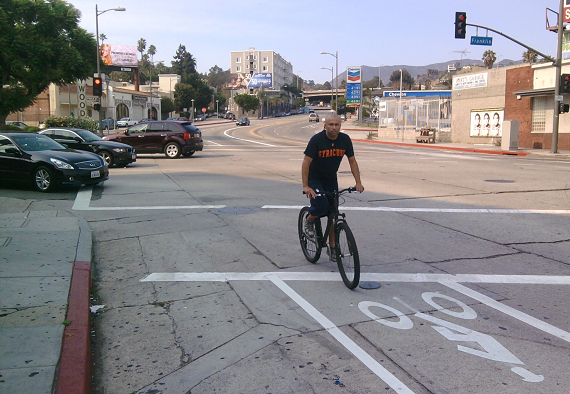 The good news: the city of Los Angeles is implementing more bike lanes than ever before. From July 2011 through December 2011, the city of Los Angeles has implemented 12.5 miles of new bike lanes. This is by far the highest total for any six-month period since at least 1996, and probably the most ever. For the past decade or so, the city has averaged roughly two-to-three miles of new bike lanes every six months.
The bad news: according to Streetsblog's accounting, despite the stepped-up efforts, the city is not quite on track to fulfill Mayor Villaraigosa's directive "to build 40 miles of bikeways a year" beginning with Fiscal Year 2011-2012.
After the jump, this article will enumerate just what new bikeway mileage has been done, and how the city may be able to get the 40 new bikeways pledged.
First some background.
Where does that "40 miles a year" come from?
Included with the March 2011 approval of the city's "2010" Bike Plan was a supplemental document called the Five-Year Implementation Strategy. That document was initially called the Five-Year Implementation Plan, later renamed the 200 Mile Implementation Strategy, then approved as the Five-Year Implementation Strategy (abbreviated hereafter as the "5-Year Plan.") In August 2010, L.A. Streetsblog reviewed the initial draft of the 5-Year Plan calling it "ambitious" and "a big improvement compared to past performance."
The 5-Year Plan includes 253 miles of bikeways that the city will implement over 6 years. Even though it's called "5-Year" there was a year zero through year five, which, in initial drafts, corresponded to years 2010 through 2015... though this was removed when the 2010 Bike Plan approval dragged out into 2011. Still, the 5-Year Plan includes 250 miles to be implemented in 6 years, so, doing the division, this means 40 miles per year.
When the bike plan was approved in March2011, the 5-Year Plan's "40 miles a year" number was announced by city staff and elected officials. Mayor Villaraigosa put the forty-mile figure in writing in a July 1st 2011 Mayoral Directive which states the city's "commitment to build 40 miles of bikeways a year."
Though the 40 mile number appears to be taken from the 5-Year Plan, but there's no explicit connection between mileage and plan in the mayor's pledge. The pledge is to build 40 miles. Note also that the pledge is "bikeways" - a catch-all term that can include all the various types of bike facilities from bike paths to bike lanes to bike routes to bike boulevards, etc.
In July 2011, L.A. Streetsblog reviewed city bikeway implementation under the assumption that the 40 miles pledged pertained to calendar year 2011. Upon publication of that article, mayoral and City Planning Department staff contacted Streetsblog and clarified that the 40 miles pledge clock didn't start until Fiscal Year 2011-2012: July 1st 2011 to June 30th 2012.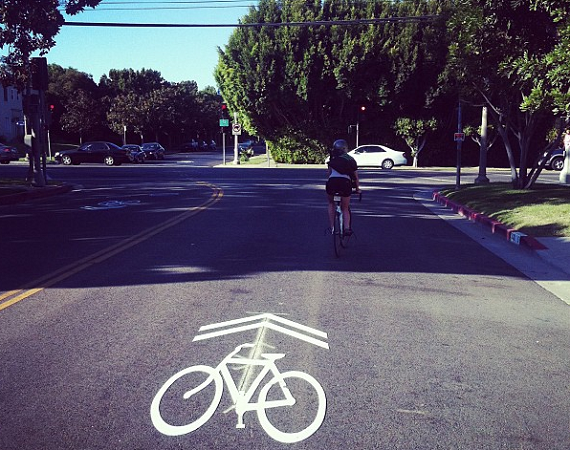 In August 2011, LADOT announced it would implement 20 miles of sharrows - shared lane markings. The LADOT's list of sharrow streets did not correspond to the city's 5-Year Plan nor the city's Bike Plan, both approved only 6 months prior. LADOT implemented the sharrows in October 2011.
Do the sharrows count toward building "40 miles a year" pledged?
Streetsblog queried LADOT about the sharrows and whether they count toward the 40 mile pledge. LADOT responded that "it is the City's intent to include sharrows as a part of the Mayor's commitment to implement 40 miles of bikeways this fiscal year."
There are a number of reasons why sharrows wouldn't count.
First, by doing sharrow projects not in the city's 5-Year Plan, the city falls behind on the 5-Year Plan implementation. If the city does only half (20 miles instead of 40) of its 5-Year Plan's annual mileage, then the very notion of calling it a 5-Year document is ludicrous. At the rate the city is implementing it right now, the 5-Year Plan is looking like at least a 12-year plan.
Another problem with the sharrows is the sheer annual mileage compared to what was approved last March. Sharrows are worthwhile, less so than bike lanes, but worthwhile. Sharrows are so worthwhile that the Mayor and Council approved 7.7 miles of them in the 5-Year Plan... that's 1-2 miles of sharrows each year (7.7 miles divided by 6 years.) In the initial year, instead of implementing 1-2 miles of sharrows, the city has instead done 20 miles.  If LADOT can get away with 20 miles in the first year of plan implementation, what's to keep them from doing all 40 miles sharrows the second year? If LADOT consistently downgrades what's already been approved, it looks like a cynical bait and switch, disrespectful of the nearly six years of public process that went into coming up with the Bike Plan.
Why is the city ignoring the 5-Year Plan so soon, and relying so heavily on sharrows? It's not clear. Only LADOT knows the real answer. Sharrows are cheap and quick, so it appears that instead of implementing what was approved, and instead of actually analyzing what treatments make sense for the bicycle network, LADOT is eager to fulfill the easiest quickest 40 miles they can do to fulfill the letter of the "build 40 miles a year" pledge, without actually paying heed to its intent of building out a network of safe comfortable places to ride.
But do the sharrows actually fulfill the letter of the pledge? The pledge includes the word "build" not the word "re-build." If the city has a mile of existing bike route and it adds a mile of sharrows on that existing bike route, it still only has a mile of bike route. No new mileage has been added.
Re-doing existing mileage should not be counted toward the 40-mile pledge. If the city re-does the Westholme sharrows, or re-paints the Venice Boulevard bike lanes after a developer erases them, it doesn't add any mileage to the bikeway network, hence it shouldn't count toward a pledge to "build 40 miles a year." The mayor's pledge to "build" implies new mileage.
How much mileage did those October sharrows add to the city's bike network? The city implemented 20 miles of sharrows in October 2011. According to the mileage listed in the city's Bike Plan, 12 of these miles were already existing bike routes (see this spreadsheet for totals.) So the city's ill-considered sharrows binge "built" only 8 miles of new bikeways (routes), and re-did 12 existing miles.
For this article, L.A. Streetsblog  acknowledges 8 new miles of bike routes, and does this begrudgingly (because, as explained above, based on the 5-Year Plan, the city approved implementing only 7.7 miles in 6 years, so 8 miles in 1 year still disrespects the approved plan and the process that lead to it.)
What has LADOT built since July 1st 2011?
As mentioned at the top of the article, the city has had a very productive six months for the start of FY2011-2012. With 12.46 new miles of bike lane built, it's the most productive six months in at least 15 years, probably the most ever.
LADOT has completed their first bike lanes in Boyle Heights, Downtown L.A., Hollywood, Koreatown, and Westlake. While the majority of the projects have been straightforward, with no reduction in car lanes, a few have successfully reduced car lanes, and, in one instance, removed two blocks of San Fernando Valley curb parking. Inspired by Dutch ThinkBike sessions, the city has implemented its first significant buffered bike lane, and its first two pilot green-colored pavement projects.
While the process hasn't been perfect, more than ever before for bike projects, LADOT has worked with Council Offices, Neighborhood Councils, the city Bicycle Advisory Committee, bike non-profit organizations including the L.A. County Bicycle Coalition, businesses, adjacent cities, and others - all resulting in new facilities being implemented with a minimum of backlash to date.
Since July 1st 2011, LADOT has completed the following bike lane projects, listed roughly in the order in which they were installed:
According to LADOT reports, the following additional new bike lane projects are slated for implementation in the very near future, likely within the current fiscal year:
All in all, based on what's complete and what's projected, the city of Los Angeles appears to be on track to reach a grand total of 31 new miles in its bikeway network in FY 2011-2012.
Completed new bike lane mileage: 12. 46 miles
Completed new bike route (sharrow) mileage: 8.04 miles
Near-furure new bike lane mileage: 10.54 miles
FY2011-2012 PROJECTED TOTAL BIKEWAYS BUILT: 31.04 miles
It's a bit short of "build[ing] 40 miles a year," but it's a big improvement on past performance; and it's making a significant difference in the commutes of Angelenos. While L.A. isn't biketopia yet, bicyclists and drivers are seeing more new bike lanes and routes. The lanes make bicycling safer, and, overall, the infrastructure cues all road users to the fact that bicycling is legitimate and growing mode of transportation in Los Angeles.
Lastly, a gentle plea to Mayor Villaraigosa: if 31 new miles a year isn't enough, and you really want to get to 40 new miles built this fiscal year, there are still quite a few relatively easy low-hanging-fruit bike lane projects out there awaiting implementation. Some are listed here. There's still nearly six months left in the fiscal year.
Stay in touch
Sign up for our free newsletter